Surface Pro 8 is official with updated design, 120Hz display, and Thunderbolt 4
By Zac Bowden last updated
That new 13-inch 120Hz display is going to blow your socks off.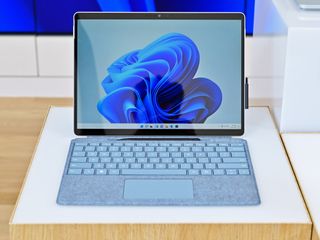 (Image credit: Daniel Rubino / Windows Central)
What you need to know
The Surface Pro 8 is official with a design just like the Surface Pro X.
It has a new 13-inch 120Hz display and two USB-C Thunderbolt 4 ports.
Pricing starts at $1,099 and is expected to ship October 5.
Microsoft has announced the next generation of its mainline Surface Pro device, dubbed the Surface Pro 8, which finally closer aligns its design with the now two-year old Surface Pro X. Featuring 11th-Gen Intel chips, the Surface Pro 8 has a 13-inch 120hz display and support for the Surface Pro X Type Cover's with Surface Slim Pen charging built-in.
The overall form factor of the Surface Pro 8 can be described as a slightly thicker Surface Pro X with an added vent around the top to help with cooling those hotter Intel chips, and a headphone jack. Microsoft says this is the biggest update to the main Surface Pro line since the Surface Pro 3, as it now finally adopts the much more modern design language that the Surface Pro X is already rocking.
Just like the Surface Pro X, Microsoft has updated the ports from one USB-A and one USB-C to two USB-C ports. And for the first time, the USB-C ports are now Thunderbolt 4 enabled. Surface Connect remains for those who prefer charging with Microsoft's magnetic charging solution. It can be had with 8GB, 16GB, or 32GB of RAM, and up to 1TB of SSD storage.
Category
Surface Pro 8
OS
Windows 11 Home
Windows 11 Pro (commercial)
Windows 10 Pro (commercial)
Processor
Consumer:
11th Gen Intel
Core i5-1135G7
Core i7-1185G7
Commercial:
11th Gen Intel
Core i3-1115G4
Core i5-1145G7
Core i7-1185G7
RAM
8GB, 16GB, 32GB
LPDDR4x
Graphics
Intel UHD (i3)
Intel Iris Xe (i5, i7)
Storage
128GB, 256GB SSD (Wi-Fi, LTE)
512GB, 1TB SSD (Wi-Fi)
Display
13 inches
2880x1920
267 PPI
3:2 aspect ratio
Up to 120Hz (60Hz default)
Touch
Ports
Two Thunderbolt 4
Surface Connect
3.5mm audio
Audio
Dual 2W stereo speakers
Dolby Atmos
Dual far-field studio mics
Connectivity
Wi-Fi 6
Bluetooth 5.1
Snapdragon X20 LTE
eSIM support
Camera
IR camera
Front-facing 5MP (1080p)
Rear-facing 10MP (1080p, 4K)
Keyboard
Surface Pro Signature keyboard
Not included
Touchpad
Precision
Pen
Surface Slim Pen 2
Not included
Security
TPM 2.0
IR camera
Battery
Up to 16 hours
Dimensions
11.3 x 8.2 x 0.37 inches
(287mm x 208.3mm x 9.4mm)
Weight
1.96 pounds (891g)
Color
Platinum
Graphite
The big upgrade on Surface Pro 8 that the Surface Pro X sadly misses out on is with the display, which is now 13-inches in size with a high refresh rate of 120Hz. This upgraded display will make using the Surface Pro 8 feel very fast and fluid thanks to Windows 11's new smooth animations.
Microsoft is also introducing a new Surface Slim Pen 2 with haptics, which works with the new Surface Pro 8. The Slim Pen can be stored and charged via the new Surface Pro Type Covers, which are just the Surface Pro X Type Covers which are now cross compatible with the Surface Pro 8. The Type Covers have also been updated with the new Windows 11 logo on the Start button to keep things consistent.
Microsoft is adding LTE to the Surface Pro 8 too, which is now also available with an i7 configuration, a first for the Surface line. Pre-orders for the Surface Pro 8 are open now, with prices starting at $1,099. Pricing and availability is as follows:
| SKU | Price |
| --- | --- |
| Intel Core i5, 8GB RAM, 128GB Storage | $1,099.99 |
| Intel Core i5, 8GB RAM, 256GB Storage | $1,199.99 |
| Intel Core i5, 8GB RAM, 512GB Storage | $1,399.99 |
| Intel Core i5, 16GB RAM, 256GB Storage | $1,399.99 |
| Intel Core i7, 16GB RAM, 256GB Storage | $1,599.99 |
| Intel Core i7, 16GB RAM, 512GB Storage | $1,899.99 |
| Intel Core i7, 16GB RAM, 1TB Storage | $2,199.99 |
| Intel Core i7, 32GBR AM, 1TB Storage | $2,599.99 |
Surface Pro 8 is expected to begin shipping on October 5 in the following markets:
United States
United Kingdom
Canada
Austria
Germany
Ireland
Switzerland
France
Japan
Classic 2-in-1
Updated design, same 2-in-1 form factor.

The Surface Pro 8 finally adopts the modern design that Microsoft first introduced with Surface Pro X, now with two USB-C ports that are Thunderbolt 4 enabled, an upgraded 13-inch display with a high-refresh rate of 120Hz, and support for the Surface Pro X style Type Covers with the Slim Pen charging cradle.
Zac Bowden is a Senior Editor at Windows Central. Bringing you exclusive coverage into the world of Windows 10 on PCs, tablets, phones, and more. Also an avid collector of rare Microsoft prototype devices! Keep in touch on Twitter: @zacbowden.
They pretty much ruined the design of the Surface Pro by recycling the garbage design of the X.
The uneven bezels looks horrible. And they make it harder to hold on to the tablet when using it detached from the keyboard.
Removing the USB-A port is also beyond dumb as it'll severely limit the usability of the tablet for both consumers AND enterprise. But at least they left the headphone jack and the Surface connect.
However, while I've been a pretty big fan an user of the Surface Pro for years (it's the best Surface product, period. Yes, I will fight you on this, Zac :P) I'm sorry but I'm skipping this one.
I really hope this isn't the direction Microsoft is taking its products going forward...although I'm not optimistic given the horrible rounded corners on the Laptop Studio.
So...with this sort of products I'm out.
I'll run my Pro 6 to the ground and eventually switch to something else.
Hopefully Microsoft won't force my hand into making me switch to the iPad Pro...

Doesn't the iPad Pro also have thin bezels? Most phones do as well, and it isn't hard to hold them. That just isn't a problem. Maybe out a pop socket on it if you have such dexterity issues! I agree making the bezels uniform would look better, but it isn't a huge issue. This is an improvement in every aspect and combined with Windows 11 actually making it useable as a tablet, this is a huge update.

1 - The iPad has symmetrical bezels. This doesn't. That means that you will have to constantly have to remind yourself which size has the normal bezels which size has the thinner bezels. 2 - Comparing it to smartphones is dumb. You can't hold a Surface Pro with one hand and use it. That's just insane. So the pop socket suggestion makes as much sense as suggesting to cool down a CPU by blowing at it. 3 - It is a huge issue, specially if you use the tablet for drawing as you will have less space to rest your palm on. And Microsoft's palm rejection software leaves much to be desired when it comes to drawing programs. 4 - I therefore completely disagree. This is a massive downgrade compared to previous Surface Pros. Windows 11 just ads insult to injury (though you can always take that garbage version of Windows out and put in Windows 10 instead, it won't be optimised for the hardware).

THANK YOU, somebody gets it. Windows palm rejection is terrible and having used GestureSign app for touchscreen navigation, dabbing the screen with your thumb while holding a 2-in-1 device always screws thing up by pressing whatever menu icon that's displayed in the edges of the screen. Apple gets it, and I thought Microsoft did too but apparently NOT.

Plus the extra weight (almost 900g now), which is bad for tablet use.

I would have like it even more if they had put display like laptop studio, it would have looked more symmetric but this upgrade is not bad as well. They need top and bottom bazels for keyboard, so the team is limited due to the functionality not because of lack of innovation. And honestly do you hold your surface pro keep thumb on side bazel or what? Surface Pro is in right direction with todays upgrade. Price seems bit high but i will wait for best buy to release deals on thanks giving. They always have good price on surface pro during that time.

Do you hold a tablet by the top and bottom? No? Then having thinner bezels on the side is detrimental to the experience.

I almost took this seriously until you said "Hopefully Microsoft won't force my hand into making me switch to the iPad Pro..." The funny thing is, saying that completely invalidates everything you complained about. First off, the bezels.. The iPad Pro has the exact same "uneven" bezel design as the surface, it's just arranged vertically and not horizontally. I won't bother acknowledging the "X garbage design" comment. Literally the most consistent feedback after the Pro X was announced...by the majority of the industry, is that the Pro X design language should be used on the other surface tablets going forward. Then you rage about USB-A. Which at least at some point is logical. However, today, many accessories that would be using with this device use C. Flash drives can now be had with C, most phone chargers and cables are C on both ends. You can buy monitors with a C input. This allows you to achive this with only one set of cables and NO adapter now, that's why MS finally made the move. Because we are now at a point where the Pros outweigh the cons. But then....you invalidated that by threatening to switch to a tablet with no USB outputs at all, save for the C port it uses to charge. Then you mention you have a 6. Ok, well there was the 7, which is updated to the 7 Plus today, and retains the exact same design as the 6, just with newer hardware...So they literally left a product for you and you're still complaining. Lastly, Zac doesn't need to fight you, you literally fought your own argument, the moment you brought an Apple mobile device into it.

"The funny thing is, saying that completely invalidates everything you complained about." Only because you understood nothing of what I wrote. Your cognitive deficiencies aren't my problem.
But I'll still try to make this clear to see if you can catch on:
- Microsoft released a Surface Pro with all those problems I pointed out.
- They haven't fixed the real issues previous versions of the Surface Pro had and the iPad Pro doesn't.
- Therefore, if they keep on the path of making the Surface Pro with all the defects of an iPad Pro - software and hardware wise - but without the things the iPad Pro does right, then I might as well get the iPad Pro. Did you get it now? Or do I need to make a drawing? 'cause let me know if you need a drawing as I'll have to borrow an iPad Pro to do a decent one. And you mention the Surface Pro 7. Yeah, I'm aware it exists. I'm also aware - apparently unlike you - that the Pro 7 removed the mini-display port in favour of a USB-C. Here's the thing: I have far more use for the mini-display port than for a USB-C. Which is why I didn't upgrade to the Pro 7 (The Plus is just a CPU refresh that doesn't solve any of the problems of the Pro 7...or the Pro 6, 5, 4 or 3). I'm not going to replace a bunch of new monitors and accessories just to use USB-C when most of them STILL come with USB-A (take, for example, storage solutions). (By the way, no, the iPad Pro doesn't have uneven bezels. You might need to update your knowledge of Apple devices since it seems to be lacking too ;))

I think it's your incoherent argument that's the real problem I'll break it down again. Every single issue you have with the surface.. regardless of the model, (which you are now saying, even as the owner of one of the previous ones that you imply to have to no problems with, the SP6) exists on the iPad Pro. The iPad Pro DOES have asymmetrical bezels. The Bezels at the top AND bottom of the unit are thicker then the side. Just like on the Surface. The only difference is, the ipad is oriented in Portrait, and Surface is landscape. "They haven't fixed issues" - outside of what? In comparison to the 6, it is faster, longer battery, higher resolution, smoother screen, better type cover, and a better place to hold AND recharge the pen. Mini USB vs. Mini display port - Assuming you have a convention monitor, both ports require an adapter regardless of which one you go with. The USB C however gives you another way to charge the surface, or another device, another port to use.. etc. Worse case scenario.. you'd have to buy a different dongle. oh the horror..
You also mention storage solutions... USB C hard drives and Flash Drives are abundant now, they also work faster than A. Then there's software. If a core argument is "I don't want to have to buy new things to go with a new device". Again... an Ipad pro doesn't change that. At least if you said a different PC, every thing would have made sense. But in this case you just come off as a troll

Wait... why is the i8/8GB/128GB version 200 dollar more expensive than the Surface Pro 7 but are all other models either as expensive as their Pro 7-counterparts or cheaper? This feels like such a massive price jump. Just for comparison:
i5/8/128: +200 dollar
i5/8/256: =
i5/8/512: -300 dollar compared to Surface Pro 4, the last time the configuration was offered
i5/16/256: =
i7/16/256: -100 dollar
i7/16/512: =
i7/16/1024: -100 dollar
i7/32/1024: -100 dollar

That is expensive, but it looks great. With Windows 11 this will be an awesome machine. Great update! If I needed a personal laptop, this would likely be my choice. My Windows 11 Surface Pro 4 works fine though in the rare times I pick it up.

I'm really liking the surface pro 8, will probably upgrade to it

Pre-ordering asap. The only Surface product I really care about. All the others are nice to have devices, but Surface Pro is essential.

Love this update! I'm having a hard time locating more LTE details on the Microsoft site. Is this like before where the cellular models will be orderable later?

I was wondering about the LTE versions too. I've been trying to hold out for the Pro 8 for the past 6 months. I was getting tired of waiting, but after seeing that MS actually upgraded alot more than I thought they would, I think I can handle a delayed LTE sku.

The only bad part is no USB A

Even Dell removed it from the Latitude 7320 Detachable.

I kind of agree here, though I'm a fan of USB C/Thunderbolt. MS just recently released some new business headsets with TEAMS in mind. A wired one with USB A connector, and a wireless one with a small dongle that serves as a mute/not mute indicator, again USB A. Honestly those new headsets should have had USB C (and maybe an adapter). Their new TEAMS speaker released with these headsets has USB C.

Is the black version still the same as the SP7 and before where the finish chipped and scratched very easily. It's a shame as the black version looks awesome. Also did they get rid of the Micro SD slot? I don't see any mention of it. Along the same lines, I guess it also didn't get a removable SSD?

The Surface Pro 8 does have removable SSD. I checked it from Microsoft Mechanics YouTube channel.

But they did lose the microSD slot (dammit)

Lol did they really kill the USB-A port and microSD slot?? XD Also my experience with old Samsung Tablets with the "Flat" stylus design indicates that flat pens are not ideal for writing for long periods of time.

Great to see the Surface Pro still keeps the headphone jack. With the new addition of Thunderbolt 4 port, this can easily give Dell Latitude 7320 Detachable and Lenovo ThinkPad X12 Tablet Detach a run for their money.

I have never liked the design of the Surface and also the fact that you have to pay extra to get a Keyboard, well they call it a keyboard. Not that I would buy one, they have Intel inside.

And when the bundled it with a keyboard, people complained about that too. This way you get to pick your type of keyboard and color, or buy some other keyboard altogether.

Can you compare battery to the Pro X in the review please. My history with Intel is you never get the claimed battery all that often.

Nice to see that the Trolls, Sockpuppets, and FanBoys are out in force today. The exact same accounts are dumping on every single device revealed today and it smacks of; Paid Astro-Turfing by competitors, or maybe they are just Momma's-Basement-Dwelling-Fanboys whose only pleasure is complaining about absolutely everything? Either way, nobody is forcing you to either read about them or purchase them. I expect the Surface 8 and Surface Laptop Studio to quite popular (with very different types of users) and the Surface Duo 2 to be......a niche of a niche product (neither Apple or Samsung are trembling in their boots that's for sure.)
The G0 3 is not much of an upgrade, but it didn't really need to be in the spectrum of offerings here.
I expect the ProX to get a big reveal early next year with a new APU (possibly the Exynos 2200 with the AMD mRDNA GPU in it?)
We shall see.

The SP8 is as close to perfection as any Surface device. I do wish they would upgrade the front facing camera from 5MP and just drop the proprietary Surface Connect port altogether at this point. I would also like to see MS upgrade their displays as they haven't made much progress in this area in a few years.

No, don't drop the Surface connect. Not until everyone invested in docks that depend on on it have coughed up $ for a thunderbolt dock.

do the old keyboards still work?
do the older pens still stick to the side? or did they totally move on peripheral-wise?

Good question. My guess is no. The Pro X, which the Pro 8 seems to copy did not share keyboards with the Pro 7. I think the old pens will work, but doubt there is a place to stick them magnetically. The sides of the 8 aren't flat.

Anyone know if the SP8 would work with the older keyboards (the ones without the charging slot)

Surface Pro 8 is an interesting step but I must admit that Microsoft should synchronize better with Intel regarding launch date and CPUs (same with AMD and Qualcomm). Alder Lake is on its way and can be considered launched while Snapdragon 8cx gen 3 was demonstrated back in March with major performance improvements. Windows 11 promises 10-15% boost from Big.Little optimization on Alder Lake hardware over Windows 10 on same too. It is very probable that we are going to see Surface Pro 8+ in just a few months pretty much along the same lines as last time with Surface Pro 7 "sans suffixe" running 10th Gen shortly followed by 7+ "for business" with 11th Gen. I.e. two Surface Pro models instead of just one model updated yearly. The biggest drawback with the Pro 8 is the lack of a microSD card slot. An extra SSD slot (so two SSDs could be used) could have compensated but is a step backward from previous versions. Expandable storage (be it full size SD, microSD or an extra SSD slot so two SSDs can be used simultaneously) is a must to be and a product without this ability provide insufficient storage, thus steering me to an alternative. My hope is that the 8+ early 2022 with Alder Lake reintroduce the microSD slot using the same location as the SIM slot on the LTE versions.

But remember everyone, you can't have small bezels on a tablet because otherwise you wouldn't be able to hold it.
Windows Central Newsletter
Get the best of Windows Central in in your inbox, every day!
Thank you for signing up to Windows Central. You will receive a verification email shortly.
There was a problem. Please refresh the page and try again.