Microsoft announces Windows 11 will release on October 5 for new and existing PCs
A new era of Windows launches to the world this October.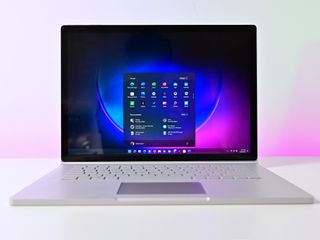 (Image credit: Daniel Rubino / Windows Central)
What you need to know
Microsoft has announced the release date for Windows 11.
October 5 is when the OS will begin rolling out for existing Windows 10 PCs.
New PCs with Windows 11 pre-installed will become available around the same time.
Microsoft has announced that Windows 11 will launch on October 5, 2021 on existing PCs that are eligible for Windows 11 as well as new PCs with Windows 11 pre-installed. Announced back in June, Windows 11 is Microsoft's first major OS version since Windows 10 launched six years ago in 2015. Because of that, Microsoft is putting big emphasis on all the new features and changes that marks this release as a "new era of Windows."
Microsoft says that the rollout of Windows 11 will take a measured and phased approach, just like previous Windows 10 feature updates. This means that although Windows 11 is releasing on October 5, many people won't see the upgrade being offered to them right away. Microsoft says it will slowly scale up availability of the Windows 11 upgrade on eligible PCs well into 2022 before making it available to all eligible PCs.
Windows Insiders have been testing Windows 11 bits in preview since late June, and Microsoft has been responding to feedback and fixing bugs since then. The company reckons Windows 11 is in good enough shape to launch on October 5, which is good news for those who are excited to try it but didn't want to dive into the preview program to do so.
Unfortunately, Microsoft has announced that Android app support, a blockbuster feature announced during the Windows 11 unveiling event, won't be shipping this year. The company says the feature will go into preview with Insiders in the coming months, meaning we likely won't see the feature generally available until sometime in 2022.
Luckily, all the other features announced as part of Windows 11 are shipping on time. This includes the new Start menu and Taskbar experiences, as well as new in-box apps designs, fluid animations, Windows Widgets, Teams Chat, a new Microsoft Store, and much more.
Microsoft recently announced that it was adding a handful of 7th-generation Intel chips to the list of supported Windows 11 CPUs, adding the Surface Studio 2 as well as some X-series Core chips. The company also said that those with an unsupported CPU will still be able to run Windows 11 by manually installing, though future security updates were not guaranteed.
What are your thoughts on Windows 11? Are you looking forward to installing the final bits in October? Let us know below.
Windows Central Newsletter
Get the best of Windows Central in in your inbox, every day!
Zac Bowden is a Senior Editor at Windows Central. Bringing you exclusive coverage into the world of Windows on PCs, tablets, phones, and more. Also an avid collector of rare Microsoft prototype devices! Keep in touch on Twitter: @zacbowden.
"Luckily, all the other features announced as part of Windows 11 are shipping on time. This includes the new Start menu and Taskbar experiences, as well as new in-box apps designs, fluid animations, Windows Widgets, Teams Chat, a new Microsoft Store, and much more." Taskbar experiences - you mean the castrated taskbar with inability to drag stuff in to apps via said taskbar and weirdly grouped flyouts that don't make sense? Windows Widgets - 🤮 Teams Chat - why? for who?

Exactly. If this is all it's going to be then meh... Don't really want it. It actually decreases my productivity.

Which is expected release month and now confirmed. Though I wonder if some of the missing features will manage to be implemented before release, especially taken for granted features missing like drag-and-drop support on Taskbar, folders and groups on Start Menu, notification badge on Start menu, Jumplist on Start menu, Ability to resize Start menu, better App Defaults Settings which is now horrible to use, and some more basic ones. And if the existing announced features and UI shells will get polished. Things like Widgets which doesn't seem have any sign of 3rd-party support for this realease, but it even lacks offline capability and simply not snappy to use unlike Live Tiles which is always ready the moment you open it. Start menu and Search flyout better transition or maybe a single shell but transform based on context. Virtual Desktops that still unpolished with lack of animation on many areas. More items on new context menu like Windows Defender scan, extract zip files. Showing folder content to return is more grim day-by-day. Volume control UI and Open Menu when drive is connected are still Windows 8 UI. Some apps won't open Snap Assist menu on-hover.

Sigh, you always manage to make me depressed with your laser-sharp analysis. Not touching Win11 within the next 12mths, unless I get a brand new machine (which is a high probability).

If you are planning to get new PC, then better just wait since who knows some of what I pointed out hopefully get addressed, but just don't hold your breath on it since historically, there is a high chance what we have on Insider builds are already what it is on release. Just bug fixes and many some minor polish. The ones I pointed at are already on Feedback Hub, so it is up to Windows team to address it on time or not.

My son installed it on his PC. It is nice to look at for a few minutes but after that - it seems generally unpolished and a bit slow (and he has an Alienware m15r2, no slouch). Hopefully optimizations and bug fixes come in before shipping which is why they have locked the features at this stage. But I will stick with Win10 until it all shakes out. Nothing terribly enticing (for me) other than it looks a little nicer at first.

That's… soon. Judging from my testing, too damn soon. I just ran into a major problem with group policy. I turned on the option to block Microsoft accounts. Doing so destroyed the admin account and made it inaccessible. I had to reinstall 11 from scratch. I've also had problems with search not functioning. And if you look at the feedback hub, there appears to be a lot of important issues that won't get fixed in a month.

I fear the release will reveal so many more problems when people start updating. Its far from solid and october is coming fast.

It's nowhere near ready. At all. They aren't even close to unifying all of the UI for a start. Tbh I don't think it will ever happen. And yeah inability to drag and drop files into apps via taskbar is still a joke.

Not sure how anyone can get excited about an OS that is clearly nowhere near ready. The Start menu needs a lot of work, the taskbar is less functional than ever, having to right click and go onto an extra menu for legacy options is just plain stupid and so many useful parts from Windows 10 have been removed. e.g - how they can think the new File Explorer looks better on 11 is incredible - do the developers actually use Windows? I like having all the options ready to click on - not having to make extra clicks and go through extra menus. It wouldn't be so bad if you could customize the buttons on the toolbar, but as with each Windows release, the opportunities to customize become less and less. EDIT: And not forgetting the decision to no longer show what files are in folders just by looking at them! Who signed that off?! This is nothing more than an eye-candy update with some questionable backward decisions.

Suddenly, everyone is UI/UX expert...

I know... Personally I won't judge it till I try. For example, I honestly didn't think vertical tabs were that big of a deal till I tried it and I use it all the time now. I can foresee some taskbar changes annoying me but I'll first see how it actually affects my flow, if at all.

I don't think you need to be an expert on UI/UX to know when an OS that has always prided itself on being great for productivity is becoming less productive. I tried out the beta on my Surface and found it to be slower to accomplish things that I can do in seconds on Windows 10. The taskbar is sluggish and the Start menu downgraded to be no better than a basic app launcher from a few years ago.

October event same day? A day before, Monday October 4th?

Using it as a main driver on two machines, Surface Pro 7 and desktop, and I do not think it will be ready in one month. Occasionally I get a random stop screen and reboot, the volume/internet flyout sometimes crashes and refuses to open, search has some weird rendering issues, etc. I would be shocked if they pull off such a soon release.

To be fair, general bug fixes are achievable within a month or two. The only issue left are the missing basic and essential features like many people mentioned already. Who knows if they even manage to polish existing UI they have changed. Since at least before, Microsoft does thva e a good track record on addressing them on short amount of time, unless really it's been in progress for longer and will be ready irregardless of the feedbacks. My guess, the OS itself may get stable and have fewer bugs on release, hopefully. But the UI and features still missing may sadly not come and will wait for another year to see if they address them or not.

Run on $130 [Office Depot] hp Stream 13 2/32 GB Celeron N3050 2.16 GHz turbo like 10/20H2 does?

I'll install it as a virtual machine. If it sucks, it will never leave the sand box.

New MS event announced hinting at new Surface lineup (which should be Win11 based i'd hope)

I have a ryzen 1700X with 32 gig ram.... But not supported.. feeling sad

I had that same CPU, but bought a used 3900x and plopped it in my motherboard and I'm fully supported.. the 1700x has had a hell of a ride
Windows Central Newsletter
Thank you for signing up to Windows Central. You will receive a verification email shortly.
There was a problem. Please refresh the page and try again.