Microsoft updates list of officially supported CPUs for Windows 11 with some Intel 7th-Gen chips
Surface Studio 2 is now officially supported thanks to additional Intel 7th-generation chips being added.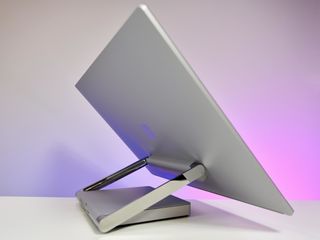 (Image credit: Daniel Rubino / Windows Central)
What you need to know
Microsoft has revised its list of supported CPUs for Windows 11.
It's adding a handful of 7th-generation Intel chips, including the Surface Studio 2's 7820HQ.
Unfortunately, no new AMD chips are being added to the list.
Microsoft promised back in June that it would look into adding some Intel 7th-generation and AMD Ryzen 1000 series CPUs to the list of supported chips for running Windows 11, and today the company is ready to announce the new additions that will now be officially included as Windows 11 compatible this fall.
Microsoft is adding a total of 10 new CPUs from Intel's 7th-generation line of Core chips:
Intel Core i5-7640X
Intel Core i7-7740X
Intel Core i7-7800X
Intel Core i7-7820HQ
Intel Core i7-7820X
Intel Core i7-7900X
Intel Core i7-7920X
Intel Core i9-7940X
Intel Core i9-7960X
Intel Core i9-7980XE
Microsoft also says that it's adding more Intel Xeon W-Series chips, though it hasn't yet specified which ones are being added to the list. The company also confirmed that after analyzing AMD Ryzen 1000 series chips, it and AMD have decided not to add any more AMD chips to the list of supported CPUs for Windows 11.
Unsurprisingly, this revised list of CPUs means devices like the Surface Studio 2 will now officially be supported by Windows 11 at launch. Microsoft says that devices with the Intel Core i7-7820HQ will also need to support Microsoft's DHC design principles, or they will not be eligible for an official upgrade to Windows 11.
That said, Microsoft spokespeople have confirmed that users will be able to manually upgrade or install Windows 11 on PCs with unsupported processors (assuming they meet all other basic requirements) by using the Media Creation Tool or ISO media, though Microsoft doesn't recommend or encourage doing this for stability and performance reasons.
What's with the requirements?
Microsoft says it found PCs that do not meet all the minimum system requirements had 52% more kernel mode crashes, whereas PCs that do meet all the minimum system requirements had a 99.8% crash-free experience .
Microsoft has broken down the principles it used to build out the minimum system requirements for Windows 11, and it comes down to six key factors:
Reliability: Processors supported by Windows 11 are within OEM and IHV support, and use modern (DCH) drivers.
Security: Over 8.2 trillion signals from Microsoft's threat intelligence and input from leading experts helped design a baseline in Windows 11 that addresses increasing threats that software alone doesn't tackle.
Trusted Platform Module: This requirement allows Windows 11 to be a true Passwordless OS, addressing phishing and other password-based attacks.
Secure Boot: UEFI Secure Boot is required as it ensures a PC can only boot with code signed by either device manufacturer, silicon vendor, or Microsoft.
Virtualization-Based Security: Windows 11's supported processors also increase security capabilities at the chip level by providing virtualization extensions and performance improvements, including memory integrity which prevents dynamic code injection into the Windows kernel.
Compatibility: Microsoft wants to ensure that PCs that can upgrade to Windows 11 can also continue running all the apps and tools they are familiar with without issues.
Microsoft is also relaunching the Windows 11 PC Health Check app that first released back in June, this time with the added ability of actually detailing why your PC is or isn't compatible. Instead of throwing up a generic error, this new version of the PC Health Check app will break down what the issue is, whether that be lack of TPM 2.0, an older CPU generation, or something else.
The company says it learned a lot expanding the supported CPU list, and thanks Windows Insiders for providing feedback to get these chips added. Windows 11 is on track or release this fall, likely in the October timeframe, and it's good to see a handful of more PCs now eligible for Windows 11, including Microsoft's own Surface Studio 2, which was inexplicably not supported when Windows 11 was first announced.
Zac Bowden is a Senior Editor at Windows Central. Bringing you exclusive coverage into the world of Windows 10 on PCs, tablets, phones, and more. Also an avid collector of rare Microsoft prototype devices! Keep in touch on Twitter: @zacbowden.
So my ivy Bridge won't make the cut? Lol

that's right. those ivy bridge cpus are almost a decade old now and don't have TPM 2.0 support

Who cares you still get 4 years of W10 updates, that plus priory updates is a long time of updates and the device is likely broken by that time.

The Surface team has bungled the computer hardware portion of the Studio so hard! How... Seriously.

I'm sure they explored all avenues to make it great while working within the form they created. That being said it was the form over function that crippled that device. Between two architectural studios I'm familiar with three of their five units died due to the incredible heat that thing produces. One of them died while It was trying to render a 3D model. In my experience, it is a must to buy the extended warranty for that device. Your chances of needing it is incredibly high. One design studio had a similar problem with their one Lenovo Yoga a940 version of the studio. It overheated and died just a few months after they purchased it. It also died while trying to render. I really hope they just release it as a stand alone monitor. I've spoken to several architecture and engineering studios who say they've been apprehensive to buy the studio due to the weak processor specs. Many of them have only purchased 1-3 Studio units to test. All of them say they would buy stand alone monitors for every station they have. They already invested in far more powerful towers to run their powerful programs. They don't want to waste that investment to buy an inferior non-tinkerable AIO.

The market must not be big enough for it to be worth it. Otherwise, I would expect the OEMs to be making them.

There's still a bigger market for a monitor vs an AIO even with the number of AIO's already sold. But a monitor has the potential to outlast a computer by many years more so in terms of sales per year, a monitor is maybe a bad bet for manufacturers even if it is a better product for businesses.

I was really hoping that my sb1 ( i7-6600U ) makes the official cut. This blows.

If they let you install Windows 11, why not just make it a big red warning and let you upgrade anyway? For deterring people?

they probably won't allow Win11 upgrades thru WU (windows update) on unsupported systems and only allow them thru ISO or MCT methods

https://www.windowscentral.com/windows-11-official-iso-media-will-not-bl...

It is not clear yet if that will allow (security) updates, maybe or maybe not.

How can they support Celeron N4000 CPUs, launched the same year as, but not supported I7-7700K? My MB has TPM 2.0, and Secure Boot, but it's not supported? Yet, the support their own i7-7820X because it's in the Surface Studio 2.0?

Did they bring back Steve Ballmer to oversee the introduction of Windows 11? It certainly feels as badly planned and thought out as one of his launches. Didn't anyone in any of the meetings worry about alienating a large number of their customers?

Well it's better than how they handled W10 forced update , at least this way people will have less issues with their devices which is most important and still get 4 years of W10 updates. Or the alternative was to handicap a major selling point of W11; improved security. I agree that the communication could of course have gone much better.

Funny that I've run every dev build so far released on my 6850k and it hasn't crashed once. Arbitrary requirements if I ever saw them

I thought it was related to that (some of) the security features are being added later on.

Yes!! I was so angry when they initially didn't support the Studio 2, finally they came to their senses.

I have a 10 year old desktop with a i5 series 2 CPU and never had a crash yet.

I don't understand. I was able to install Windows 11 on my Surface Studio 2 with no problems a month ago. Did I missed a specific point somewhere?

So the i7-7820HQ is ok, but the i7-7820HK is not? The only difference is the HK is unlocked for overclocking. Other than that it is exactly the same CPU as the HQ. I did not ask for the HK when I bought my $3,000 Alienware that is only 3 years old. It is just what came with it. C'mon Microsoft.
Windows Central Newsletter
Thank you for signing up to Windows Central. You will receive a verification email shortly.
There was a problem. Please refresh the page and try again.