Surface Duo photo gives first sample of the phone's camera prowess
It's only one photo, but it's our first look at what the Surface Duo's camera is capable of.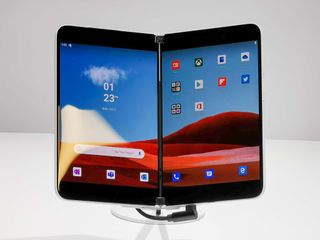 (Image credit: Windows Central)
What you need to know
Microsoft's hardware chief Panos Panay shared a photo taken with his Surface Duo on Instagram.
This is our first look at the quality we can expect from the Surface Duo's camera.
The camera has remained one of the wild cards of the Surface Duo's capabilities.
If you've been waiting with bated breath to see what the Surface Duo's camera is capable of, we got our first tease today. Microsoft's Windows and hardware chief Panos Panay shared a photo taken with his Surface Duo on Instagram today. Check it out below.
https://www.instagram.com/p/B-sUogRgtsY/
The Surface Duo's camera capabilities have been a major point of interest in the leadup to the phone's launch, expected later this year. It's hard to draw any major conclusions from one photo, and impressions are sure to be subjective. There's also the Instagram's compression to worry about. Still, we're probably a ways off from getting full resolution, untouched photos from the Duo's camera, so this is all we've got to work with for now.
Microsoft is more focused in its messaging on the productivity features of Duo than pushing it as a pro shooter meant to compete with some of the top smartphone cameras on the market right now. That means pushing the dual-display form factor as a productivity booster — something that some early adopters may be willing to accept with camera quality as a tradeoff. Surface Duo has also been in development for a rather long time, so it's possible we could see some major advancements to features like the camera, connectivity, and more in a Surface Duo 2 or 3.
In any case, we may get to see how the Surface Duo a little earlier than expected. Windows Central senior editor Zac Bowden was the first to report that Microsoft wants to launch Duo earlier than the initial holiday 2020 timeframe it stated at the phone's reveal. That's no guarantee that we'll see it this summer, especially given global circumstances right now, but it's a possibility.
Dan Thorp-Lancaster is the former Editor-in-Chief of Windows Central. He began working with Windows Central, Android Central, and iMore as a news writer in 2014 and is obsessed with tech of all sorts. You can follow Dan on Twitter @DthorpL and Instagram @heyitsdtl.
The real question is how long does it take the camera app to process the picture after its taken. Is MS doing its own?

Looks very underwhelming, yet...serviceable.

Doesn't look better than my 950, tbh.

No they don't, that's delusional talk.

My 928 Lumia phone took great pirctures. Better then my OnePlus phone.

I still have my 950 and that's a lie

Not sure you can draw a single conclusion from an Instagram photo, other than yeah, I guess it can take pictures after all.

Yeah you can't judge based of an IG photo

@kingtigre Underwhelming is not a word MS wants people using when attempting to sell a $1000+ device.

The lighting looks nice, but it does look pretty low res and soft. Could just be Insta, but idk. Really hope this camera produces sharper images.

The picture looks decent ,but its only one photo, and i was not expecting the Duo to beat my Pixel 4 xl anyway, it is not using the finished OS build also, so surely they can milk the software a bit for the camera, it does look like the dude is hiding a wearable on his wrist under his hand, lol.

Or it could just be Panos. Obviously this is a gag photo. Not an announcement. The guy is a pro when it comes down to playing with the public.

terrible... i'm getting worried ... no 5G , no NFC, no Wireless charge, terrible camera and $1000 price tag

We've been saying this stuff for months now, it is what it is.

Will it have NFC? and I take it the Surface Duo won't have wireless charging, that is so convenient, to be honest, but I'm more worried about the possibility of no NFC as I use my current smartphone for everything paying public transport with Myki that's possible in Australia.

Where have you seen/read about this no NFC?

Actually, you had never claimed anything on the price tag obviously, that is still speculation, until one can put it in a basket. 😉

He absolutely has. Just in the comment section.

Honestly 5G does not matter, this year's 5G chips are power hungry and don't perform well, we are better off without them as they harm the overall experience. I totally agree on the other points however, should they prove to be true. Plus, unless MS is doing something to protect the user against Google, there is no way I'm running an Android based device again.

5G isn't really a big deal for me as well and even to most people. The tech is still too in its early stages that it is more of a nice to have if you live in 5G areas, but not a deal breaker. Other things though can be a big deal to certain people. NFC for example is a big deal on markets where mobile payments or contactless payments are a norm. Camera quality is something that most people do on a smartphone device, even for work. Though having decent camera is sufficient for most people. For me, this can be a deal breaker since I want to take nice quality photos even I don't bring my mirrorless camera, and having better camera is more reliable on many situations when you need it.

@David Fleetwood I agree, 5G will be vital for Duo second generation but not a major concern for now. The problem is though it will give the Duo critics a stick to bash the device with.

I agree, unless Google or Microsoft makes a permissions system devs can't abuse, I would never buy a Android device either.

If the second screen turns out to be frequently useful - which is a big if - the other stuff won't matter much. (Well, the camera needs to be *decent*)

Silly me, I thought the picture looked alright.

It does look fine. Camera tech in smartphones has evolved mainly in speed and non optimal lightning conditions in the last few years while quality hasn't made a major jump. People here are just overreacting. You saw how 'a bad camera' has been the talk of the town since the release bc the duo "only has one" not knowing if it had pixel level quality or not.

Same here, I'm more curious about the speed/processing of the photo and the "point and shoot" experience, whether it's easy and forgiving or if you need to remain perfectly still to get decent results.

This design is basically a '16/'17 design. It was absolutely fine for that time period and that has repeatedly been explicitly said and alluded to. Why does it surprise you now that 2020 tech isn't there??

Hm. Surface Duo, Surface headphones, and a Surface computer. Am I the only one who thinks he's covering a watch? :)

He is. Apple didn't want to pay for the ad space though

Here's a photo from a device on a website that heavily compresses all its images.

I have said it before : think about it guys how big camera sensor can be fitted inside 4.8 mm thin phone without camera hump. For reference in the past oppo launched 4.9 mm thin phone that had 1/3.06" inch camera sensor. let's expect Microsoft do little better than that So keep your expectations low. Surface duo will most likely end up with small camera sensor that will be no match for current or last few years flagship smartphone camera standard . Unfortunately to achieve perfect thinner design with identical halves they sacrificed camera quality. Also it looks like Microsoft is not ready with multiple part camera which they teased in patents & black surface duo in mkbhd video.

Just for reference. We've seen Microsoft file patent for a foldable device's one half act as lense optics folded onto the camera unit of the other half. So might easily speak of double that thickness.

In future versions, maybe. In the first iteration, I very much doubt it. A Surface Duo 2 could be a significantly better device in certain areas.

I almost wish Microsoft called this the Surface Duo Pro and call this a pda device.
If they call it a pda, y'all can't call it a smartphone.
People really struggle with the idea that they didn't set out for this to compete with the 'cameras from flagship smartphones.' They set out to make a different take of the concept of the best mobile productivity device.
No, I'm not naïve. Yes, I would like the device to have the best camera. But... It's fine enough. Especially for a overdue v1.

Yeah people do seems to be susceptible to things like 5g and extra's for camera's like extra lenses, bokeh effects etc just because other regular smartphones have them.
It reminds me a bit of the debate about barrel chargers for laptops; where people moan about them while the related laptop also supports usbc charging. As long the image quality is decent enough I think that is enough for the use cases of the Duo (probably mostly work orientated, like scanning documents or video calling or such).

I hope we get more information soon on confirmed specifications for the Duo, I don't want to have to carry two smartphones, even though Microsoft isn't calling the Duo a smartphone..I hope I'm wrong about the Duo not having NFC, because I use that for mobile payments, and for public transport everyday, I hope we get a couple of models on release, a fully speced out Duo, hopefully with NFC and wireless charging even if that back has to be glass,to allow that to happen.

Its decent when zoomed out, the resolution is very bad though but I am guessing this is due to Instagram (maybe resolution is limited due to Corona like how streaming is capped?). I hope the final camera resolution will be similar to current flagships or 950 xl.

More interesting about the pic/post is that his kid seems to be using a Surface Pro 7 and not a Surface Pro X. Hmmm.... I guess that's cool. It obviously meets his needs.

Could the other photo that Panos put on Instagram of the buns also be taken by the Duo?
Windows Central Newsletter
Thank you for signing up to Windows Central. You will receive a verification email shortly.
There was a problem. Please refresh the page and try again.