A Surface Duo running Windows? This developer is working on it.
The Surface Duo isn't supposed to run Windows, but that fact hasn't stopped a developer from trying to force the OS onto the foldable.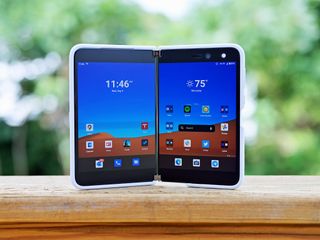 (Image credit: Daniel Rubino / Windows Central)
What you need to know
A developer is attempting to get Windows running on a Surface Duo in a "usable" state.
Some elements of Windows have been forced onto the Duo, but critical components have still not been worked out.
The project is in its "early days" and is not near completion at this time.
Developer Gustave Monce is trying to get Windows onto the Surface Duo. This isn't the first time that Monce has worked on getting Windows to run on pieces of hardware it wasn't intended for. He's one of the minds behind the LumiaWOA project that involves getting Windows on ARM to run on Lumia hardware. At the moment, the work to get Windows onto the Surface Duo is in its early stages.
Monce explains in a Twitter thread that the end goal is to boot Windows on the Surface Duo in a somewhat "usable" state. A Unified Extensible Firmware Interface (UEFI) port has already been made, and some drivers already work. Notably, Monce has not managed to get the display panels to work on the Duo when running Windows.
About the Surface Duo I got. Here is a rundown of where I am today with experiments. As many have guessed by now, the end goal is to boot Windows on it in a somewhat "usable" state.About the Surface Duo I got. Here is a rundown of where I am today with experiments. As many have guessed by now, the end goal is to boot Windows on it in a somewhat "usable" state.— Gustave Monce (@gus33000) January 27, 2022January 27, 2022
Getting software to run on hardware that it wasn't meant for is complicated and difficult. The process usually takes time and moves forward gradually, so we will likely see snippets from Monce as things move forward.
If you're more interested in a software experience on the Surface Duo that actually works, Microsoft recently shipped the January 2022 update to the Surface Duo 2. Android 11 also rolled out for the original Surface Duo this month.
News Writer and apps editor
Sean Endicott brings nearly a decade of experience covering Microsoft and Windows news to Windows Central. He joined our team in 2017 as an app reviewer and now heads up our day-to-day news coverage. If you have a news tip or an app to review, hit him up at sean.endicott@futurenet.com (opens in new tab).
I wonder if it would be any harder/easier to get it work on version 1 or 2 Duo, or if it even matters. 🤔

I wonder if it would be any harder for Microsoft to work on this. Apparently it needs the wage of a single person.

It's easy for them to work on it. They just don't have a good reason to, and they seriously lack the passion to do it. 🤷🏾‍♂️ Well, I can think of a few good reasons, but it's probably an easier sale to stick with Android.. But, if Microsoft was serious about mobile they wouldn't be taking the easy way out. They would've already had Android apps working inside of Windows on a pocketable mobile device, and now we know just how possible this is.

Please make this happen!!!
This would be amazing. Duo was originally supposed to run on windows. I have a galaxy book 2 which has a snapdragon 850 and runs windows 11 perfect so Im sure the duo with its 855 will run it well. I think this will really be more stable then android, and maybe even make the device last longer.

There's absolutely no reason to run full Windows on a phone or device that small brotha. Come on now.

Some people have to experience mistakes themselves to learn rather than from observing the mistakes of others. Let em

Well, if Duo ran full windows and could perform as a full desktop experience when docked, but be able to be taken anywhere that would be useful to a lot of people. I don't think the experience would be about running full Windows on Duo (although it could), but rather being able to connect it to larger screens and use it with a mouse and keyboard.. It's not a new concept.

That was called Continuum. Yea, wasn't quite all the way there before it was dismissed, but it was moving in that direction. It was a good solid experience with single full screened apps. Wouldn't have been a stretch to move to split screen capabilities. That might have been enough for those that actually spend most of their lives on their phone, and only occasionally needed a larger environment for some more significant work.

I don't want "Windows" on my Duo, but I do want a Microsoft OS on it.

The one advantage to Windows is that OS already knows how to handle two distinct screens.

It can't handle one small touch screen and apps let alone two. Handling two full size monitors with a keyboard and mouse isn't the same as two phone screens. It isn't the same at all.

Depends on what you call small. It handles 8 inch fine But you may not call 8 small.

He's never used Duo for any significant time to know what it can or cannot do.. He has no business even commenting on Duo, and the fact that he does solidifies his foolishness.

They sold only 50k at most. No one is using Duo and it only takes a couple minutes with one to know why. The form factor just isn't good. There is a reason all the reviews are poor, dual screen just doesn't make sense for the rare times you actually use them. If they made it a normal aspect ratio so you could use it like a normal single screen all the time and then cut the price in half, they might have something. At Galaxy Fold prices with the weird aspect ratio it doesn't make sense.

Even Microsoft doesn't recommend a 8" screen with Windows. Imagine how bad it is on a 5" screen.

This would be cool no doubt.

Should have been this from the beginning.

Please give these folks some credits. Without this adventurous spirit we would have never discovered America or the sources of the Nile etc.

If windows can run on a oneplus 6t it should be able to run on a duo just fine 💁

If this is running a CShell of windows and can maintain the windows phone look then I'll switch over to this OS... But if this takes the look and form of a desktop windows 11.... I'm sorry, but nah
Windows Central Newsletter
Thank you for signing up to Windows Central. You will receive a verification email shortly.
There was a problem. Please refresh the page and try again.