Original Microsoft Surface Duo is finally getting its Android 11 [Update]
14 months after its release, the original Surface Duo is getting its big OS update bringing it closer to Surface Duo 2.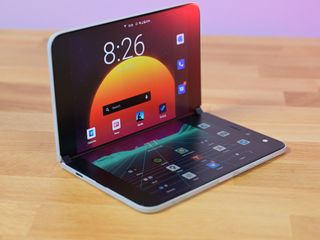 (Image credit: Daniel Rubino / Windows Central)
What you need to know
The Android 11 update is out for Surface Duo.
The update is 2.38GB in size and is available now.
The update brings auto app-spanning, a new Photos app, UI changes, and bug fixes.
The AT&T-branded model is also now getting Android 11 as of Feb 1.
Update 5PM ET 2/1/2022: The AT&T version of Surface Duo is now getting Android 11 as well.
Despite promises of regular updates, the original Surface Duo hasn't seen much in the way of substantial fixes or improvements. The last update to even reference stability was back in June, as since then, the company has only pushed out monthly security patches.
But now, after a very long wait, Android 11 is here for Surface Duo. Android 11 was actually released back in September, which doesn't sound too bad, except that it was September 2020. Android is now up to version 12, which various OEMs are slowly pushing to devices.
The update brings Surface Duo more on par, software-wise, with Surface Duo 2, which launched with Android 11.
The Android 11 update brings various UI changes, like a wider notification shade, updated Launcher widgets, new volume and brightness controls, improved app folers, and a refreshed Settings layout. The update also adds new features like auto app-spanning for user-selected apps, a new Photos app (based on OneDrive), and more support for a Surface Pen, which can now be used in Outlook or to markup photos.
Users can also now launch OneNote using the Surface Pen's top button, just like Surface Duo 2 after its recent December update.
Additionally, other stability, gestures, and touch improvements come with a new OS and firmware for the Surface Duo, which hopefully improves the overall performance and user experience.
Here's the official changelog from Microsoft:
Upgrades the Android operating system to Android 11.
Addresses scenarios outlined in the Android Security Bulletin—January 2022.
Enabled launching of OneNote when clicking the top button on Surface Slim Pen 2. It requires Surface Slim Pen 2 to be paired with Surface Duo.
Enabled in Surface Duo features, in Settings, to choose preference for answering phone calls when folded.
Enabled in Surface Duo features, in Settings, to choose specific apps to automatically span across both screens when you open them.
Optimized Quick Settings and notification width for portrait and landscape orientations.
Adjust media volume directly from Quick Settings in any device mode.
Use thumb mode in Microsoft SwiftKey now with all device modes and application states.
Updated app drawer and folder design with improved drag-and-drop support.
Refreshed Microsoft feed design with updated cards and new Microsoft Start widgets for News and Weather.
Photos by OneDrive: New dual-screen enhanced experience for viewing and editing photos in the OneDrive app.
Xbox Game Pass: Discovery and play games from the cloud with an on-screen controller. Some devices, accessories, and software sold separately. Additional fees and/or subscriptions required for some apps and features.
Send feedback to Microsoft by opening Settings, then tap About, then tap Give feedback to Microsoft.
To grab the update yourself, use these steps:
Connect to a Wi-Fi network.
Select Settings on your Surface Duo's home screen.
Select System.
Select System Update.
Select Check for update.
Select Restart now.
The update is rolling out now for unlocked models of the Surface Duo. The update for the AT&T handset usually arrives a couple of weeks later. As of 5PM ET on February 1, 2022, the AT&T variant is also now getting Android 11.
Of course, while Android 11 is a welcomed upgrade for those who took financial risks to buy Surface Duo, all eyes are now on Android 12L, which is better optimized for the Duo's dual-screen experience. While that OS brings improved features like a dual-screen notification shade, its real value is in the official APIs for app developers to target foldables like Surface Duo 1 and Surface Duo 2.
Sources familiar with Microsoft's plans note that the company is tinkering with internal beta builds of Android 12L, but there is no official release target yet set. It's also not clear if that version will come to Surface Duo 1, although Microsoft promised three years of OS updates for both Surface Duos.
Android 12L is not expected to launch publicly until sometime in the first half of 2022.
Windows Central Newsletter
Get the best of Windows Central in your inbox, every day!
Daniel Rubino is the Editor-in-chief of Windows Central, head reviewer, podcast co-host, and analyst. He has been covering Microsoft since 2007 when this site was called WMExperts (and later Windows Phone Central). His interests include Windows, laptops, next-gen computing, and for some reason, watches. Before all this tech stuff, he worked on a Ph.D. in linguistics, watched people sleep (for medical purposes!), and ran the projectors at movie theaters because it was fun.
OMG!!! Checking now! 2.38 GB downloading... 😊

Just for unlocked. Still waiting for the AT@T versions lucky!!!

Me too. I know AT&T only cares about as much as Microsoft does, which is typical. I love my Surface Duo but after 14 months there should be more added on by now, and the persistent bugs should be gone. I honestly believe Microsoft released A11 because they were obligated,, not because they wanted to. Daniel/Zac do you know if the random issue with one screen going off and the screen asking to switch screens for no reason is fixed with this update? I still have that problem with my version 1 device.

I'm having that same stupid issue. Should have been resolved a LONG time ago. I am installing the update now so we shall see if it still persists.

Someone reported that it's still an issue 🤮🤮🤮

I saw that. I haven't experienced it yet but that sucks...

I have an unlocked ATT version of the Surface Duo, and the update isn't there.

From the article:

"The update is rolling out now for unlocked models of the Surface Duo. The update for the AT&T handset usually arrives a couple of weeks later."

Even if unlocked, your device's model number is still the AT&T variant.

Thanks, Daniel. I read the article, but didn't realize AT&T still had its fingerprints on my device.

Hopefully that they do deliver, since there is a perception issue with Microsoft about delivering updates, some are just not confident about them. Considering Android 12L will bring a far more substantial improvements to overall UX of the device and not just some features added in. Surface Duo 1 isn't cheap to begin with.

"It's also not clear if that version (Android 12L) will come to Surface Duo 1"
This is really concerning, and for many reasons...

We're just hedging, but they are testing/developing it on Duo 1 too. We just can't say "THEY'RE DEFINITELY GOING TO RELEASE IT," because we can't claim that yet. Microsoft's intent, however, is there.

Exactly: it is nor your responsibility, neither within your power, to do so. Microsoft instead, especially considering its sketchy history in supporting PDA/smartphone OSes all the way since entering the segment, should do it.
Promising three years of support is, theoretically, a fair policy but, delivering such updates with one year delay dramatically undercut it.

Greetings from Honduras, Central America. Surface duo updated to Android 11 😉

Just finished updating. Have already faced two instances (out of three) where one screen automatically switched off and I got the double tap to switch screens message. Totally unintentional, as the OS decided that. Don't know what's setting it off. Not the option to set apps to span both screens on opening is appreciated

Settings > Surface Duo features > Screen when folded (sounds like you want it set to "Right screen")
Settings > Surface Duo features > Span apps automatically (toggle global setting to "off" for all or leave it "on" and set individual apps)

Interesting, I do not see that, not yet at least.
What I noted is that the Picture widget for the Launcher does not work: I can choose the size and shape but then it is not added to the Launcher.
Also the weather widget does not allow me to set a location, although this bug was present before too.

So far that's not available on Duo 1. I guess because of the fact the camera is only inside so it may not work so well.

No, what I am referring to is the widget for the Launcher which should shows the pictures already on the device, like the iOS widget and the WP Photo tile work.

Ugggg!!! I was just asking if that bug was still there.. There's not many bugs left but that one still persist on my device. I wonder if version 2 has this issue. 🤔

Still have a few false positives of one screen turning off, but the overall experience so far has definitely improved.

$1400 device and it takes over a year to get an update?! Microsoft shouldn't bother releasing devices they don't plan on supporting properly, or at least price them accordingly. It is only a matter of time before we hear the whole project is dead now that they have canceled the 2022 release. They aren't dedicated.

I 100% agree with your first sentence. That it took this long for a software update is unacceptable for any company, let alone a multi-trillion dollar software one. Timelines, budgets, scale, OS compatibility, blah, blah, blah. Feel free to miss me with all that. I'm not here for any of the excuses. As someone who purchased the Duo 1, I'm disappointed in how MS has handled themselves during this rollout of a supposed flagship product (their lack of support, fixes for this device lack of transparency, or communication).
To quote bleached: "$1400 device and it takes over a year to get an update?!" There is no way to excuse this. I'm 80% with you on your second paragraph. Potentially, no Duo 3 this year. Not a promising sign at all..

Dude, you need some pu$$y. You are too far in to Microsoft not doing this and Microsoft not doing that.

He would have to be able to trick a woman into even looking at him for that to happen. No woman is going to put up with his obvious extremely low self esteem.🤦🏿‍♂️

You can only attack personally as you know I am right and you have no other response. Same as the comment you are replying to. Have to attack me as my message is honest and you know it.

But you're not honest. You only ever make negative comments and even if this one is true, plenty of others are exaggerated, opinion presented as fact or just plain wrong. If you actually were honest then people might take you seriously when you make justified criticism but, as you're a troll, even true comments come across as the boy who cried Microsoft. It's not our fault that you destroyed your own credibility long ago.

Well, you are characterising, regardless of the positive or negative attitude, a large, substantial portion of the people on internet. To me personally is very easy to read and analyse the content of a post and separate objective facts and opinions from biased, groundless ones.
I do not make a bundle of all the grass... :-)

Most of Microsoft's stuff is uninteresting these days so I don't really comment on it. I was a big fan of Windows 11 and Surface Pro 8 though. I was negative at all about them. I was also positive about Duo at first, I thought it might work as it could be used as a normal single screen phone most of the time with no drawbacks. It proved to not be good at that as it is way too wide and buggy.

You're still a funny dude who only seems to critique and Criticize everything Microsoft.

I think you are attacking yourself perpetually. 🤦🏿‍♂️

Everything he said was right.
Microsoft messed up with a Duo big time.
They should cancel the entire project at this point, because it proved to be epic failure. Even worse than Windows Phone 7. Stop these childish comments and get a life, dude.

Why should they cancel it? Because you say so? Lol.... There's entirely too many guys here that act like bitche$. Too funny!

Because it didn't sell and reviews all said it sucks. No one praised it or the form factor. Duo 2 was MKBHD's worse phone or the year. It is time for Microsoft to give up and go build their own platform unless they really just want to be another Google OEM.

We all have a right to feel how we feel. Your opinion won't change mine just as mine shouldn't change yours.

Your opinion will change mine if you make a good point.

I agree with you on the dedication. I feel like they aren't focused on the device, as much as the should be. As much as 1 like my Duo 2, I see a few things that could definitely be added or improved on. Outside of continuously providing bug fixes and useful features within the UI, some of their own apps need to be could be better tweaked to utilize the two screens. For instance, there's no reason Edge should not be able to open a seperate tab on the opposite screen.

"I agree with you on the dedication. I feel like they aren't focused on the device, as much as the should be." MS sold about 40,000 Duo 1s. Probably 3/4 of those were at the fire sale prices. Exactly how much of a priority do you think this thing should be? Apple sells 40,000 phones in a few days. Android sells 40,000 phones in a few hours. I guarantee you that MS has FAR bigger things to concentrate on than updates for the Duo 1.

Nvm the sources. Microsoft knew the niche selling points and numbers and has multiple teams on different projects. It's just ignorant to say "more important things to prioritize". Windows engineers aren't working on the duo

Rubino gave us Duo sales numbers and iPhone and Android numbers are readily available.

@ Vincent hold your finger on link in Edge and tap 'open in other window'...

Thanks for the info. That works, but it really should have been more obvious. Open a new window should be an option in the browser menu.

My Duo has had loads of updates since it's release and this OS update is great... Looking forward to Android 12L... Enjoy your boring iphone with it's awful notification system... Ha ha ha...

Riso abundat in ore stultorum...

Nice. Seems smoother for sure.

I agree, my Surface Duo seems snappier and gestures are improved... Feels a more polished device... It's my daily driver... Will see how it performs regarding the screen switching issue... No problems to report yet...

Got excited for a minute to then realize I need to wait for AT&T. Ugh

Both of our children's Duo 1's received the update. They love the screen recording option (for editing videos), auto rotate works with a lot less "glitches," there devices respond quicker/smoother, screen selection works and they like the updates. These are their observations. Their Duo's were purchased unlocked through the Microsoft Store. We are on AT&T.

Can you or ask someone from android central to question Microsoft on why the button press to activate Onenote from the pen is limited to just the slim pen 2 when it's just Bluetooth? This has been the same function since pro 3 which is why you 'need' to pair the pen

Too little, too late. While I do notice major improvements with the device after the update, it doesn't make up for the months the device was practically unusable for me for even the most basic tasks such as reliably checking email. I will never again invest more than 400 dollars in a Microsoft device (paid much more for the Surface). They should have done right by owners of the original Surface and offered much better trade in terms for the second one. How does releasing this update make up for the fact that for most of my ownership of it, the device has sat in it's case, unusable and unreliable, unusable by design, not by choice.

FWIW, 2 weeks ago bestbuy gave me $450 + $250 + $5 +5 for my glacier SDI. Got the Obsidian SDII. Liked the SDI, love the SDII. Cheers

I considered the Best Buy plan but decided I liked my Duo more than the money offered in their plan, I purchased the Duo 2 thus pledged the Duo as a work device and the Duo as a personal device with new DBrand skin.

The gesture didn't work because your fingers were pressing on the back screen. You can notice that you moved your fingers because the DUO gets confused which screen is primary. It's like the OS cannot handle multi-touch points across both screens. This is my major compliant with the DUO and a bad design flaw. Seems to still be there on DUO 2 which confirms why I don't need to upgrade.

All I want to know is, will this update allow W-Fi calling on Verizon? Right now, my Duo sits in a box until this gets done.

This is great news... no complaints at all. Hope MS also commits to 12L for both SD1 & SD2.

For me this update has resolved all the issues with the device... Hope you guys on AT&T get the update soon...

I just hope that this update to the AT&T unlocked version will add Wi-Fi calling on Verizon.

Glad to hear the AT & T phones are getting the update today... Would be good to get some feedback, have all or some of your issues been resolved?

Jumped onto the duo last week. Not experienced android 10 on it but finding 11 a joy to use. Only issues I really have are user error so to speak. Forgetting things like where the swype is when turning the phone round or clicking below the space bar and bringing up a 2nd app. So far loving it and can see the advantages of 2 screens. Especially for my productivity and soclai media posts.

Woooohooooooo!!!! Updating now. I can't wait. I hope the Duo 2 feature where you can choose which screen activates when you switch to single screen is available.

First thing I noticed is that swiping up from the bottom to show the recent app list is now trash. It only works if I'm already in an app but not from the home screen. It's so annoying that I switched back to three button navigation. Grrrrr....

On SD2, it changed for me in the December update to a longer "hold" after the swipe up, until the first app appears, and then release to see all and scroll through them.

Accessing recent apps by swiping up from the home screen finally started working. Maybe all those restarts I did yesterday helped, lol. However, I have noticed a lot more instances of both screens turning on while in single screen mode. Being able to choose the default screen while folded sure would come in handy... grumble grumble...

I didn't find it. Not sure if it isn't there or I just don't know where to look...

I don't see it in the changelog. Only the option to fold back to answer phone calls. If it's enabled, it's Settings > Surface Duo features > Screen when folded

Finally!!! Definitely a much nedded update. Feel it's much better experience and can't wait for 12l

Daniel why is this feature not available on Surface Duo 1 for AT&T? Enabled in Surface Duo features, in Settings, to choose the default screen when folded.