Microsoft releases big Surface Duo 2 update: Improves touch, camera, Bluetooth, and adds new features
The Surface Duo 2's December update is now available, coming in at 258MB with a ton of fixes and improvements.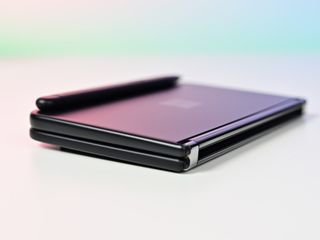 (Image credit: Daniel Rubino / Windows Central)
What you need to know
Microsoft's Surface Duo 2 is receiving its December 2021 update.
The update is 258 MB and brings the build number to 2021.923.272.
The update brings many fixes, including improvements for app animations, touch responsiveness, LDAC Bluetooth, camera usability, and more.
Additionally, there is now the ability to launch OneNote using the Surface Slim Pen and other new features.
The Microsoft Surface Duo 2 hasn't had a significant update since its October 21 release, but that's changing with the one for December 6. As we have been talking about on the Windows Central Podcast, this update, coming in at 258MB, is quite substantial, and it has with it a significant changelog.
The update, which is now available for all Surface Duo 2s, addresses (opens in new tab) many ongoing minor issues:
Addresses scenarios outlined in the Android Security Bulletin—December 2021.
Improves system reliability and stability.
Improves app navigations with added support animations.
Improves camera usability.
Improves touch responsiveness.
Improves support for LDAC enabled Bluetooth devices.
Improves reliability in the Android Auto experience.
In addition to fixing a few things, Microsoft is also adding some new abilities, including:
Enabled launching of OneNote when clicking the top button on Surface Slim Pen. Requires Surface Slim Pen to be paired with Surface Duo 2.
Enabled in Surface Duo features, in Settings, to choose the default screen when folded.
Enabled in Surface Duo features, in Settings, to choose preferences for answering phone calls when folded.
Being able to launch OneNote by clicking the Surface Slim Pen button is something many have been wanting since day one, so it's nice to see it here finally. We have heard from sources that, down the road, Microsoft may let users customize which app that button can launch. Additionally, inking on the lock screen is also considered for a later release.
To grab the update on Surface Duo 2, follow these instructions:
Connect to a Wi-Fi network.
Select Settings on your Surface Duo 2's home screen.
Select System.
Select System Update.
Select Check for update.
Select Restart now.
The update is 258 MB, so it may take time to download depending on your current internet speeds.
We'll have more coverage of this update, including a walkthrough of the features, soon.
Daniel Rubino is the Editor-in-chief of Windows Central, head reviewer, podcast co-host, and analyst. He has been here covering Microsoft since 2007 when this site was called WMExperts (and later Windows Phone Central). His interests include Windows, Microsoft Surface, laptops, next-gen computing, and for some reason, watches. Before all this tech stuff, he worked on a Ph.D. in linguistics and ran the projectors at movie theaters, which has done absolutely nothing for his career.
"Enabled launching of OneNote when clicking the top button on Surface Slim Pen. Requires Surface Slim Pen to be paired with Surface Duo 2." That is definitely a feature I can relate to. Very nice.

"Microsoft may let users customize which app that button can launch." Hope so. The pen also has other 'gestures', double click and click and hold. Those need to be supported and adjustable too. Hope that doesn't take another year.

for futures ... wouldnt mind seeing erase button used as a remote shutter clicker. that'd be uber-kewl - no other device currently employs such a feature (to my knowledge, at least)

Nice update. Now let's see Android 11 for SD1.

At this point, meaning being one year late, MS should offer to its very patient and forgiving clients directly A12 for both the Duo and the Duo 2. Do this might even motivate me to buy the 2... :-)

theres a write-up in these archives, here, talkn bout A12 (actually 12L) as per
tains to Duo ... some good reads there ;-]

Yes, I am aware of it and its peculiarities; said that I am also familiar with the "Waiting for Godot" play therefore just give me what is here now: A12 exactly as other, more established brands are doing at the moment. When A12L will be released keep rebuilding and consolidating the trust of the users and push it in a timely manner.

Now it's possible to take pictures with the phone folded with the front facing camera facing out without it mirroring the image.

Hopefully this doesn't become a Windows Phone 7.8 situation where the Duo 2 gets all the attention while the OG Duo gets scraps. It's bad enough that there's still no ETA for Android 11 on the Duo and now first gen owners have to watch as Duo 2 gets all the new features and goodies (while praying that some of those features get back ported).

Android 11 is coming to Duo 1 by "the end of the year" (that is the ETA from MS) and it is currently in self-host right now pending production. We've seen it and you're getting it. It includes all the new UI changes, app auto-spanning, inking in Outlook, new Photos app (OneDrive), inking in photos, and other fixes and improvements. I suggest listening to our podcast where we regularly discuss it.

I do listen regularly (granted I'm currently two episodes behind). And while I do believe that Android 11 is coming, the point I was trying to make is that I hope MS doesn't treat the Duo 1 as a second class citizen. And considering how MS has treated the Duo since release, I won't be giving them the benefit of the doubt regarding how long it takes Duo 2 updates to trickle down to the Duo 1.

That is awesome. Looking forward to seeing in the next few weeks.

Good to know. I don't listen to podcasts so this is the first confirmation I've seen. Thank you!

Good update. Seems faster. 🤔

Nice update. My number one feature request is to add the ability to customize the down swipe on the home screen. Microsoft Launcher on other phones lets you change the down swipe so it opens the notification shade, as opposed to having to swipe down from the very top of the screen. This would eliminate 95% of my frustration with the Duo 2. Most of the time when I try to open the notification shade, it mistakenly opens the search window, which I never use. Other than that, the Duo has been awesome.

Totally agree with this one!!!

This is a nice update, good to see a focus on features as well as fixes.

Is that typical of the swipe up action being so hit and miss?

I'd be happy if we had all the customization features that the single screen launcher allows for.

Give 'Launcher 10' a try, it has 'dual screen mode' and is really good!
Had it on my previous Note10+ and wasn't sure about trying it on my SD2, but it is awesome! Keep going back to MS Launcher to try it again, but it's just not as versatile as L10
See it here: https://www.reddit.com/r/surfaceduo/comments/rbbw8e/configurable_launche...

yup, agree. have L10 on my SD1. endless customizations. fun to see n use vs stock MS version. one of best L10 features i like: option to remove the title from launcher 'tiles'
... hey, whadaheck do we need the visual 'noise' of tiles when one can recognize ~90-95% of apps just by their app icons ... food for thought. besides, it's easily a much cleaner look imo :-)

I wish they would have put back in support for Wireless Microsoft display adapters like the original surface Duo has . Seems crazy they don't support their own devices

Great to see some kind of added features and somewhat significant acknowledgement (and fixes, hopefully) of common problems the Duo has shown. Took about 6 weeks post-launch, which isn't TOO bad. Now, let's see how long A11 takes to show up on the original Duo and how, if at all, these features/bugfixes are integrated. If we can get that shortly after this, I think it's a decent sign of software development resources' being available to the Duo for longer-term support. If the suggestion that the SD3 might not be a Fall '22 launch is true, then the timeliness of these updates becomes even more important. IMO, they should shift the Duo to their Spring events to be faster to market with the latest Snapdragon chips (assuming they don't use year-old chips). Then they have a leg up on the Folds in the fall and have something to offer against the rest of the big players in Android when they do their first-half launches.

It's great to remember the expression: seem faster... Ohhh old Windows Phone times 🙃☺️

Massive? No. Welcome, yes. I'm use to seeing GB updates from Samsung and Apple, and small 250MB for security patches.

Massive, yes. An no, I'm not talking about size, what a weird thing to judge on, but as far as what it accomplishes. As someone who uses Duo 2 as their primary phone, this update made a big difference in the everyday user experience. The camera is better, gestures are better, the animation is better, the new OneNote pen feature, new options for usability, even Bluetooth is improved. Many Samsung updates, however, like on my Z Flip 3 haven't really improved anything that I have noticed. You could make the logical argument that Samsung and Apple start from a more reliable place ergo the updates mostly seem inconsequential, compared to Duo 2, which had a bevy of minor issues on launch.

I thought about holding off until the SD3, but it seems the SD2 is getting to being a really good daily driver.
I'll see what Android 11 brings to the SD1, and make the call then.
Is it possible to quantify the improvements on SD2 over the SD1 when using it as daily driver?
Is it a massive improvement (aside from the camera)?
I'm sure the SD3 will nail it if Surface history in general is any indication. Just not sure if the SD2 is worth investing 1500 bucks for essentially a year of use.

I mean, it is hard to quantify, but I'll say Duo 1's thin design is still super impressive, vs the heavier Duo 2, but Duo 2 is elegant in its own right. As someone who likes both, I'll just say I'm really happy with this update. My biggest gripe was the swipe-down/notification shade hit-and-miss from before,w which this solves for me. I still need more "real world" time with it, but the animations, fluidity, gestures just all feel really dialed in now. Could it be better? Probably, but I'm not getting frustrated anymore. I don't expect much for a Jan update (holidays, etc.), but it should be interesting to see what Feb, March brings. I'm really curious if MS continues to improve/add things instead of just, you know, security updates.

Yeah, the upgrade strategy will be very interesting to observe. This is where they totally seem to have dropped the ball on with the SD1. It could have been a lot more if they put more effort in the SW. On the other hand, I understand that they focused on what's next, given that the SD1 really was already dated when it came out.
I think I'll wait and see what Android 11 brings to the SD 1 and wait a few more months more to see how the SW on the SD 2 shapes up. I'm not unhappy with the SD1, the bugs and quirks are by now so familiar, I can't imagine life without them :)
In the meantime I'll watch how things shape up with the SD2 for you.
Thanks for what you do and thanks for keeping it real!

The swipe down was my biggest frustration as well. It's very much better now!

hey Daniel, can ya expand a bit on
1- camera is better
2- new options for usability
... tks! re: "... the logical argument...."
- quite an interesting, yet totally valid point.
- do you think the 'limited resources' of Duo team plays a significant, if not major, factor in the results of Duo. ... and is it fair to expect an increase in resources by MS, going forward?

Anyone experiencing the pen not staying connected?

Seems to be an issue with the OG Surface Pen and Slim Pen 1. Slim Pen 2 seems OK. Others have noted similarly.

The gestures seem to behave closer to what your thumb is actually doing rather than guessing as it was before. I really like the answer when opened completely feature, I guess nobody at Microsoft is old enough to remember how a flip phone/clamshell is supposed to work.

I have this feeling that the Duo product will slowly become a more usable product much like the Surface RT did after about 10-20 updates, some major, others minor. When the RT launched it was almost unusable but at 2nd year after a bunch of firmware updates and W8.1 it was actually a really nice product for niche use cases (I used mine as a walk around companion device to my desktop at work).

I actually don't have that quick black screen glitch when apps are opened before the animation. Might be something else causing it on their Windows Central unit.

Bluetooth range seems a lot better

yes! thank you on the Android Auto fix! that was driving me crazy where I was blaming my Pioneer head unit. The other major bug I feel with Surface Duo 2 is where it stops responding to touch. The fix is easy (just lock the screen and then unlock it) but it's so annoying to have to do. I'm not sure the update has completely fixed that but I've barely had the update so let's see how it goes. But please bring Android 12 soon. It looks like Android 11 won't make the OG Surface Duo by the end of this year (seems like most companies are in holiday mode already for the rest of the year). Microsoft will cement their reputation as update-lacking if they don't bring Android 12 in a timely manner.
Windows Central Newsletter
Thank you for signing up to Windows Central. You will receive a verification email shortly.
There was a problem. Please refresh the page and try again.