Microsoft Surface Duo 2 update lets you customize Surface Slim Pen's buttons, improves touch, and more
The Surface Duo 2's January update is now available, coming in at 559MB with a ton of fixes and improvements.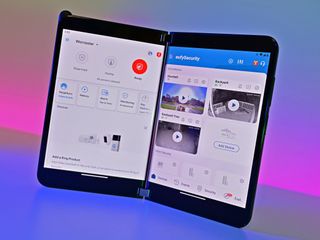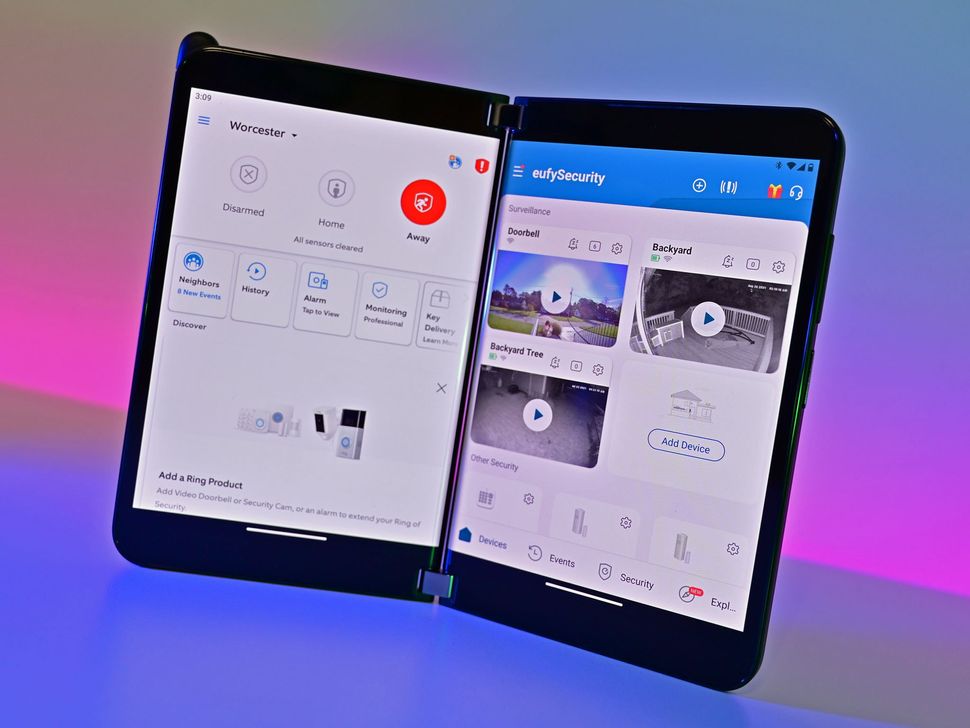 (Image credit: Daniel Rubino / Windows Central)
What you need to know
Microsoft's Surface Duo 2 is receiving its January 2022 update.
The update is 559 MB and brings the build number to 2021.1116.111.
The update brings many fixes, camera improvements, touch responsiveness, and more.
Those with the Surface Slim Pen 2 can also customize the button to launch specific apps and take a screenshot with one click.
The Microsoft Surface Duo 2 last had a significant update back in early December, but now the expected January update is rolling out and it's a big one.
The update, which is now available for all Surface Duo 2, brings with it (opens in new tab) bug fixes, optimizations to the touch driver, January security update, and more.
Here is the full changelog:
Enabled pen shortcut preferences in settings for Surface Slim Pen 2. It requires Surface Slim Pen 2 to be paired with Surface Duo 2.
With the Your Phone app, you can use Android apps on your PC. For more information on using Surface Duo with your PC see Link Surface Duo to your PC.
Addresses scenarios outlined in the Android Security Bulletin—January 2022.
Improves camera usability of night mode, 4k video recording, and auto focus.
Improves charging reliability with 3rd party chargers.
Improves system reliability and stability.
Improves touch responsiveness.
In addition to fixing a few things, Microsoft is also adding some new abilities, including configuring the Surface Slim Pen 2 to align with how it behaves on Windows devices. Specifically, users can configure the pen's Bluetooth button for single-click, double-click, and press-and-hold to launch specific apps or even take a screenshot. This feature improves upon the December update, allowing that button to default to opening OneNote.
Another new feature is "Apps" in Microsoft's Your Phone PC application. Previously, Surface Duo 2 users only had access to "Phone screen," which streamed the Duo's display to your PC. With this update, users can now launch Android apps individually (and multiple instances), giving a more native experience. Previously, this feature was only available on Samsung smartphones.
One of the fixes we can confirm is the ability to automatically open links on the opposite display (when not occupied). While this feature was built into Surface Duo on Android 10, it was lost going to Android 11, and Microsoft has now fixed it, making multitasking much more natural again.
To grab the update on Surface Duo 2, follow these instructions:
Connect to a Wi-Fi network.
Select Settings on your Surface Duo 2's home screen.
Select System.
Select System Update.
Select Check for update.
Select Restart now.
The update is 559 MB, so it may take time to download depending on your current internet speeds.
See the above video for a walkthrough of the new features.
Daniel Rubino is the Editor-in-chief of Windows Central, head reviewer, podcast co-host, and analyst. He has been here covering Microsoft since 2007 when this site was called WMExperts (and later Windows Phone Central). His interests include Windows, Microsoft Surface, laptops, next-gen computing, and for some reason, watches. Before all this tech stuff, he worked on a Ph.D. in linguistics and ran the projectors at movie theaters, which has done absolutely nothing for his career.
I was just wondering about the update this week. Glad to see it's here.

I have been waiting for the apps feature, downloading now

The apps feature worked with my Note 9 but they never enabled it on the Gen1 Duo.

Right. Any word if this feature will be added to Gen1? This isn't a trivial feature.

Well, one would hope that this would have been pushed to Duo 1 owners as well seeing how they are both finally on Android 11. Guess we play the wait & see game.

I think we'll def see some of that, but seeing as A11 was supposed to be last month, it seems they are a little behind now for release cycles. Would be weird/risky to push out another major update 3 days later without any telemetry on stability data.

Right, 3 days would seem quick, but I'm hoping that we aren't waiting for months for new feature updates. Hoping that now that both devices are running A11, feature development can be quicker for both devices.

Daniel Rubino, please post a review of SDV2's software experience after this update, and tell us where it sits amongst the worst and best Android experiences on the market. Basically, please give us a review telling us if SDV2 has a relatively great, good, underwhelming, or horrible software experience in January 2022.

We'll talk about it on the podcast.

Would it kill Microsoft to throw us some eye candy? At least bring the Launcher to parity with every other Android handset running Microsoft Launcher. I know it's petty but the home screen is what we look at the most and should be a welcoming sight. Oh, and give us Bing Daily images across both screens automatically - like every other Android.

That is what I always said about Windows Phone and eventually Microsoft spiced up the UI with a few customizations. I think Microsoft wants to get stability and basic features nailed first then add the fun stuff. Think about it, at the beginning Android came with the fun stuff but it was an unstable mess. It took a decade for Androids stability and refinement to catch up to all the features and customizations.. It may be boring and a bit frustrating, but Microsoft seems to be going in the correct order.

By version 4, Android was no longer a mess and definitely wasn't unstable. Android 2.x, sure they were rough, but everything was back in 2010 and they were much more powerful than the competition (Microsoft, BB, Palm, Nokia, etc). Those old versions weren't even that bad if your device had clean ROMs available. After 4.0, and especially Jelly Bean on, you didn't need to ROM at all. It took a couple years at most to get Android working well, you just had your head too far up Microsoft's rear to notice.

I just hope it fixes most of the random UI bugs introduced after last update related to double-screen (e.g., can't move app to another screen, 3-button bar disappear or fly to the middle of the screen, some apps up-side down when folded and landscape, etc.).

"Those with the Surface Slim Pen 2 can also customize the button to launch specific apps and take a screenshot with one click." This sounds like a great idea, much like Samsung's old implementation of the Note pen. Of course they ditched pens on phones, but whatever, I'll just roll my eyes at that. "Users can now launch Android apps individually (and multiple instances), giving a more native experience. Previously, this feature was only available on Samsung smartphones." I use this all the time with my Samsung phone. It's a great feature. Not without bugs yet but it's more than usable. Until the Covidpocalypse well and truly ends for me, I'm not really interested in a new phone, let alone this very expensive one. But these kinds of updates have my attention.

Technically the S Pen still lives on Galaxy S Ultra line, but yeah sadly the built-in S Pen isn't there. And it's annoying that we have to find to store this pen always with us when we need it. Hopefully that will change on next version after they completely moved on from Note series. After all Galaxy S Ultra are basically Note anyways, just without that pen silo. What Surface Duo and Android 12L will have to implement next is the handwriting panel for the text boxes like on Windows and iPadOS. And making use of the pen button button for 2nd and tertiary actions, just like right and middle button on a mouse.

"handwriting panel for the text boxes like on Windows and iPadOS" So there's nothing like that yet? Yes, that does sound helpful. Also, on that point, amazing how ahead of its time W8 and OneNote were in this regard.

So far as far as I can tell, pretty much only Windows and iPadOS does it. Well OneUI as well, but I sort of forgot since I'm using SwiftKey, I think native Samsung Keyboard also supports handwriting as well. For some reason, Microsoft still don't have it on SwiftKey yet, which is a huge shame. OneNote was really way ahead for decades. Windows 8 pretty much improved the ones from old handwriting panel since Windows XP Tablet Edition. What really impressed me that time was how good the handwriting recognition was, despit not being connected to a cloud or something and pretty responsive. This can't be said with my experience with handwriting since Windows 10 ever since they changed that handwriting panel from old Windows 8 ones. It feels like it doesn't recognize my words all the time and I have to correct it more often than the old one, despite training it.

SDII here with Slim Pen I, can confirm all three custom button settings work flawlessly here. OneNote, screen grab, and Outlook. Note: SPI must be paired to only this device. If paired to another surface device, won't see button tricks. Cheers

One additional note, attaching SPI to pen cover disconnects Bluetooth. To reconnect, long-press pen cap to reconnect.

There is a sign of life coming from Redmond recently concerning Duo.. Three more good updates for SDV2 and I'll be convinced Microsoft is serious about this device and that version 3 is coming at some point. There's no indication that SDV3 is coming, other than WC saying it's in development, but there's also no direct indication that it is coming. Nevertheless, the current device(s) getting attention says there will be a version 3 more than it say there won't be a version 3. Looks like SDV2 is a pretty good device now. Still pending review of the latest SDV2 software experience with an updated look from WC.

I think better to focus on really polishing up and adding feature on the software side of Surface Duo and make sure Android 12L will works perfectly on it. Since the software experience still ruins Surface Duo regardless the changes in the hardware. Personally I wish to have Surface Duo 3, since that might be the version I will really jump ship. So far SD2 hardware is fine, but it needs a bit more.

If fixing stuff that shouldn't have been broken in the first place is a sign of life to you, your standards are way too low. This is bare minimum. Since they canceled the next one, no way they keep making these pointless devices. When G Fold gets 12L and the improved multitasking, which will occur quickly, the Duo will have an even smaller reason to exist. No way we see a new one in 2023 and I will surprised if they get 12L at all.

Great support from Microsoft... My Surface Duo 1 is so good following the update I bought a slim pen 2... It's great for taking notes on the wider format second screen whilst taking phone calls... Looking forward to seeing what Android 12L will bring to the Duo devices...

Sshhhh.. Don't tell Microsoft they're giving Duo great support. They don't need to hear that right now. Keep that down. 🤫

Duo 2 is $1500 and Android 11 is well over a year old now. Even if they get Android 12 out before 2023, it is tough to say it is great support.

Having had the update for a couple of hours now I can confirm that the touch and typing sensitivity is much improved and virtually flawless now. The camera is improved as we and bugs are yet to show themselves. I would now much more easily recomend the device to anyone who is looking for a dual screen pocketable device. One can only wonder how this device would have been received if it had launched like this. Loving my duo 2

If it launched in its current state back in September 2020 that would have been awesome.

Seems like the update is moving the ball forward. I am a run first, control the line football fan. MSFT needs to block and tackle and make sure the line (the OS) is stable and allows for the skill players to shine. IN other words, no reason to spend time and resources developing a great running back or quarterback/receiver combo if the line cannot block. I realize many on this thread are not American and do not have a strong understanding of American Football. So maybe my comment looses it meaning to many.

I like your analogy. I view it a little differently, but don't disagree with your sequencing: I would also be fine if they divided their efforts between stability improvements and releasing new features before they were fully stable, as long as bugs and stability problems were limited to the new features, and didn't break the old stable stuff. For me, as long as I see steady improvement and things that worked yesterday don't break today, I'm OK with some bugginess around the new stuff. Not suggesting that's better than a pure focus on quality and stability, just that personally I'd be fine with either.

Even if the camera app is improved, it still requires you to turn your checks vertically to use in-app camera functions for banking apps to do mobile deposits. This is required for two of my banking apps.

I never thought to turn the cheque :).

I find that annoying too, but is that the Duo's fault or the app's? What is the Duo doing different from any other device that could cause that? Are you sure this doesn't happen on other devices?

Didn't happen on my S8+ or S10+. Don't recall on my SDv1.

I have updated my Duo 2, made sure the YourPhone app on both ends is updated, but I'm not seeing the Apps option on my Windows PC. The PC I'm using is running Windows 10. Is it limited to Windows 11? Any other ideas why I might not have it? I'm excited to try that out.

Nedd Windows 11 build 469 with Features Experience Pack 1000.22000.469. 0
Windows Central Newsletter
Thank you for signing up to Windows Central. You will receive a verification email shortly.
There was a problem. Please refresh the page and try again.