How well do Microsoft's Surface PCs handle Windows Mixed Reality?
Can you enjoy Windows Mixed Reality on Microsoft's latest Surface hardware?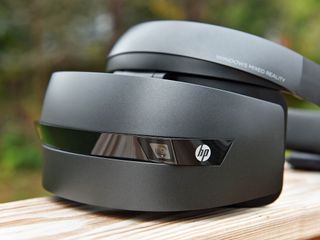 (Image credit: Windows Central)
It's a question we're hearing a lot, so it's time to try and provide some answers. Windows Mixed Reality is built right into the Windows 10 Fall Creators Update, so it's available on a Surface Laptop, Pro or Book 2 that is running the latest version of the OS.
What's the difference between Augmented Reality and Mixed Reality?
For lots of people, a Surface is their primary PC, and with Mixed Reality headsets just becoming available you might be tempted to pick one up. But you might also be unsure if you can use it with your Surface.
Let's try and break down the facts.
Windows Mixed Reality spec requirements
The minimum spec requirements for Mixed Reality are pretty low. You'll find more courtesy of our pals at VRHeads but essentially you need a dual-core i5 processor with Intel HD 620 graphics, 8GB of RAM and a USB 3.0 or greater port, as well as some kind of video-out port.
HDMI is the easiest option, but since Surface PC don't have HMDI, you'll need some kind of mini-DisplayPort or USB-C to HDMI adapter. The current crop of headsets have an HDMI connector, so you have to be able to connect them to the PC via such an adapter.
It's worth noting, however, that these are the minimum requirements. So you may not be able to play the latest VR games just by meeting what's listed here. Windows Mixed Reality "Ultra" is the high-end alternative, and it's there you'll find the graphically-intensive titles. Requirements for those game will be listed in the Store when you're looking, so always check there first.
Devices with integrated graphics can only push a headset output at 60 frames per second (FPS), while you get 90 FPS delivered by the Ultra spec (opens in new tab), so PCs with discrete graphics are preferable for a better experience. With integrated graphics, you're able to enjoy the Cliff House, Windows 10 apps and some very simple games. But you won't get the best the platform has to offer.
For more on this distinction, check out the link below.
What is Windows Mixed Reality Ultra?
Do Surface PCs meet the Mixed Reality requirements?
The simple answer is yes, but not all models. The more complicated answer is that the experiences are "mixed" across the range of products.
First, consider the specs of the Surface Laptop and Surface Pro that matter for Mixed Reality:
Swipe to scroll horizontally
| Category | Surface Pro (2017) | Surface Laptop |
| --- | --- | --- |
| Processor | Seventh-gen Intel Core m3, i5 or i7 | Seventh-gen Intel Core i5 or i7 |
| RAM | 4GB, 8GB, 16GB | 4GB, 8GB, 16GB |
| Graphics | m3 and i5: Intel HD 620; i7: Iris Plus 640 | i5: Intel HD 620, i7: Iris Plus 640 |
| Storage | 128GB, 256GB, 512GB or 1TB (SSD) + microSD expansion | 128GB, 256GB or 512GB |
| Ports | Full USB 3.0, Mini DisplayPort, Surface Connect, and headset jack | Full USB 3.0, Mini DisplayPort, Surface Connect, and headset jack |
Both the Surface Pro and Surface Laptop meet the minimum requirements for Windows Mixed Reality. Mini DisplayPort is the only mild headache, as you can't connect the headset directly, and you'll need an adapter to bridge the gap.
The lowest-spec model, in either case, is out, because you don't have enough RAM. Mid-tier and higher-end specs fit the bill, though, but again, you'll be limited to a 60 FPS experience inside the headset. No high-end gaming for you!
When it comes to Surface Book, you've got the existing model and the forthcoming Surface Book 2 to consider. And here's the kicker: The processors in any of the first-generation Surface Book variants don't meet the minimum spec for regular Mixed Reality or Mixed Reality Ultra.
There are aspects that tick the boxes, but Microsoft declares the seventh-generation Intel Core i5-7200U as the base for mobile (a.k.a., laptop) processors or better. The first-gen Surface Book does not have this, nor does it have the necessary level of integrated graphics (Intel HD 520).
The Performance Base adds better GPU capabilities, but it's unlikely it would make much of a difference. That's not to say it definitely won't work, but it should be treated as a long shot. You'll also want to try running the Mixed Reality PC Check (opens in new tab) application to see what it says.
Windows Mixed Reality and Surface Book 2
The product that should deliver the best Windows Mixed Reality experience in the Surface family is the Surface Book 2 (opens in new tab). Here's a look at the key specs for both the 13-inch and 15-inch models.
Swipe to scroll horizontally
Model
Surface Book 2 13-inch
Surface Book 2 15-inch
Processor
Core i5-7300U (3.2GHz)
Core i7-8650U (4.2GHz)
Core i7-8650U (4.2GHz)
RAM
8GB or 16GB
16GB
Native graphics
Intel HD Graphics 620
Intel UHD Graphics 620
Intel UHD Graphics 620
Discrete graphics
Core i5: None
Core i7: NVIDIA GTX 1050 (2GB)
NVIDIA GTX 1060 (6GB)
Storage
256GB, 512GB, or 1TB
256GB, 512GB, or 1TB
Ports
Two USB Type-A 3.1 (Gen1)
One USB Type-C w/ video, power in/out and USB 3.1 (Gen1) data
Full-size SDXC card reader (UHS-II)
Headphone jack (3.5mm)
Two Surface Connect ports (1 in tablet, 1 in keyboard base)
Two USB Type-A 3.1 (Gen1)
One USB Type-C w/ video, power in/out and USB 3.1 (Gen1) data
Full-size SDXC card reader (UHS-II)
Headphone jack (3.5mm)
Two Surface Connect ports (1 in tablet, 1 in keyboard base)
The base model 13-inch meets the requirements for Windows Mixed Reality, and you'll be able to get the basic experience as described above for the Laptop and Pro. But, with the higher-end versions of the Surface Book 2, Microsoft added plenty of power, including a quad-core processor, and as such you'll be able to think about hitting that 90 FPS, Mixed Reality Ultra experience.
The best experience will come from the 15-inch version with the 6GB GTX 1060 GPU, no question. It ticks all the boxes for a great Mixed Reality experience. The 2GB GTX 1050 in the 13-inch Surface Book 2 still meets the requirements, but it has significantly less GPU power, so you'll not be able to have the exact same experience in games.
Again, the biggest headache is caused by the lack of a HDMI port on the device. You'll need an adapter to hook up the headset. That in itself provides its own issues, since the display output isn't close to the USB 3.0 port, and you'll need probably some kind of powered hub.
Bottom line on Surface and Windows Mixed Reality
The simple fact is that, yes, the Surface products should be able to handle Windows Mixed Reality in some fashion. But in our experience, the mileage will vary widely.
The necessity for adapters to connect the headset to the Surface is unfortunate and more of a hassle than it should be. There are also operational issues we encountered, where it just feels like the frame rate is off compared to other PCs we tested headsets with. This could be due to the need to use an adapter, or something else, but something isn't quite right in our experience, and we haven't quite put a finger on why.
Despite being a Microsoft product, it doesn't feel like the Surface family was conceived with Windows Mixed Reality in mind, and these headsets are no small investment. If Mixed Reality is important to you, you'll be able to get a stronger result elsewhere.
Windows Central Newsletter
Get the best of Windows Central in in your inbox, every day!
Managing Editor - Tech, Reviews
Richard Devine is a Managing Editor at Windows Central with over a decade of experience. A former Project Manager and long-term tech addict, he joined Mobile Nations in 2011 and has been found on Android Central and iMore as well as Windows Central. Currently, you'll find him steering the site's coverage of all manner of PC hardware and reviews. Find him on Mastodon at mstdn.social/@richdevine
if only surface laptop included microSD card slot

That would make a difference to its ability to use Mixed Reality how exactly?

I am curious to try it on my SB1. Running the test app everything shows ok, but the video memory is the yellow triangle - implying it may work but not be a great experience. I am not really looking to run games, more just mixed/vr environments. Movies, PC desktop, etc. I am not going to buy a headset though not knowing exactly how well things will run. I probably won't invest in a headset until it is supported with some content on Xbox. Hope soon.

It's one of those areas that we're airing on the side of caution, because the specs don't marry up to what Microsoft says it needs for even basic MR. As in the post, these headsets aren't cheap.

I have enabled it on my Surface Book 1 (registry edit required) but it's a nauseating experience.

How would less recent Surface products do, such as the SP3?

Wouldn't even bother honestly.

How come? I mean, my cell phone runs VR. This should at least be able to do it right?

It would have been great to test out a few, I am sure amongst all of the fellow writers there are quite a few different Surface devices out there. Just going by specs is kind of pointless as the mixed reality check app indicated that my CPU is going to be fine despite it being a 2nd gen Core i5 so 5 generations behind the minimum mobile spec.

Believe it or not we're not swimming in Surfaces. We're starting at the top and gradually we'll work backwards. But even so, there's zero way we're going to recommend people with a Surface run out and spend 400 bucks on a headset that will probably work like crap if it works at all (in most cases). What we have tried it on so far has not been that amazing, and it's probably the one you'd expect a good result from cough cough.

The fact SP4, Book 1 and Studio can't use Mixed Reality is because Intel can't be bothered to make WDDM 2.2/2.3 drivers for Skylake iGPUs, which is stupid because the iGPUs in Skylake, Katy Lake and Coffe lake are identical.

There is a workaround to enable it for SB1, which I did, and it's a really bad experience. You get motion sickness after about 5 minutes (and I'm a boating and rollercoaster loving guy who doesn't get motion sickness) I do have a 2nd PC for Mixed Reality development (Alienware 15 w/GTX1070) and the experience is amazing when you have the right specs.

Have you noticed the motion sickness from VR takes a while to get over? I've had it twice now and it takes a few days before I want to put the goggles back on

You won't be doing any heavy VR gaming on the minimum specifications but you'll be able to enjoy the immersive passive experiences such as Netflix on a Cinema like screen or travel to famous tourist sites from the comfort of your own home.

I coud care less about gaming. I just want to go on virtual tours and watch movies from the comfort of my bed. Doable on SB1?

Some things are, but it's not great. If it's a Windows 10 Universal app or 360 degrees video you should be fine.

Can someone tell me how the Nvidia geforce gpu (940m with 1gb gddr5) in the surface book 1 is slower than intel hd 620? On mixed reality check it says its unsure about it despite it having better graphics performance over intel hd 620.

Why not just pick up a mini display port to HDMI instead of an adapter. You shouldn't be losing frames

In other news, since today it is possible to run SteamVR games on MR headset. http://steamcommunity.com/games/719950/announcements/detail/1466347451617826043 This is big news. Maybe an article here would do.

Just a correction, the original surface book with performance Base can run it, the CPU passes as it has AVX extensions. What it fails on is the GPU and lack of Bluetooth 4 but you can still get out working. I have done so myself. The adapter you need is an Mini Display Port 1.2 to HDMI 2 anything else will cause the screen to flicker. There is more info on the reddit subreddit, r/WindowsMR

Thanks for sharing You..salam sukses http://obatwijaya.com/obat-aborsi.html

A Surface Studio can run mixed reality, but the Samsung headset I tried on it was defective (right side display problems) and I returned it a day later. What I saw of how it worked on the left side did not impress me, so I decided to wait until the tech was a little more mature. Two days ago I picked up a 15" Book, and the PC Check app for MR gave it green checks all the way through. Without a headset I can't test the claim, but the device is so powerful that I believe it. Just for grins, I ran PC Check on a new Pro to which I have access and got green checks on everything except the graphics card. The Intel 640 GPU got the yellow triangle and the unhelpful comment, "This hardware configuration might work with Windows Mixed Reality, but it hasn't been tested yet." Hmmm: Not tested yet. My suggestion to Microsoft is that since both the device and MR software are their products, perhaps they could scare up some unused units from the adjacent storeroom, plug in some headsets, take them out for a run to discover what the answer is, and then modify the PC Check app in order to let us all know. The WDDM 2.2 driver on the Pro got a green check. My big disappointment -- and in retrospect I probably should not have been surprised -- is that a first generation Book with performance base won't run MR. Even though the GPU meets the minimum standard, it got the yellow triangle from the PC Check app. Worse, the graphics driver got a big red X as a WDDM 2.1 driver, which suggests to me that if the driver could be improved to 2.2 or even 2.3, maybe a PerfBase Book could run MR. But I kind of think that won't happen.
Windows Central Newsletter
Thank you for signing up to Windows Central. You will receive a verification email shortly.
There was a problem. Please refresh the page and try again.