All the new Surface hardware we're expecting to see in spring 2020
A new Surface Book, Surface Go, and accessories too!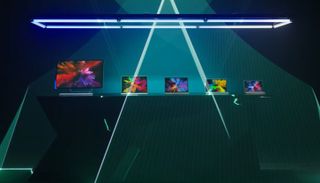 (Image credit: Microsoft)
Microsoft is expected to launch new Surface hardware this spring, and while it is unclear as to how Microsoft is going to unveil these new products, we do know that most of them will begin shipping in the next month or so. I hear that hardware announcements will begin to take place in May, and likely start shipping a week or two later. So, here's everything we're expecting to see announced this spring.
Surface Book 3
All evidence suggests Microsoft is gearing up to launch a refreshed Surface Book with updated internals this spring. We're not expecting there to be any major design changes with this refresh, only updates to things like the processor and GPU.
On the inside, we're expecting to see Intel 10th Generation processors in both Core i5 and Core i7 configurations. This will be paired with 8GB, 16GB, and a new 32GB RAM option, along with the usual 256GB, 512GB, and 1TB storage choices. 10th-gen Intel chips will provide significant upgrades to performance, as well as Wi-Fi 6 support and better sleep/wake capabilities.
Regarding the GPU, rumors suggest the Surface Book 3 will ship with an NVIDIA GeForce GTX 1650 Max-Q in the 13-inch, and 1660 Max-Q in the 15-inch model. Some rumors also suggest a top-end model with NVIDIA Quadro graphics, but that's all we know currently. Either way, significant upgrades are in store over the GTX 1060 and 1070 found in the Surface Book 2.
The starting price is expected to be the same as the Surface Book 2 was at launch, but perhaps we'll see a new black color option like the Surface Pro 7. Microsoft usually introduces a new color when the hardware design and form factor doesn't change, just to give the new model a way to stand-out a little more. We'll have to see if that happens with the Surface Book 3.
Surface Go 2
A second-generation Surface Go is also on the cards this spring, featuring a new Intel Pentium GOLD 4425Y processor, providing a minor bump in performance over the original Surface Go. However, it is looking like Microsoft will also be offering a more expensive tier with an Intel Core m3-8100Y inside that will provide much better performance.
We'll see both 4GB and 8GB RAM options, along with 64GB or 128GB storage choices, just like the original Surface Go. There is also likely to be an LTE variant as well. However, we don't know which processor will have this as an option. The new processors will provide better sleep/wake capabilities and support for Wi-Fi 6.
Design-wise, we're not expecting any significant changes. I did hear whispers that the Surface Go 2 may feature an 11-inch display with thinner bezels, similar to the Surface Pro X, but I've not been able to confirm this with multiple sources so I'm not entirely confident that will be the case. Update: Multiple sources have come forward to confirm that Surface Go 2 does have a larger display with thinner bezels. I'm told it's closer to 10.5-inches, not 11-inches as originally reported. Either way, Surface Go 2 is also expected to launch starting at the same price as its predecessor.
Surface Earbuds
Microsoft announced the Surface Earbuds in 2019 but unfortunately had to delay them for unknown reasons. Microsoft last said to expect them this spring, meaning we should expect to see them show up with this wave of new hardware. Surface Earbuds were announced priced at $249, which many touted as too expensive for what they offer.
Surface Earbuds have their own charging case, but whether that supports wireless charging remains to be seen. The earbuds were also announced without active noise cancellation, something that Apple's AirPods Pro do support at the same price too. It'll be interesting to see if Microsoft has made any changes to the Surface Earbuds during their delay, whether that be a decreased price, or updated feature set to match the AirPods Pro.
Surface Headphones 2
I've also heard that an updated pair of Surface Headphones is on the cards this spring. I don't know what's new or different with them, but they'll likely be available in black in addition to platinum. I don't think they'll explicitly be called Surface Headphones 2 either, sticking with just "Surface Headphones" for simplicity.
Surface Dock
Third-party store listings have revealed that Microsoft appears to be preparing a brand-new Surface Dock to go along with the new Surface hardware. It's unclear what exactly will be new, but we're likely going to see USB-C in place of some of the USB-A ports. The Surface Dock was last updated in 2015, so it's well overdue a refresh.
Surface Duo
Lastly, we've been hearing for some time now that Microsoft is planning to launch Surface Duo much earlier than holiday 2020. I'm still hearing this is the case, and that we can expect to see Surface Duo begin shipping this summer. I don't know when exactly Microsoft will announce these plans, but I do know that Duo won't be shipping until June or July at the earliest, after the new Surface Go and Surface Book both go on sale.
Microsoft may decide to announce these plans for Duo alongside the announcements for Surface Go 2 and Surface Book 3, but don't expect the Surface Duo to start shipping at the same time as those products. I'm told the Surface Duo will ship with a Snapdragon 855 inside and won't support 5G. I've also heard from multiple sources that Surface Duo doesn't have NFC or wireless charging capabilities.
What are your thoughts?
So that's everything we're expecting to see announced this spring. We don't yet know how Microsoft plans to make these announcements. Some have speculated Microsoft will do a virtual event, but others have wondered whether these products will simply be announced in the form of a press release like the recent iPhone SE.
It's important to keep in mind that due to the ongoing coronavirus pandemic, timeframes for announcements are still in flux. While I'm hearing Microsoft is planning to announce new hardware in May, that's already later than Microsoft were originally anticipating. So it's possible that we could see further delays. In the meantime, what are your thoughts on this hardware line-up? Let us know in the comments below.
Get the Windows Central Newsletter
All the latest news, reviews, and guides for Windows and Xbox diehards.