Surface Pro 4 and Surface Book user guides and recovery image downloads go live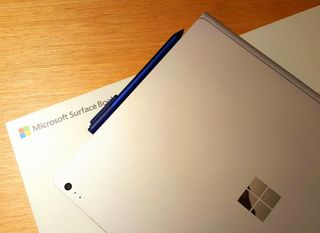 If you got Microsoft's new Surface Pro 4 tablet or Surface Book notebook (or if you are really lucky or rich, you got both), you can now download the company's official user guides and recovery images for both products.
The user guides are pretty self-explanatory. The downloadable PDF files offer a ton of information on the features for the new Surface products, and will likely be a huge help for novices as well as experiecced gadget users.
Likewise, if you have a really major software problem with the Surface Pro 4 or Surface Book, and you can't get to the recovery files that are installed on the products, owners can download Microsoft's official recovery image files for both devices. The download files are just for people who have already registered their new Surface product with Microsoft.
Download the recovery images for the Surface Book and Surface Pro 4 (opens in new tab)
Order the Surface Book or Surface Pro 4 from Microsoft Store (opens in new tab)
Windows Central Newsletter
Get the best of Windows Central in your inbox, every day!
I hope Microsoft will fix the bugs affecting surface book soon.

It is pretty much down to Edge and the Intel driver that is affecting other devices using the same embedded chip. Otherwise, I haven't had any issues since the initial firmware add.

It'd be nice to be able to buy a Surface Book to have these problems.

The is the worst Launch of a new product that I have ever experienced. My Surface Pro 4 is 2 days old and has locked up about 12 times. Now after trying a recovery to start fresh I locked up at 99% and now will not reinstall windows from the recovery. Total Fail Microsoft. P.S. the Surface does NOT play well with Google apps. This is going back to Best Buy