SurfCube 2.5 is here; now ad supported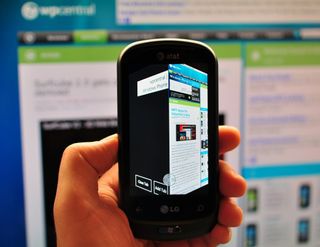 Kinabalu Innovation Limited has informed us that SurfCube is making the move to being ad supported, starting with version 2.5. The trial version will no longer be capped at 20 uses, but will display a small advertisement. Anyone who purchases the 3D browser will be able to use it free of ads.
Due to popular demand, SurfCube 2.5 will also include the ability to save JPEGs directly to the phone. The people spoke and Kinabalu listened.
If you want to check out SurfCube Free 2.5 you can get it here.
The full paid version ($1.99) can be found here.
Source: Kinabalu Innovation Limited
Windows Central Newsletter
Get the best of Windows Central in in your inbox, every day!
Image saving works as expected. That *was* the one feature I was holding out on before I bought Surfcube, but I found myself using the last version so much I had to get it. For someone who lives in the browser, Surfcube has quickly become is essential.

Does anyone know how the browser speed compares to the origial IE App?

It takes about six seconds to load on my Focus. App performance is close to IE, though it does hiccup here and there. Actual browsing speeds seem the same as IE, which is to be expected since it's using the IE "engine". Might be my imagination, but it seems faster in loaded cached images than IE. Really though, it's definitely worth it to try the app out.

Fun to play with, but cumbersom to have to go to a different screen to enter a new url

the only issues i have ever had with it is accessing some secure sites that pop up with a login prompt, some of those sites have only been working in IE

the only thing I would change right now is smoother webpage pinch and zoom and option to make it default browser for opening links
Windows Central Newsletter
Thank you for signing up to Windows Central. You will receive a verification email shortly.
There was a problem. Please refresh the page and try again.