Swamp Attack, an explosive game of survival for Windows 10 and Windows Phone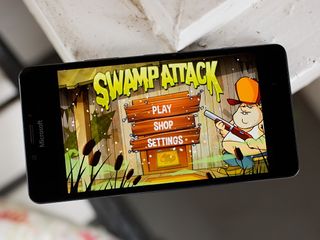 Swamp Attack is a light-hearted arcade game that is available from both the Windows 10 and Windows Phone Stores. You find yourself relaxing on the front porch of your swamp side cottage when you notice Zombie-like animals emerging from the depths of the marsh. You'll have to defend your homestead and show these mutant creatures no mercy.
The game has over 300 levels of gameplay, 30 weapons to unlock and over 35 swamp zombies that include giant alligators, monster turtles and chainsaw toting beavers. Controls are simple, graphics nicely drawn-up and gameplay has a fast pace about it. After taking the Windows Phone version of Swamp Attack out for a test drive, the game comes across as a decent way to pass the time.
As with most games these days, when you first launch Swamp Attack the game will walk you through a brief tutorial on gameplay. You will eventually transition to the game's main menu where you will find options to jump into gameplay, visit the game's shop and access the game's settings.
Settings cover the standard options such as sound, music, vibration and notifications. The gaming store will have options to spend the gold you earn during gameplay on new weapons or to upgrade your existing arsenal. Oh and should the cockroaches roaming the store screen creep you out, you can turn them off by tapping the roach button in the upper left corner of the display.
Swamp Attack's gaming levels are spread out across a map of the swamp and include a few quick missions for the opportunity to earn a little extra coin. Gameplay with Swamp Attack is regulated by requiring an energy unit to play the game. You start out with six energy units that are replenished over time or you can use potions to refill your energy instantly.
The gaming screen layout with Swamp Attack has your health meter and your attack wave meter. Just below these meters, you will find your gold count, ammo count and special weapons icons (dynamite, Molotov cocktails, beehives, etc.). Your character will be sitting on the front porch at the left of the screen and your zombie onslaught will enter from the right.
Tapping the screen will fire your weapon and most monsters will require multiple shots to go down. Reloading is done automatically, but will take a few seconds to complete. If you have any special weapons, you can use them by tapping/dragging on the icon to your target area. A well-placed stick of dynamite can slow down the zombie creatures enough to give your character time to reload safely.
As you eliminate the swamp creatures, you will earn gold and occasionally gifts will emerge from the swamp that can be collected for bonus gold, dynamite, Molotov cocktails and other special weapons.
While most of the game is simply blasting the swamp creatures into oblivion, there is a bit of strategy involved in playing Swamp Attack. You'll find yourself stuck with a shotgun for a while (until you can gather $15,000 in gold for an UZI), which creates a need time your shots carefully to avoid getting eaten while you are reloading.
A Blast of a Game
Swamp Attack is an entertaining time waster of a game and with over 300 levels of gameplay, it shouldn't get old too quick. The game has nicely drawn-up graphics and animations and the pace of gameplay is fast and challenging.
While I'm not a big fan of requiring energy units or tokens for gameplay, Swamp Attack does afford you plenty of energy to keep you busy for a good bit before things dry up. It only takes about 8 minutes to replenish an energy unit, so you won't have wait long to get back to gameplay.
My only gripe about Swamp Attack (and it is a minor nit) is the price to unlock new weapons is a wee bit on the high side. The game needs to either lower the prices or increase the amount of gold you earn during gameplay to make these weapons more affordable. You earn about 600-700 coins per level and at that rate, it will take you a while before you can afford a better weapon. That is unless you give your gold count a boost by buying gold through an in-app purchase.
Regardless, I still think Swamp Attack is a fun title to have stowed away in your gaming library. At last check, Swamp Attack is rated at 4.3-Stars in the Store with reviews calling the game "awsum", "mindless fun" and "fantastic". We can agree with both the user reviews and Store rating. If you have given Swamp Attack a try, let us know what you think of things in the comments below.
Download Swamp Attack for Windows and Windows Phone (opens in new tab)
George is the Reviews Editor at Windows Central, concentrating on Windows 10 PC and Mobile apps. He's been a supporter of the platform since the days of Windows CE and uses his current Windows 10 Mobile phone daily to keep up with life and enjoy a game during down time.
Like my backyard with all this rain and ice, except zomrabbits and squirzies that can swim in slush. Installing now.

I hate game that requires energy units... For that I love playing classic games !

I like brother in arms type of games.....waiting for bia 4

I hate that most mobile games now have timers and or stupid hard unlocks to encourage you to buy your way forward in the games, in stead of actual content you can buy...

most mobile games are free though... there was never free games that didn't ask for money one way or the other, like mmorpgs having store where you could buy many things from pay to win stuff to costemitcs stuff. Aion was the only one I knew that didn't exactly was pay to win, but it had some moments where you could get many advantage by buying stuff on the store. Some pay games have coins and money and all that, yes, but it's not as terrible as free games where you have to do alot of stuff to keep playing. I guess times have changed, but if every game had a price tag on the store, people would be complaining by now.

I am not a fan of in app purchases at all. Like if you buy coins you can waste them on useless stuff. I like to buy a game that has lots of content for me to play in single player mode. And if it has some additional multiplayer cool. But I have purchased many full games in the store but have never done an in app purchase. Those games I'll play till it gets boring due to limitations and i'll just stop. But If I buy a game I enjoy it and know that I can replay it anytime.

I liked this game a lot and especially the fact that is ad-free. In-game purchases are not essential so this game deserves a try. Reminds me of Plants VS Zombies, hope that one day this will be free too.

I usually don't buy in app purchases. Every game I have purchased has been a full purchase. Not really a fan of in app. I mean unlocking extra DLC that gets released later on via in app, sure. But tokens, energy or anything like that and I just don't maintain interest.

Best game, been playing this also pn android.

Looks fun, going to download and give it try, thanks!
Windows Central Newsletter
Thank you for signing up to Windows Central. You will receive a verification email shortly.
There was a problem. Please refresh the page and try again.