Sweets Mania Space Quest, a Windows Phone game long on name but not short on fun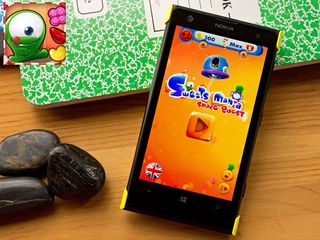 Sweets Mania Space Quest is a matching game for Windows Phone 8 that has an assortment of missions where you are tasked with pairing up various styles of candies. Game mechanics are similar to what you would find with Bejeweled but with a set number of levels with an assortment of mission goals.
Graphics are well done, game play challenging and overall Sweets Mania Space Quest is a fun game to pass the time with.
Game Layout
The main menu for Sweets Mania Space Quest has options to choose you language setting, mute the sound and volume and jump into game play. At the top of the main menu you will see your current game coin count and a countdown timer for when you'll earn another life for game play.
If you would like to get a jump on building up your game coins the "+" button beneath your coin count will give you the opportunity to buy coins via in-app purchase. Coins are typically earned during game play and are used to buy power-ups and extra lives.
Sweets Mania Space Quest has six planets that have at least twenty levels each (my count could be off but it looks like the game has 300 total levels). Each level presents you with a goal to achieve that will fall into one of four missions that include:
Score Cap - Score enough points (destroy enough elements) in a limited number of moves or time.
Remove Jelly - Remove jelly underneath the candies in a limited number of moves or time.
Collect - Collect certain elements in a limited number of moves or time.
Bring Down - Bring an alien down to the bottom of the board in a limited number of moves or time.
The first few levels of the game serve more as a tutorial than a challenge. These tutorials will guide you through game play and does a rather nice job of things. Sweets Mania Space Quest does lack a help/reference section and other than replaying the first few levels, there isn't a way to revisit game play directions.
Game Play
Game play with Sweets Mania Space Quest is simple. Your mission objective is announced prior to the start of each level. Your coin and life counter will be displayed at the top of the gaming screen. Your moves remaining will be displayed above the playing field along with your progress towards the current mission.
The playing field is an assortment of candies that you'll have to move around to create matches of three or more of the same style of candy. The playing field can be a single grouping of candies, divided into two sections, split into quadrants or simply odd shaped. Along with the candies some levels have blocks/bricks and other obstacles you'll have to overcome. Bottom line, Sweets Mania Space Quest does a good job of giving you a variety of playing fields to conquer.
Just below the playing field are three boosters that can help you accomplish the mission at hand. Each will cost you an amount of coin and they include:
Shuffle: If you are running out of moves, this booster will shuffle the game pieces around the playing field.
Target Sniper: This booster will take out a piece of candy that you designate.
Chocolate Candy: Allows you to place a chocolate candy that when swapped with another playing piece, all playing pieces of that style will be destroyed.
Creating a match calls on you to swap out pieces of candy, much like you do with Bejeweled, and when matched up the candies are removed. The playing field will then be replenished with candies from the top. Combinations of three simply remove the candies while larger combinations will create bonus items that when used, will take out larger sections of the playing field.
If you fail to complete your mission in the set number of moves, you can expend one of your lives to replay the game or burn some coin and buy additional moves.
Overall Impression
While there are plenty of matching games in the Windows Phone Store, Sweets Mania Space Quest is a rather surprising option to consider. I really didn't know what to expect when I first installed the game but I have to admit that the more I played the game, the more appeal Sweets Mania Space Quest developed.
The variety of mission styles helps keep the game from going stale too quick and all four styles are full of challenges. Sweets Mania Space Quest's graphics are attractive but I'm not sure having to wait to resume game play is a good thing or bad.
I would like to see a help section added to the mix but the tutorial levels do a good job of getting you accustomed to game play. Overall, if you're looking for a fun, challenging game to help you pass the time with Sweets Mania Space Quest is worth considering.
Sweets Mania Space Quest is a free game that is available for Windows Phone 8 (including low-memory devices). You can pick up your copy of Sweets Mania Space Quest here in the Windows Phone Store.
Windows Central Newsletter
Get the best of Windows Central in your inbox, every day!
George is the Reviews Editor at Windows Central, concentrating on Windows 10 PC and Mobile apps. He's been a supporter of the platform since the days of Windows CE and uses his current Windows 10 Mobile phone daily to keep up with life and enjoy a game during down time.
I have been playing this game for a while now up to about level thirty , game is similar to another popular candy/gem swap game ( think bejewelled ;) ). Highly recommended this game, easily just as good as similar games, please devs we need more games like this.

Where is download link i am too tired to open store

This game is pretty sick, I recommend checking it out

When candy crush is comming ???

I just went through the tutorial for the game and it is very well done.Graphics, sound, gameplay animation, all well done. I think I'll keep it. Great job devs.

I recommended you review this, so you're welcome. I love this game and it's also on Windows. W8 and WP. Might want to update that title. Recent update has 100% parity with Android version, which is wonderful. Also wonderful is that aside from a one-time 99 cent fee to unlock all levels past planet one, you never have to make in-app purchases- you earn coins even on levels you lose, so if you purchase lives or use power-ups, if you use your coins wisely, you never have to spend real money. This vs Candy Crush or Frozen Free Fall, which in the main only allow real money IAPs (unless you're willing to bug your facebook friends with King.com games, which I don't like doing).

Have already donwloaded and played this game. Almost similar to CCS

Addictive or what! ;-) Very nicely polished and great game!

Link plz!! Too lazy to search for it in the store lol

Have to finish Frozen First.76 level currently.

Great looking, ad free game! Big thanks to developers!

Hello to everyone. I just want to say thanks to all, I`m very happy that you like my game. At the end of next week will be huge update with new 2 planets (40 levels), new obstacles Rockets and Cameleon Candies, you can create account with Facebook and play same game with same progress on other supported devices. Facebook app will be also avaiable next week. Tnx again, and this kind of support gives me strength to create new levels and to further enhance the game. :) PS: If you have some suggestions how to meke this game even better, please share your thoughts with me on new Facebook page: https://www.facebook.com/sweetsmaniagame