5 things you need to know about switching wireless carriers
Switching phone service doesn't have to be a chore.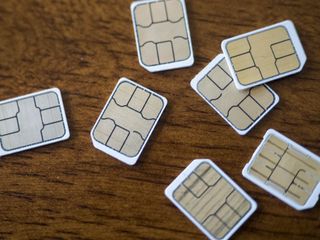 Changing your phone carrier can be stressful. Shopping around and seeing so many different choices and prices and crazy perks can leave anyone confused ready to throw in the towel.
But it doesn't have to be that way. If you remember a few tips before you get started you'll be able to weave your way through all the hyperbole and get what you need and what you want. If you're ready to move on to a new carrier, here are five things you need to know.
Coverage, coverage, coverage
Any time we talk about carriers and their service, coverage gets mentioned. That's because it is the single most important thing you need to consider before you sign or buy anything. There is no value in paying for service that doesn't work for you.
Start by looking at online coverage maps. These are never 100% accurate (the providers even acknowledge this) but can be a good starting point. If you're shown in an area of full coverage and not on the fringe of service, that's a good sign. Also, be sure to use the selection tools of the map to check both voice and data coverage, as well as high-speed LTE data coverage versus lower speed network coverage.
Don't stop there. Ask your friends what service they use and if they're happy with it. Making sure you'll have good coverage is worth all the legwork. If nothing else, check and see if the service you're considering has some sort of money-back guarentee and try it yourself.
Advertisement
Will your phone work?
Unless you plan on buying a new phone, be sure to check that your phone works with the carrier you're considering. Some phones, like an iPhone or a Google Nexus or Pixel, will work on any U.S. carrier. Others, especially models that are a few years old, only work on specific networks.
If you're considering an Mobile Virtual Network Operator (MVNO) you should see which of the Big Four (AT&T, Sprint, T-Mobile and Verizon) networks they use. If your phone was built to use the same network the MVNO is using, you're probably good to go as long as it's SIM unlocked. If not, things can get a little complicated.
Here's a chart to help get you started.
Swipe to scroll horizontally
| Carrier Name | Network type | 3G/HSPA+ freqencies (MHz) | LTE freqencies (MHz) | LTE bands |
| --- | --- | --- | --- | --- |
| AT&T | UMTS/GSM/HSPA+/LTE | 850, 1900 | 700 b/c, 1700 a/b/c/d/e, 1900 | 2, 4, 12, 17 |
| Sprint | CDMA/LTE | 800, 1900 | 850, 1900 g, 2500 | 25, 26, 41 |
| T-Mobile | UMTS/GSM/HSPA+/LTE | 1900, 1700/2100 (AWS) | 700 a, 1700 d/e/f, 1900 | 2, 4, 12 |
| Verizon | CDMA/LTE | 850, 1900 | 700 c, 1700 f, 1900 | 2, 4 13 |
You'll find the information about what frequencies and LTE bands your phone uses in the user manual, at the manufacturers website or other online resources. Keep in mind that some phones from different carriers may share a few frequencies or radio bands, that doesn't make them compatible. For example, a phone built for Verizon shares two LTE bands with AT&T's network. That doesn't mean it will work, even if an advanced user can fiddle with settings to get it to partially work in some places.
If you're not an enthusiast who knows or cares about frequencies and radio bands, don't worry. There's a great online resource that can give you the answers you need. Just enter the model of your phone and the carrier you are thinking of using and you'll find out if your phone works.
One last option is to just call the carrier and ask if your phone will work. You might be put on hold for a few minutes, but they can figure it out for you.
SIM unlocking
Your phone will probably need to be SIM unlocked to use it on a carrier it wasn't designed for. This is different from Jailbreaking or rooting, and is simply lifting the restriction some carriers put in place to keep you from using the phone on another network.
Many phones, like the Google Pixel or some iPhone models, are sold unlocked and designed to use on any GSM network (see the table above) and even Sprint or Verizon in a few cases. These phones are advertised as unlocked when you buy them.
Phones sold by Sprint and Verizon might also be SIM unlocked, especially if they're relatively new. Things can get a little complicated here, too, because even though they are unlocked they may have carrier restrictions in place so they won't work on other U.S. carriers. It's also a safe bet to say a phone designed to use on Sprint won't work on a carrier that uses Verizon's network and vice versa.
The good news is that it's simple to get a phone SIM unlocked. If your account is in good standing and the phone is paid in full, the carrier will unlock it. Give them a call and they will give you a code. Put in your new SIM card and you'll be able to enter the code when prompted.
If you bought the phone second hand or no longer have an active account with the carrier it was built for, you can turn to a third party. The process is the same, so all you need to do is find a reputable company and contact them. Most companies who provide this service are trustworthy, but take a few minutes to search their name on Google to read user reviews and make sure you're comfortable before you pay $20 or so for an unlock code.
Advertisement
What plan should you buy?
There are a lot of different service plans available to fit most every user. You can buy service that is voice and text only, or go big and buy a plan with unlimited everything. The important thing is to get the plan that works best for both your usage and your wallet. That means you need to know how much data you need.
If you need unlimited data, you know it already. You want to stream video and music and browse the internet on your phone because it's a great tool to do those things, and Wi-Fi isn't the best option. All the Big Four carriers offer unlimited plans so you'll be able to find one on the network that works best for you. We've gone into each plan in-depth, and it's a great place to start.
Which unlimited plan should you buy: AT&T, Sprint, T-Mobile or Verizon?
Most people don't need an unlimited plan. When you're shopping for plans that offer a fixed amount of data each month, you have a lot of choices. With a little homework, you can get a service plan that works great and saves you money.
Your number goes with you
Once you've settled on what type of service you're going to buy and who you're going to buy it from, there's one last thing to remember: you can take your phone number with you no matter which company you get service from.
This is called porting your number, and in most every case (some numbers created by VOIP services can't be ported) it belongs to you. And keeping it to use with your new service is easy.
Every company does things a little differently, but you'll need to know your phone number, your account number from your current carrier, and any PIN or password you use to access it. Your new carrier will ask for this information (yes, giving anyone a PIN or password is scary, but thats how it works) and they will handle the rest.
While your number is being ported you won't be able to use it. Generally, this will be done the same day but sometimes it can take longer. Your new carrier will be able to advise you and let you know how the number port is going if it takes longer than a few hours.
When the number porting is done, your new service will use the same phone number you and everyone else is used to. This makes it easier to switch for everyone. The number is assigned to your phone or new SIM card, but it's still yours and you can move it to another carrier anytime you like. Of course, you can always just get a new number if you like.
One last thing here: your voicemail and texts won't transfer with your number. If you are using the same phone things switch with no issues, but if you're changing phones, too, you'll need to back up anything important from your messages.
Switching carriers can be painless. Armed with this information you'll be able to breeze through the process and get the service you want at the best price
Windows Central Newsletter
Get the best of Windows Central in in your inbox, every day!
I'm an RHCE and Electrical Engineer who loves gadgets of all kinds. You'll find my writings across Mobile Nations and you can hit me on Twitter if you want to say hey.
Phones sold by Sprint and Verizon might also be SIM unlocked, especially if they're relatively new. Things can get a little complicated here, too, because even though they are unlocked they may have carrier restrictions in place so they won't work on other U.S. carriers.

This must be a peculiarity unique to the US. In Canada there are no additional restrictions. In fact, In Canada, it gets even better in December for the consumers, as SIM locking to carrier networks will be banned by our regulatory agency, the CRTC. It was only a year or two ago that SIM unlocking became legal in the US. Are carriers allowed to charge a SIM unlock fee? If so the article should be updated to reflect that. If not, no worries. In either case, if you need a SIM unlock, and say you're phone is still under contract, third party unlock sites exist and are relatively cheap. Here in Canada, I've purchased 70% of my Windows Phones from Rogers, unlocked them through a third party, as Rogers was charging $50 at the time. Then I would take the phone to my preferred carrier and get a new SIM from them (SIM, microSIM,nanoSIM; depending on device).

It's also my experience as someone who works for a telecommunications incumbent in Canada, that LNP is 'not easy'. It routinely results in confusion for the agents doing the port, and frustration from the customer who will be out of service until the two carriers have 'the talk'. With B2B solutions advancing every day, this may not be much of an issue anymore. But let me tell you, there were days people went without service while we had the porting conversations with the other carrier.

SIM Unlocking phones in the US is fairly straightforward. As long as you dong owe the carrier any money on the phone they typically unlock it for free. Contracts are nearly gone here too. Number porting is quick and easy and only takes seconds. With some carriers you can even log into your new account, request a port, put in your previous carrier's account PIN, and click submit and you are ported in seconds. Sometimes there could be short overlap where both phones ring but its not long.
Windows Central Newsletter
Thank you for signing up to Windows Central. You will receive a verification email shortly.
There was a problem. Please refresh the page and try again.