Swype coming to WP7 via Nokia?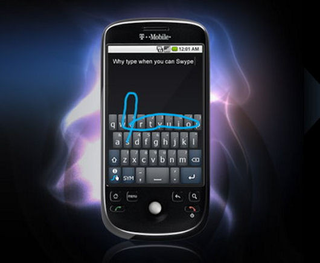 Swype, a virtual keyboard maker, is said to be pinning hopes on Nokia diving into Windows Phone 7 development so they can possibly move to Microsoft's mobile platform as well as covering tablets running Windows. We recently covered how Swype made entry with WinMo (opens in new tab) and shifted a good 90% of its business to Android.
For those who aren't familiar with the technology behind Swype, it allows you to swipe your finger across a virtual keyboard to create words instead of typing. Earlier this year Swype secured a $3.5 million investment from Ignition Partners and while they've turned profitable in recent quarters, CEO Mike McSherry explains the funding will help further development and deploy on other platforms.
Do you want to see Swype on your WP7 handset, or a future Windows tablet for that matter? Check out a short video of Swype (on a tablet) after the break.
Source: Examiner (opens in new tab)
Windows Central Newsletter
Get the best of Windows Central in your inbox, every day!
Rich Edmonds was formerly a Senior Editor of PC hardware at Windows Central, covering everything related to PC components and NAS. He's been involved in technology for more than a decade and knows a thing or two about the magic inside a PC chassis. You can follow him on Twitter at @RichEdmonds.
OMG!! YES!!! this thing is amazing!!! hard to get use to but WOOT!!and if it comes to Nokia its FOR sure gona come to ALL wp7 no? its an app!! ether way AWSOME.

we dont need it. Its not good at all. it takes too much effort to make a message and it always gets it wrong.

yeah i agree , it is hard to master , but ocne you do , trust me its amazing , they used to to beat TXT msgs speed type records . lol

I would love to see Swype on WP7. The onscreen keyboard for WP7 is already pretty good but for me it is difficult to use on my HTC Arrive with just a 3.6 inch screen. But with swype on my old Touch Pro 2's 3.7 inch it was extremely easy to use and I loved it, and that was a resistive touch, I cant even imagine how great it would be on the capacitive screen on my Arrive.

swype is good for when your travelling b/c you don't need to be accurate.I got used to it quite fast on the devices I use it on.Anyone who says no thanks to it are stupid as its good to have there just so consumers get a choice. why be constrained to one input method when you can have more?

No need for this **** . People dont use this because it takes more time to type... And kinda makes people stupid.. Just bring on the voice text, and please add the command Send message

Wait, how does swype makes money?

hmm its the most popular virtual keybored in the world , thats how it makes cashdont think cause one guy said it sucks that it sucks. this thing is used by MILLIONS!!

Selling the KB as an app.I wouldn't want it personally, but I have no problem with it being a download. Or for that matter, being able to have the ability to change the KB with marketplace apps.

Swype is the one thing I would miss leaving Android. Now, I could rock swype on my WP7. (when I get it) W00t.

Swype is the one thing I REALLY miss from my WinMo 6.5 TD2. This would be fantastic! The WP7 keyboard is good, and I'm getting better at using it, but it's definately not as easy as Swype.

The WP7 keyboard is right up there with the best soft keyboards I've used but I miss swype like crazy. PLEASE PLEASE PLEASE make this a reality on WP7. Every day I fall more for my phone this would just be icing on the cake.

I really hope Swype will come to Windows Phone soon.Typing letters one by one is so silly, long and outdatedSwype is so fast.Please let it come.