Sygic GPS Navigation adds direct support for Parkopedia in latest update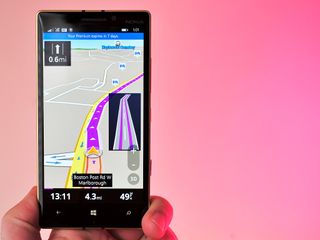 For those looking for a solid navigation solution Sygic just pushed out an update for their Windows Phone GPS app this morning with support for Parkopedia. Parkopedia (en.parkopedia.com) hails itself as "Wikipedia for parking" and with the integration with Sygic lets users easily find new areas to park when they hit their destination.
From Sygic's press release about Parkopedia:
Version 15.6.5.0 is now live with the support and works with Windows Phone 8.1 devices and Windows 10 Mobile (note, this is not the in-development universal Windows app mentioned a few weeks ago). The addition of the feature comes after Sygic performed a survey and found that 80% of users were concerned with trying to find a decent – and free – parking spot near their destination. The results were posted in their infograph (warning PDF).
Sygic GPS Navigation is available for free on iOS, Android and Windows Phone. There are premium features for specific regions or the whole world attained through a one-time in-app purchase. The license for Sygic can be used on up to three devices under one account and lasts a lifetime.
Download Sygic GPS Navigation for Windows Phone
Daniel Rubino is the Editor-in-chief of Windows Central, head reviewer, podcast co-host, and analyst. He has been here covering Microsoft since 2007 when this site was called WMExperts (and later Windows Phone Central). His interests include Windows, Microsoft Surface, laptops, next-gen computing, and for some reason, watches. Before all this tech stuff, he worked on a Ph.D. in linguistics and ran the projectors at movie theaters, which has done absolutely nothing for his career.
Sorry, it's there. Try the link again in a few minutes.

Microsoft should do this with Maps! Maybe partner with ParkMe or another similar service!

Best Navigation app I have ever used... I should download 1GB full maps of India instead of downloading maps of my State for Offline use

This doesn't have support when horizontal it seems? :(

You shouldn't be horizontal while driving anyway--you might fall asleep and its hard to see over the dashboard. ;-)

*sigh* take your upvote :)

Deserves an up vote LOL I have been using this app for ages and it does work in Portrait and Landscape mode - not sure if that needs an option ticked in settings or not, too long ago since set up.

It does support landscape.

Ooh, going to check it out. It sounds great!

Tried this app a few months ago and found it to be immature. Very poor routing choices, very long re-route delays, and it lacks a good POI index... So I'm still with here maps, despite it locking up randomly after longer periods of use.

Great! Awesome! Let's add new features without fixing currently broken features and sending apology emails when looking for support instead of answering questions. I actually paid for the Windows Phone version of their application. Been using it since day one availability. 1) Their map implementation is still terrible. You cannot just pick an address number. If that address is not in some magical range, you cannot get to that location. You can get close, but not the actuall location. For example, if I want to go to 128 Connecticut Ave. the maps will tell me that there is no address below 600 Connecticut Ave. Which makes zero sense. On some roads, you cannot pick ANY address number. It gets worse, if you click the nearby feature, some of the locations are not even close to where you want to go. Made many requests to get these issues fixed, but they do not seem to bother listen to feeback but instead send generic emails replies. 2) Still does not work with Bluetooth properly. Co-Pilot is still the best in terms of dealing with a bluetooth connected phone in your car but it has other issues with maps being very old. There are road that exist that it cannot navigate to because of old maps. 3) Sygic does not deal with traffic in terms of routing you around a traffic issue or alternate route when there is a traffic issue. To be fair, none of the Windows Phone Apps do so it is why I still have a TomTom I use. 4) There is no Travel Via. Come on, this should be a base feature. 5) If there is an accident that will cause a delay, it will tell you about the accident and the delay but offer zero alternate route. During navigation calculation if gives you alternatives, but in a recent case, all options required you to go through the accident. A quick look at my TomTom -- yep, it routes me around the accident. 6) There is no Emergency Option. If you need a doctor, or report and issue at a police station, there is no option. Navigon and others offer you a direct route for emergencies. 7) The only workflow that works with this application is to search for the address in Bing. Click the little map which brings you into Here, then choose "Use Voice Nav" whcih you can then go into Sygic which is then able to find the correct location to travel because it is sent the GPS coordinates. Annoying as .... UI wise, it is the best of the Navigation apps, but it needs a lot more essential features versus integration with some parking application. It has a lot of potential, but execution is poor. For however ancient the UI and the lack of support with Navigon, Navigon is still the better of the Navigation apps available. Compared to other platforms, Windows Phone is way, way behind in navigation. I hope the Bing Team or whomever is going to replace Here Maps develops something worthy of the platform.

1. just try to write "128 Connecticut Ave" ​ into search field and wait a second 3, 5. this new version does. if there's some delay on current route, button "faster route available" is shown at the bottom of the screen. also during route compute, if there's some delay and can be avoided, it's avoided. 4. you're wrong, it's there, i'm often using it

Yeah the travel via on a poi is often below the screen. Just scroll and click on navigate via to get your waypoint. Agreed that the POI search needs updated, especially since Cortana and Edge won't allow a navigation app to be selected in WP10.

I use Sygic a lot in the UK and have a better experience. Also, recent updates have added options you mention. I tried Here+, Navigon, Copilot and Sygic, which I paid for after trials on all. They all seem to have advantages and I chose the one I preferred. I dumped one of the others when it took me to a wrong location, but have never had a wrong location here in the UK. Just thought I would add to your comments for my UK experience.

in India you can park anywhere XD

We here in the states COULD park anywhere but we may never see our car again! ;P

How is this compared to WAZE?? I like WAZE because it notifies you of potential hazzards, police, routes you around traffic, etc... I wish WAZE would reinvest in their WP app that you could still download and use but is way out of date.

It has the ability for driver noted incidents now but since fewer people use it, less incidents are noted. The maps and traffic in the US are from TomTom and are decent. The UI and verbal directions are a bit better than Waze but the aggressiveness of re-routing is less than Waze. So different. 7 day free trial for traffic so give it a go and report back!

WAZE doesn't have offline maps, Sygic does (which is a big thing here in the UK I'd say, there are a lot of major roads and motorways that doen't have decent enough 2G signal let alone 3G to power a map app). I've not used Sygic enough, but I'm hoping it would route your around known incidents like TomTom and HERE Drive did/does.

This seems like a rather good navigation app here in Sweden also? How does this hold up compared to CoPilot? I consider CoPilot to be the standard with affordable prize and good enough navigation. Yes, I bought CoPilot, but im curious and maybe will buy this also.

All I see on my 950XL is a full page ad with banner ads on the top and bottom. There are no navigation controls, no settings, no hamburger. Just adds ?!?

I remember saying some evil things about this app when it dropped. But I kept using it anyway because the graphics were to good. Man oh man, has this app made a believer out of me. Not to mention, if you email the developers, they email you back. Awesome devs and awesome app. I like that they also added a road alert system similar to what you find in Waze. Good job devs.

Wonder if it would be possible to 'suggest' that there are traffic problems whilst using the app? Say if your position hadn't changed after x time, a non-disruptive pop-up appears asking if you're stuck in traffic. If you say yes, then it helps towards other users who may take the same route. - Something I'd like Waze to do too
Windows Central Newsletter
Thank you for signing up to Windows Central. You will receive a verification email shortly.
There was a problem. Please refresh the page and try again.