Sygic releases their super smooth Sygic GPS Navigation app for Windows Phone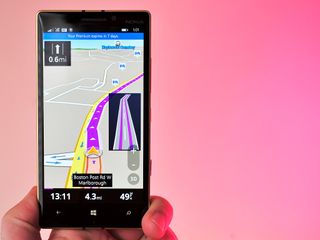 Back in December, we brought you the news that Sygic was poised to bring their GPS Navigation app to Windows Phone. For the last few weeks, it has been in an active private beta but today it is available to everyone, worldwide.
Sygic GPS Navigation was the first Nav app for the iPhone back in 2009 and today their app is powering 75 million users on Android and iOS. Now, Windows Phone users get access to Sygic's extensive mapping data (provided by TomTom), which excels in regions where others tend to fail, especially in Eastern Europe. Sygic also has an attractive speedometer app for Windows Phone that can be much fun.
I have been using Sygic GPS Navigation for a few weeks now, and it is something to try.
Sygic GPS Navigation is full-featured and free, including offline maps. The thing I like about it is the animation and frame-rate, which plays very smoothly on Windows Phone. The app is also very responsive and intuitive to use. Key features of the free version include:
High quality TomTom maps stored on the device
Works with GPS only, internet is not needed
Turn-by-Turn voice guided navigation
Millions of free pre-installed POIs
Free map updates & Free POI database updates
Free updates of Fixed speed cameras
Head-up Display (HUD) available as in-app purchase
Spoken Street Names to focus on the road
Three Alternative Routes to choose from
Easy Drag & Drop route editing
Waypoints for places you want to visit
Avoid Toll Roads on your route
Dynamic Lane Guidance for safe lane changes
Junction View to highlights highway exists
Warnings for exceeded Speed Limit
Warnings for fixed speedcams
Police trap warnings from other drivers
3D Cities & Landscape for easy orientation
Pedestrian Navigation to walk and explore
Graphics optimized for tablet & HD displays
Car Audio Integration – Bluetooth or cable
As you can see, the feature list for Sygic is rather impressive. Whether it is the 3D view, lane guidance (that I consider necessary these days), alternate routes, and more Sygic has what all the other big third-party navigation apps have with their twist.
Sygic does offer reasonable in-app purchases for advanced items like:
Full-featured voice guided navigation for life ($19.99 for North America, $24.99 for Europe, etc.)
Heads up Display for $9.99
Traffic information $19.99 per year
The traffic information is rather expensive, but then again at $20 a year it is certainly doable. I consider traffic information, and the ability to dynamically alter your route based off of it, very important for GPS navigation apps, so I always grab it.
Overall, I like Sygic's GPS Navigation app for Windows Phone. It is not a straight port, and Sygic took their time to get the app right for Windows Phone users. It has proper Store in-app purchases, HD graphics for high-end phones, and a level of optimization that makes recommending this app relatively easy.
The best part is Sygic GPS Navigation is free to download and use, even offline, so you do not need to take my word for it. Grab it yourself, take it out on the road, and see if it fits your needs.
Sygic Broadens Global Reach by Taking on New Market
Sygic unveils Sygic GPS Navigation for Windows Phone
Bratislava, Slovakia – January 27, 2015 – Navigation trailblazer Sygic is thrilled to announce that Sygic GPS Navigation is now available for Windows Phone. This much-anticipated release places the latest in cutting-edge GPS technology, innovative design and premium Sygic amenities at the fingertips of Windows Phone users for the first time. The chart-topping Sygic GPS Navigation is now the most accessible hybrid navigation application for smart devices and connected cars ever created for the mass market.
The Windows Phone app release is an impressive kickoff to 2015 for Sygic GPS Navigation users. Its release is the realization of extraordinary development and is one of many culminating achievements of a successful 2014. Now available on every foremost mobile operating system in the world, Sygic GPS Navigation has a massive 75 million users worldwide. Sygic reached a record 100% increase of users in 2014, indicating peak performance for the renowned company known for its visionary software and pioneering capabilities.
Sygic is dedicated to its mission of navigating every driver across the world, and Windows Phone accessibility marks a momentous step towards this mission. The company is expected to reach over 150 million users by the end of 2015 and will continue to introduce new innovative features throughout the year.
Sygic's renowned navigation precision and world-class user experience helps users navigate, explore and discover with confidence. The company boasts the most downloaded multi-platform navigation application in the world since its market entrance as the very first navigation app for iOS in 2009. Sygic GPS Navigation for every platform is fully customizable and affords users groundbreaking design, unmatched map-centric programming and lightning fast operation.
"We are thrilled to announce our Windows Phone application release and we cannot thank our devoted customers enough for their inspiration, feedback and support. Our team is committed to ensuring that Sygic GPS Navigation never loses sign of its promise: state-of-the-art technology, design and functionality. Today, Sygic is honored to boast unparalleled GPS technology, freedom from data restrictions and stunning user interface; tomorrow, we look forward to unveiling further visionary developments for each and every mobile operating system," said Michal Štencl, CEO of Sygic. "I would like to thank all members of our team for their amazing engagement and passion in the last year."
Windows Phone users have access to several Sygic GPS Navigation premium features including Speed Cameras, Head-up Display and Real-Time Traffic updates, with further exciting additions to be unveiled later in 2015. Sygic believes in the future of connected cars and technology like MirrorLink and plans to radically increase its presence particularly within the automotive industry in 2015.
With 75 million users worldwide and counting, Sygic is proud to be the leader in global GPS navigation.
About Sygic
Sygic develops hybrid navigation for smart devices and connected cars with auspicious growth projected for the next 5-10 years. Connected GPS navigation software trusted by millions of customers worldwide. Sygic was the first company to provide turn-by-turn navigation for the iOS platform in 2009 and boasts the most comprehensive offline navigation maps on the market. With more than 75 million unique users is Sygic GPS Navigation most trusted navigation app for Android and iOS.
Sygic Business Solutions as specialized division of Sygic is focused on developing professional solutions for customers in fields of transportation, logistics, mobile workforce, automotive, utilities, emergency and communal services.
Based in Bratislava, Slovakia, Sygic has been recognized as a Deloitte Fast 50 Company for fastest growing IT companies in Central Europe for five consecutive years and in 2011 was added to Deloitte's Fast 500 EMEA listing as well. To learn more about Sygic offerings, visit http://www.sygic.com.
Windows Central Newsletter
Get the best of Windows Central in in your inbox, every day!
Daniel Rubino is the Editor-in-chief of Windows Central, head reviewer, podcast co-host, and analyst. He has been covering Microsoft since 2007 when this site was called WMExperts (and later Windows Phone Central). His interests include Windows, laptops, next-gen computing, and for some reason, watches. Before all this tech stuff, he worked on a Ph.D. in linguistics, watched people sleep (for medical purposes!), and ran the projectors at movie theaters because it was fun.
Great! I had been waiting for this. So happy :)

Holy Smokes Batman, I love this app. It's like they've included almost every thing. I can see some much more information by looking at a map of my surroundings I.e. name of buildings and shopping centers.
I'm gonna play with it some more and if it's accurate with navigation too them I'm Buying.

Yes! Love this, have used it a lot, wherever I'm stuck on my gs5 - my 1520 is all the more awesome for this app... I think I prefer it to copilot - and I really like that! Great news!

Have tried CoPilot for a week, let me down on one street where it was incorrectly located. I also found that using voice only under locksreen causes it to crash, where as Here Drive does not. But the rest is definitely a step up from Here Drive. So will try this one for a week and choose the best. Just need more than Here Drive offers. UK user.

I installed it and it doesn't even open, tried three times

Good to see something familiar and trustworthy popping in WP Store.

I'm using Here Drive. Which way is this better?

Lane assist, live traffic updates, three planned routes, police trap warnings and the TomTom Maps. At least in my area, HERE Drive has mixed results for getting me to places as accurately as some third party GPS nav apps.

Will this work in europe? for exmpl in Lithuania...

They list every map they support right in the Store listing. Lithuania is available, so yes.

They want 24 dollars for europe and map of my country is plain green field...

Yeah, and they put Pakistan in the Middle East section. I guess they need to study "maps". Pakistan is in Asia! :/

So is the Midde East... Generalizing a lot here, but we Amerians usually would include the Islamic world (ex Malaysia, Indonesia and Bangledesh which are clearly South Asia) as the Middle East. I don't think many of us realize the history of India/Pakistan and the past 15 years of Iraq/Afghanistan/Pakistan news coverage hasn't really reinforced the idea that Pakistan and Afghanistan are not really part of the Middle East. I don't know where you draw the line though, what do you count Iran as?

Malaysia and Indonesia are in Southeast Asia. Pakistan, India, Bangladesh, Afghanistan, Nepal, Bhutan, Maldives and Sri Lanka are in South Asia. Traditionally Iran has been part of Middle East due to politics and culture though it is close to South Asia.

Speak for yourself. "We Americans" know that Pakistan is not in the middle east; this is a geographical fact. Pleading ignorance just makes Americans look bad and the app developers could have easily looked this info up. Good app though.

Clearly if I spoke for myself we wouldnt have a problem as I know my geography. I can also say that many, many of people in the United States have no idea where exactly these places are, and dont know where half the states are. Hell, people used to think the president of the US was the guy from The West Wing. It's easily confusable due to the ongoing wars. Is it excusable, probably not, but its kind of crazy to claim that all Americans know Also, do you think American's know the history of British colonialism in Asia? Do you think they really distinguish between people of Arabian ancestry or Iranian ancestry.Do you think they realize Pakistan was a part of India or that the Indus actually flows through Pakistan? They should, but they don't. I'm pretty well learned and didnt appreciate all the nuances until I started dating an Iranian.

Why is any if that relevant? Your original comment seemed to be defending ignorance and that didn't sit right with me. That's all. Corrected. Still getting used to this ergonomic keyboard.


Here Drive is nice, but the last two road trips I took in the US, It had me taking some crazy off-highway routes because it thought they were quicker. Sometimes I wonder what Here maps is doing.

Their map data still leaves a lot to be desired. Frankly, if I were actually paying for the map data instead of having it bundled with the phone for free, I'd be quite disappointed.

I have the opposite experience, where Here makes sense, but Tom Tom wanted to take me out of a round about to on coming traffic on a motor way. But then again that's in Europe. But definately giving this a go! Speed traps, yes?

How about compared to Navigon? Which has pretty good traffic avoidance and lane assist. Does it compare favorable to it?

Uztenka vien to, kad Here Drive nemokamas ;)

Bet pabandyt verta ir šita

+ advanced route planning, viapoints, per-country avoids, drag&drop route editing, headup display...

Living in the NYC, United States. HERE maps leaves a lot to be desired. Address search and index are not accurate. When I search for an address I doesn't always find the address accurately. I wish waze was still supported in this platform as it is best for traffic reports and traffic based navigation. It gets you to your destination faster, especially in a busy place like NYC with strong network coverage.

I have found HERE Drive to be frustratingly inaccurate most of the time I have used it in and around the Seattle area.

Here's insistence on using the I-5 express lanes is my biggest peeve. No way to route non-HOV either

It always tries to get me on the Express Lanes Northbound from a Southbound only ramp. I kinda hate it a little.

I also found here drive frustratingly unmanageable in navigating western Washington nearly impossible to update in route and never able to show viable alternatives traffic updates were late and innacurate and what's the point of telling me after I am already stuck in it. Than to offer no alternatives Waze when supported was viable but eventually had to give up my Windows phone for Android and Google maps and thank the stars haven't been late for one appt. since long way to go on ever having anything better than maps Bing was coming around but overiden on my phone by here drive. apparently haven't updated Seattle area maps since the 00s.Shame I loved my 1520 light years better than current clunky HTC.

Copilot is another great option.

Sygic by quite a margin. As I had the beta for tests it's far more responsive, lane assist is something Nokia's maps always lacked and was quite random (sometimes there was amazing lane assist available, mostly not tho), ability add waypoints (something Symbian Nokias had and WP versions lacked forever - a mystery) and pretty decent terrain display. Also the maps seem to take less space than Nokia's offering. I strongly suggest Sygic over Nokia's maps. P.S.: I am from Slovakia and a betatester but I try to give unbiased comparison. I was a huge advocate of Nokia maps on Symbian but they were dumbed down on WP and never recovered, so there ya go.

I find on my Lumia 1020 that Here Drive drains the battery a lot quicker than Waze does - Even when I plug it into my cars cigarette lighter the Here app drains the battery quicker than it can charge, and this doesn't happen in Waze - It's possible this also uses less battery than Here Drive, which would be another potential plus point.

Parsing error! Really wanted this app so bad! Finally here drive have some real competition!

Fixed. Give the app a few mins to refresh the link.

Thanks! A little question, can here drive use this for its map data? As in, can I use Sygic Maps and Here Drives voice navigation?

:-(.. Well. Can't have everything...still...nice to see that gold rimmed 930

Seems nice. But Here Drive has traffic for free ...

It has traffic for free, but it doesn't take it into account to reroute you. HERE calls that "traffic delay indication", versus "traffic avoidance", which we used to have on Symbian. And as they haven't brought it to HERE until now, I guess they will never bring it to the Windows platform. Which is lame. Because routing without optimising under the traffic constraint is pointless in dense areas like capitals.

In my experience, in the UK, the traffic delay time is pure fiction, unfortunately.

Yeah it's utter nonsense especially when you compare a journey to Google Maps. Here is WAY off :/

Ya, super annoying. But Bing maps accounts for traffic and windows 10 will have one navigation/maps app (using map data from navteq/nokia/here). So, I'm hoping traffic consideration and rerouting will be included.

This. THIIIIIIS. This app was one of the biggest reasons why I moved back to Android. HERE Maps didn't support Pakistan, and all Google Maps clients weren't up to par with the quality I was expecting. Great to see this app arrive on Windows Phone. Posted via the Windows Central App for Android

BTW, Waze and Navmii were great for Pakistan before this app was available for WP.

HERE Drive, Free for life~

HERE doesn't support many countries which Sygic does.

Nice! I'll give it a try.

I just droive from Ohio to Florida this past weekend using Here Drive. I wish this would have been out just a few days sooner.

That's a big article for an app but it's justified.

Whatever...... Its too costly all I wanna say is this

Flipping it around, you don't make enough money ;) It's all relative.

Hmmm... Wonder if this has a map of Curacao. Been looking for ages for a Curacao GPS map.

Why can't bots use proper grammar to spam their intended audience? Good grief...

@daniel, please tell me it is better than here maps. Huh

Can't you just give it a try?????

$50 bucks for actual gps with them....same exact app (not naming names) for FREE in the market. I have a general rule with apps: I never spend more than $10 for everything ever including the app itself. This is RIDICULES.

Choice is good. GPS apps are also not "the same". They all have their pros and cons. Despite HERE Drive being free, I have at least two other Nav apps I will use any day over it due to better mapping data and directions. Moreover, there is not a single free GPS app that has all the features of a pay one. It doesn't exist. You pay money for extra features. Is it worth it? That's a personal decision. To me, that is worth the money.

Thats a good point Daniel, but what are we really giving up and are those few extra features worth $50?

Traffic re-routing is worth the $20. I see no point in getting directions to a place if it cannot update the route dynamically based on live traffic information. Routing in advanced of traffic is one thing, but if you're on the road for 3 hours, a lot can happen. If you're only stuck on that route but have no idea that traffic has accumulated along the way, that is a crappy experience.

Pretty sure Bill Gates wouldn't pay more if there were a more economical alternative.
Unless you someho w became relatively wealthy overnight you generally need to be an economical person :P
Not saying app is "bad" or is not "worth" it.
P.S Expecting you relativists to poke holes in my comment ;-)

If you travel a lot it's worth paying to save the effort, bother and time. If you travel occasionally then maybe not. Yep, it's relative to amount of use.

TomTom live traffic is worth it. I'll defo give it a try and compare to HERE in Poland. HERE's traffic coverage is weak on local roads.

Cost 20 bucks, no wonder there is no review.

Current version: 15.0.0.0
Lol

Not really funny. Sygic has been on iPhone since 2009. Companies like to keep their app numbering systems organized because it is based on features not release date. So, although this is technically 1.0 on Windows Phone, the feature set matches the iPhone, hence why it has a higher version number. The iPhone version is at v14.6. We're at 15.0.

LOL amazing observation. Ah, I see Daniel, that explains it. Also, this may be off topic but how to you manage a direct link from the Windows Central app, to the Windows Store for downloading an app, without having the Store website pop up for a few seconds in between?

We just use direct Store links that are ambiguous to location. The Store on the web is localized and has a different address.

Found here drive to be more stable in my lumia vs sygic on an android device. After about 80 kmph, sygic couldn't track properly but here drive was on top of proceedings. Not sure how this windows version is though.

I betatested sygic on WP and there was no problem with it on a 300 km journey. Speeds ranged from 40-50 km/h in the city to 130 km/h on a highway.

I am going to try it for a week or two vs Waze. But waze is more than just a GPS, it can turn a commute into a game with only 3 taps on a screen (less distraction than messing with a radio). Even though Windows version of Waze is no longer supported I have had no glaring issues with it, other than not working on Bluetooth (which I HATE).

Waze works through my bluetooth - make sure you're paired first and then open Waze. The only times that I haven't gotten it to work were when I already had Waze open before pairing.

Yup, the only time I've had issue with Waze bluetooth is when I open up Waze first. Or if a call or text comes in. I use Waze everyday; twice a day, but I'm going to give Sygic a few test drives as well. My commute to work is 1 hour each way, so we'll see. I like all the extra info Waze gives you: Police, potholes, animals on the side of the road, etc.

This is a beautiful app! I hope they continue to develop and show support on the platform, and migrate to Windows 10 smoothly!

Question: What's different between: Turn-by-Turn voice guided navigation Full-featured voice guided navigation for life ($19.99 for North America, $24.99 for Europe, etc.)

I am trying to figure this out as well.

This looks fantastic, already purchased the lifetime maps as i love having gps apps. One critique i have and its really the only one so far. The search is very limited in what it can do. It frequently says "searching online" but there is no way it's doing that because a simple search for "Best Buy" returns an empty box. The only way i can try to find places is to go into nearby poi which is not ideal at all. Fix that search to hit google or whatever server for some matches and this thing is 5/5.

Well, i've figured out the search. The "searching online" really isn't what you think it may be, but heres how you are supposed to find a location: It starts with your state selected in the search bar. Then you type the city name of where your destination may be. Then you hit nearby poi and then you can search for say "Best Buy" etc and it finds it with ease. I would prefer an online search though, because new places pop up all the time and that doesn't mean they may be present in the poi.

The search takes a little while of getting used to. The best is to type country (if it's not pre-filled), then city, then address and it should start giving you POIs.

OMG! This is real?! By HERE Maps for now. My hope is this has more of the Dallas area covered.

I am sold, if it can store offline data on SD card

Daniel, your link says "for Windows 8.1." I got excited there for a second thinking that I can use it for my ThinkPad Tablet. Alas, it's for WP 8.x. I got it anyway to compare to HERE Drive+. Thanks for the heads up!

Its kinda useless on w8.1 when most tablets dont have a cellular modem builtin(windows rt RIP)

That's why I got the ThinkPad Tablet 2 - win 8.1 Pro. Both the TPT2 and the new TPT10 have GPS without cellular. I use HERE Maps on it with offline maps which works well. Just wish HERE Drive or some equivalent GPS nav app could get ported to win8.1 too.

One of the best app news in a long time

Daniel when is that gold lumia available to buy. Sorry for changing the subject. But I really like it

Here maps has so many problems, bad to no lane assistance especially after or on a turn, not saying if ... your destination is on the left or right..., inaccurate destination at times, so I am looking forward to this. However like Here maps this does not have maps for Jamaica, i for there alot on business, no way to synchronize with here maps or the phone's maps and it is not allowing me to purchase lifetime maps.

Does it have surfer dude voice? That voice on Here maps rocks.

That is funny for a while, but it gets old fast. My kids love him, but he's driving me nuts now! I don't see different voices, but I'm just digging in.

I think its time for a GPS app showdown article.

This was not opening in my Lumia 720

Decided to give it a try. A problem that I noticed is that you have to download the entire country's worth of maps and not a city or a state. Not a big deal for some but 668 MB for India. Dealbreaker. :(

No I just downloaded m and NH singly

Playing with an L830 it crashed twice so far. First time when I was changing stuff on settings menu, second time when in demo mode, stimulating my route.

Looks pretty good. Offers a seven day trial of full features. What will be missing after the trial? Just the voice? Or the directions as well? What is meant by the Heads Up Display? Does that mena the actual NAV display? So you really need to go in for $30 to make the app usable after the trial? That's not unreasonable... but I'd like to know.

Crashing on my Lumia 520. Will reinstall and try again.

The app was installed to the SD card. Moved it to phone memory and the app started working again. Daniel might want to take a note of this and check if others are facing the same problem.

My Lumia 1520 cyan got a bit hot on the simulation. I installed it on an SD card. Some games also get my 1520 extremely hot

Seems pretty unstable :| Hopefully its updated. Crashed on a 1 mile route. Also the time is in 24 hour format when i specified standard. Hopefully these issues are sorted out.

Yep. Unstable for my 1520. Crashes when searching, poi's don't appear when searching. Traffic £11 annually. The 7 day trial for premium doesn't include traffic then it's £14 just for navigation. My commute through London was weird even without traffic. So no thanks will stick to Waze and Navigon until windows 10 maps

How does it compared to Navigon

Downloaded. Thank you Daniel. Have tried CoPilot for the last week. Will try this to compare and choose one. Whilst Here has been very useful I need more.

Had there app on my old n95. Man that thing was a life saver. A battery hog but a life saver nonetheless. Great to see this on the platform.

welcome to best platform Sygic!

That is one beautiful app. Yes, I'm getting it.

App has bugs when switching between walking and vehicle routes.
Causes crashes, cannot see background app list until a reboot. Speed camera feature looks nifty, but reliability is concerning

Daniel, have you ever make an article of map and navigation app comparison or just a "top 5" article? Please make one or tell if I missed it.

"super smooth" is enough reason for me to try it, HERE doesn't work here and waze is laggy as hell

Just to point out as it may not be obvious - the maps are stored in app storage. That means if you install the app into the phone memory maps can only be downloaded into the phone memory. Install on SD if you don't have enough free memory on the phone.
Another thing to point out is that the maps are only available to Sygic itself, no other map can see them nor use them.

You mentioned frame rate and smooth animation. I have wondered forever why the hell every GPS app on Windows is very stuttery with it's animation. Anyone know? Also, Garmin app has been very nice, but after contacting their support team they have made their stuberness know, and have made it known their refusal to update the app for 8.1 as to allow it to be selected as the primary nav app. Glad they charged me for the thing, then refuse to update to be used to it's fullest. More lazy devs.

Wow, you actually got a response from them? I've sent several emails, no response at all. It's really infuriating that they won't take the minimal effort to fix a couple of usability flaws.

Does anyone know if it tells you which side of the street your destination is on? I guess I'll find out soon. Here doesn't do that for me, and it can be a big pain in Phoenix when the streets are busy and 8 lanes wide.

@Daniel Rubino You should review the HUD option. I purchased it. It works better in one of my cars than the other due to the angle of the windshield, but it does work. It works better at night but for day time, I had a friend at a tint shop help me with a square of mirror like tint that would allow it to work work during the day as well. I use one of those sticky dash pads to hold the phone. I find it useful for when I travel and I do not have my standard dash mount with me.

Pakistan is in Asia, not middle East. Even people who work for map services need geography lessons.

I would like to take this opportunity to reiterate how horribly overpriced and terribly unsupported Garmin StreetPilot is on Windows Phone 8. C'mon Garmin, get it together!

Navigon is the one to beat. It will take a lot before I would switch.

Are the eta times accurate for you? I like Navigon (2nd to Waze) but the arrival times are well off when driving through London

Finally!!! Too late for me as I got used to Navigon, but still, it's great for the platform :-)

Force closes on me when it tries to get a route planned. Will uninstall and continue with here maps. Lumia 1520 UK.

I was blogging about GPS and GPS / navigation apps back in the day and I definitely don't recall Sygic being first to the market on the iPhone. That said, I think Sygic has one of the best interfaces out there, although I think their choice of TomTom maps - at least here in the U.S. to be a poor choice. I have seen more mistakes with those maps than any other, and some of Sygic's routing choices are less than optimal and occasionally downright goofy. I've never been sure if it was due to faulty map data or an odd routing algorithm. That said, despite all that, I still recommend the program to people, but I tell them they should review their route before starting to drive! (I recommend that no matter what app you use for navigation!)

im using full version for about a 2 months and I really like the HUD thing..

This app seems pretty cool. Im wondering with the change to windows 10 for phone if I should wait to buy. Not sure if window phone 8.1 apps will work on windows 10 for phone. I really like MapQuest's live tile feature. Its very accurate as far as displaying directions on the tile.

Does anyone else have a lot of trouble with HERE Drive? In Chicago the ap just seems dumb, it takes me on extremely circuitous routes, doesn't understand the grid, can't tell the difference between a frontage road and a free way, etch. Any alternative is something I'm willing to try.

Oh boy batman I think this just may replace here drive

I only got blank screen when i press get started button and the app redirect me to manage maps page. I use mobile network, not wifi. Can anybody help?

Can I install it in 920? I got pending download. It seemed taking forever

Installed on my 920 without issues.

I installed today over wifi so why does data sense say it has used 252 Mb of data?! Uninstalling.

And again a GPS app with maps where my country is like only 3 roads, openstreetmaps is the only way for some.

I've tried a ton of these GPS apps and always go back to Garmin

Used it today for my morning commute into London. Worked great until I got off the motorway. As soon as I stopped or slowed down it lost tracking and never recovered/sorted itself out for over 5 miles. Very disappointing. Installed on a Lumia 930.

Really super smooth .
Thanks Dan

I might replace here maps with this, used it on Android and it was far better

I love this app! Thank you for bringing it to Windows phone. I'll definitely buy the upgrade.

Crashes the first time I launch the app. Though the app seems solid, the search is very limited in fact its really impossible to get the exact destination using the search. Not sure if its android and IOS counterparts are similar... though I've heard its one of the best navigation apps on Android for India.

Here Drive has a competitor :)

Not downloading India maps

In Australia I only get the option, in-app, to purchase traffic information for Europe or North America. The app is no good to me without traffic.

Am I missing something or where are the alternative routes? I know you have three routing algorithms to chose from, but I want it to present 3 options (like Waze or CoPilot). Sometimes I don't want a specific route for some reason.

Ok testes this app out today. I every way mentioned it beats HERE maps, except.......two glaring omissions that for me make it unusable. The app does not run and does not give voice directions when in the background. This app also does not give you the drive/route delay time. HERE maps may not be as pretty and may give funny routes at times. But least it runs in background and tells me when to turn when I have my music app on the screen.
HERE maps also tells me how heavy traffic is on my route. It's nit always precise but at least you know your real ETA and when you need to take another route. If this app adds those to features I will gladly jump ship. Adding surfer dude voice would also help my choice lol. "make a u turn, not with hand brake bro" lol

Unable to run the app... Plz help...
Once i try to download any map, application data gets stuck at 0.6Mb and gives "error downloading"... Tried uninstalling and reinstalling 3 times... Same issue... #Nokia_Lumia_1020 :(

Did you check if you have enough space? Other than that I have no idea why it might break...

Yup.. Got enough space... 18Gb... Restarted the phone... Reinstalled the app... Same error...

Pretty awesome and smooth experience. The search is really not intuitive. Why can't user just type the name of the place, and app just searches the city user is currently standing in? For example I can't quickly search the popular spot because its on the other end of the city, and I don't know street names nearby to that place. So, I have to find it on the map area, tap the place then find route. This app is really a solid start, and great job by Sygic team on making it smooth experience. Just make the search simple as google :) From here on, it will only get better ;) // chall3ng3r //

I was so impressed with the trial that I bought it and just did a 50 mile journey. Everything was good until returning home and got a message that bettery was nearly empty and phone would switch off. I was plugged in with a genuine Nokia charger for whole journey and the phone was not used for anything else. Phone is a Lumia 520 and battery life is normally very good. I can use HERE Drive and battery keeps charged so I think phone is ok. I emailed Sygic but no reply yet but I'm disappointed with this app.

i´ve installed it on one of my wp 8.1 devices and it lacks a lot of the easy acces features it has on android, but it has some features absent in the android app. a bit laggy at times and i can´t seem to get the voice step-by-step nav to work. it is picky when entering dirrections and it does crash from time to time(a lot recently but hey,it´s still new on wp). overall it´s a 7/10 app and still needs some fine tunning and a touch-up here and there, mostly getting it to work with the sensors of the phone,it only rotates with the buttons up or in vertical,now that for me is not that great since i have a flip-cover case andit will not stay open most of the time. for now i´ll stick with here maps because it´s just better in all aspects.
Windows Central Newsletter
Thank you for signing up to Windows Central. You will receive a verification email shortly.
There was a problem. Please refresh the page and try again.