Synchronising Windows Phone on a Windows PC or Mac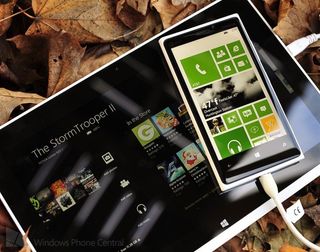 How does one synchronise content between a Windows Phone and a Windows PC or Mac? Microsoft is continuously developing two separate clients, one for each platform, enabling consumers to charge, synchronise, update and backup their Windows Phone. While both clients are not identical in features and functionality, basic tasks can still be completed.
Moving content between smartphones and computers on competing mobile platforms is pretty much identical to Windows Phone. Apple makes use of iTunes for its management of the iPhone (as well as media players and other devices), while Android opts for a more integrated experience through the use of a file manager.
So how does one get started with available clients?
Windows Phone for Windows
There are two apps available for Windows, one which is available on the Windows Store, while another is developed for the desktop (only available for Windows 7 & 8). The latter is the full synchronisation client for Windows Phone and the former is a mere client to manage content. Should you not be requiring the number of features present in the full desktop version, the client available on the store is a lightweight solution.
As well as the latest version of Windows, the desktop version is also available for Windows 7 but the client is currently in beta and users may encounter some issues. It's good to note that Microsoft doesn't restrict support for the more recent editions of its desktop platform.
When Microsoft launched Windows 8 earlier this year the company also released a synchronisation client shortly afterwards for its new Windows Phone 8 platform. Much like the functionality that was present in the Zune media player, the Windows Phone clients open up a number of doors for consumers who are using Windows 8.
The following features are present in the Windows Store app:
Check charge status and internal storage report
Import media from the connected device
Browse highlighted apps pulled from the Windows Phone Store with links to more
The desktop version of the Windows client sports the following:
Check charge status and internal storage report
Manage media stored on the device (music, photos, videos, movies, podcasts and ringtones)
Synchronise content from iTunes
Synchronising content using the desktop app enables consumers to select and choose desired playlists, genres, artists for music, as well as photos, videos, podcasts and ringtones. It's still a stripped down successor when compared to the Zune media player, but it's a step up from the Windows Store app if you're running Windows 8. Be sure to unlock your Windows Phone (lockscreen PIN) when connecting it to a PC if one is configured.
As well as managing what's synchronised from the PC to the Windows Phone, owners are able to manage directly what is stored on the handset using Windows Explorer. When plugging in a Windows Phone it will appear as removable storage in the Desktop app, and is then ready for browsing. Documents, music, photos, ringtones and videos can all be managed through a familiar interface.
When launching the Windows Phone client for Windows 8 (or the desktop app) with a Windows Phone plugged in, one will be able to view all current options and features in a familiar view. Content is brought up when the app is loading the Windows Phone and the storage report is viewed by hitting the arrow that's situated next to the total capacity readout.
There's not a lot more to the app, apart from what's listed in the features list. There's no option to check for updates since there's now the functionality to do so on a Windows Phone and updates are to be delivered OTA, but it gets the job done when moving content across from a Windows 8 machine to the smartphone.
You can download the Windows Phone for Windows client (opens in new tab) from the Windows Store.
Windows Phone for Mac
Windows Phone on OS X (previously branded as Windows Phone 7 Connector for Mac) is the only officially supported channel for Windows Phone owners to move content to and from a device on a Mac. It's a rich client with a number of features, ensuring that those who reside in an Apple dominated ecosystem don't miss out on anything should they enjoy the Windows Phone experience.
The app has been ahead of solutions developed for Windows during the transition from Zune to standalone clients in Windows RT and 8.
We've been using the Windows Phone client since it was released on the App Store and have praised Microsoft for doing a superb job in creating a synchronising app that's actually fairly functional (when it works). What ever you may think of Apple products, as a small mobile platform we require every consumer Microsoft can attract.
The client itself contains a number of features, including the following:
Check charge status and internal storage report
Manage media stored on the device (music, photos, videos, movies, podcasts and ringtones)
Browse the device to import stored media to connected Mac
Synchronise content from iTunes
Backup and restore images made of the device should issues arise
Check for and install software updates (will be obsolete with OTA updates)
One of the most intuitive features of the app is Apple software integration. Should you be an avid iTunes user with a large music collection, the Windows Phone app will pull down all stored songs, movies / TV shows and podcasts from the iTunes library. This includes playlists, genres and individual artists / songs. The same goes for iPhoto with photos and videos.
As with the Windows clients, we'll not go into too much detail as the interface is incredibly straight forward. When plugging in a Windows Phone to a Mac with the app already open should automatically kick off the connection - if your Windows Phone is PIN locked, you'll need to unlock the device and remain on the start screen for the app to access the device.
Once the device is connected, the above screen will be displayed. Storage report is visible at the bottom with the "Sync" option. Options in the left sidebar are for media management on the device. Owners can configure which playlists, filters, or individual files are synchronised to the Windows Phone from the Mac, while the "Browse Device" area enables one to pull content from the smartphone.
Do note that some (including ourselves on rare occasions) are still experiencing an issue with device connectivity / detection. Should the app detect a Windows Phone plugged into one of the ports, it may not be able to access the device and throw the following error:
It's a known bug and the easiest way to solve it temporarily is to disconnect and reconnect the device after shutting the app down. If this does not work when re-opening the Windows Phone client, attempt to reboot the machine. Thankfully it's nowhere near as common since subsequent updates.
You can download the Windows Phone for Mac client (opens in new tab) from the App Store.
Backing up is achieved automatically using Microsoft's cloud services. Such functionality can be configured on the Windows Phone without the requirement of a PC or Mac. We have published a detailed overview on backing up in Windows Phone, which is well worth checking out.
So there you have it, folks. Be sure to check out our other tutorials and return at a later date for more useful articles.
Windows Central Newsletter
Get the best of Windows Central in your inbox, every day!
Rich Edmonds was formerly a Senior Editor of PC hardware at Windows Central, covering everything related to PC components and NAS. He's been involved in technology for more than a decade and knows a thing or two about the magic inside a PC chassis. You can follow him on Twitter at @RichEdmonds.
What tablet is on the picture? It looks fantastic.

Acer W510. Beautiful thing, isn't it?

Yeah very beautiful but they didn't make the specs for power users. If it had the screen of the Surafce pro and core i5 with 4 gb ram, i would have bought it instead of waiting for the surface.

Acer have some really exciting tablets coming out. I especially like the Acer Iconia W700, though I'm not a huge fan of the bezel at the bottom. This seems to be the case for this tablet too, though not as siginificant. If the bezel was a darker color I wouldn't mind so much.

i prefer good ol regular drag n drop through explorer

A few days I had to do a full reset of my L920 which I had done a backup of on my computer. One issue I had is that the songs I have downloaded from music store could not be copied back to the phone.
I had to end up re-downloading all the songs (with my one month free trial) all over again.
Is there a way I can solve this issue?

i personally hate these apps and zune was much better. im hoping once its out of beta, it will be much smoother. my gripes are that my playlists don't really sync over correctly. sure the playlist is there, but none of the actual music. also, in zune, i had a series of videos labled as part of a series. so kind of like a tv show where it was the series name and each individual episode. well once transfered through the app, it renamed all the episodes to the series title so i don't know which video was which until i opened it. my current work around is to rename each episode by making it its own "series." very lame.

You left out that the Windows Media Player can also still be used to syncronize content to the device. In fact, for folks that were used to using the Zune software, it can be fairly easy to edit the older zpl (zune playlist) to wpl (windows play list) and thus get those old playlists moved over. My only beef with the WMP is that it can take a LONG time for it to recognize new files in the catalog if they were added using other software (say songs purchased via the Zune software).

hey i just did that an hour ago to my new lumia 920, i copied the zune playlist that ends with .zpl to a different folder on my windows 7 laptop (where my htc mozart was syncd) and renamed it to .wpl and then opened windows media player from my windows 8 laptop where my lumia 920 is plugged, and voila all my music and pics from my mozart are syncd to my lumia, so happy :)


Why not just continue to use Zune, the software is still available and it works as it always has to manage music and there's no need to go renaming playlists, which will be a pain for those with more than a few. Ultimately though, media management on WP8 is useless, and its even worse to see the mac client has full image backup which as usual the windows client doesn't have.

My fault for not trying, but I thought eveyone was saying that Zune no longer worked for WP8. So I can still use Zune? I have W8 and W7 PC's, will the 920 and Zune work on both PC's? Why change to these new ones if Zune still works?

He's right! Still use Zune! Manage you music on your computer with Zune as normal. Then when you connect your WP8 device, use the *desktop* (not the Store App) program to sync the device. Move your Zune playlists into your music folder (mine was in a temp folder somewhere, weird) and you can sync all your music INCLUDING your ZPL playlists.
So Zune for the desktop, Xbox Music on the phone. Desktop sync program to link the two. Pretty cool..
Only thing is that the desktop app is pretty barebones. but if you set up playlists in Zune beforehand, it makes things really smooth.

Unless something has changed Zune doesnt even see my Lumia 810 how are you getting zune software to see the phone?

Ditto. I've been having to use Windows Media Player rather than Zune because Zune doesn't recognize that my Nokia as a compatible device (it simply doesn't "see" it). I should add that I am using Windows 8 + Windows Phone 8. Everything I've read suggests Zune synchornization only works for WP7 with Windows 7.

This is what I've been doing (using wmp) to synch to phone. I store my CDs on the PC hard drive and kept losing album art when I used the wp8 app for Windows 7. Got playlists stored on hard drive and downloaded those too. Never used Zune or i-tunes and I wasn't familiar with the app but I can "drag and drop" with the best of 'em ;o)

One does not simply add media content to a WP8 device.

+1 Made my day. Fabulous. :)

Thank you!
Best way to put it.
Btw, I hope you guys form wpcentral are paying close attention to these comments and report back to ms, because I have a feeling a revolt may come if these sync issues and over complicated new beta sync crap keeps going on.
My point is that if there was nothing broken(meaning Zune), then why fix it(as in why give us a beta sync app)?!!!!!!

Sometimes comments like this remind me not to take life so seriously. Thanks

Agreed, I have spent days trying to import my playlists to no avail. Tried wmp, didn't recognize Zune purchases. Explorer won't recognize my phone. And Xbox music is changing all of my song info and duplicating songs. Really wish Zune still worked.

I use Microsoft Sync Toy to keep my phone in Sync with my laptop. Works great

Good job missing the most important thing that all of these software are lacking. None of them lets you synchronize anything from your Music Pass account, which Zune lets you do with WP 7. This is a huge step backwards.

Should be re-titled "Synchronising Windows Phone 8 on a Windows PC or Mac".
I would like to get a Windows RT tablet but there are no options for sync'ing my Lumia 710 running Windows Phone 7.5. Given that I can sync just about everything to SkyDrive and back down again, I'm not sure how much of a short-coming this is but it has given me pause to think.

I wish they offer connector app for mac user that can be downloaded and use outside of itune. And support older mac os. I still use older os and don't want to upgrade yet, there is no solution for me to connect my 900 directly to my computer at the moment.

The Mac connector won't sync music, podcasts, and everything else besides photos to my 920.

I had the same issue at first, you need to go to the File Menu and then select "Allow Acces to Folder" and then select the iTunes folder, it's the only way to get the app to sync your music and podcasts.

My experience of WP8 syncing so far is that it's abysmal. A big step back from WP7 on both OS X & Windows.

On OS X.8 the sync client crashes every time my HTC 8X is plugged in. Looking at the crash logs it's due to a "zombie" object pointer the detection of which is Objective-C 101.

On Windows 8, the desktop client will at least copy music from iTunes to the device although it loses all the album art and just flat out won't copy video, un-DRM'd or otherwise. Podcasts will be copied to the device but can't be removed via sync because the client crashes all the time.

I'm in the process of writing my own Metro podcatcher & sync tool because I'm tired of being metaphorically kicked in the head every time I want to listen to podcasts on the 8X.

I am experiencing something similar. Either it syncs two copies of the same song or the meta-data is incomplete/incorrect. And people that recommend using Windows Media Player: that thing screws up meta-data too.

I use my 8X with my Windows 8 Desktop with the WP8 Sync app and I have had no problems with syncing.

what's the download link for Windows 7 PC ??

I love Zune, still use it to this day for everything but syncing :(
The new apps are 10 steps back in the wrong direction - why on earth can't I subscribe to podcasts? Why does my music sync all weird into multiple albums? Why does my album art not show for some albums?
I miss zune :(

If I had 500GB of storage on SkyDrive and unlimited data on my phone then I would say these apps are pretty much useless. Seeing as neither of these things will come to pass I must say that I want Zune support back.

Yea why didn't they just update Zune and brand it Xbox music and keep everything the same but the name. That's what they did on the Xbox...

Same on my 920.. Orphaned and duplicated files/albums. No synch tools listed work anymore. Broken until fix arrives.....oh wait, my old WP7 HTC Arrive use to synch just fine. doh!

Is there anyway to get drag and drop to work on Mac? I use iTunes with my iPhone 4S but I DO NOT sync music. The way I've put it on my iPhone is by simply dragging and dropping it in iTunes > iPhone > Music. There is no music in the library itself. So I'd like to know if there's a way to just drag and drop it on a WP8

This article is written as if this website is an official arm of Microsoft. Synchronization is a sources of very valid criticism, but there's absolutely none here. MSFT went from a system that worked very well and threw us back into the stone ages with this junk. This issue is symbolic of how as a company Microsoft is driven towards the short term bottom line rather than making the best products they can. It's almost as though the company learned almost nothing from the past decade.

So boo for the writing and boo for the crap software.

Agreed. Current solution for Windows users is craptastic.

I couldn't agree more. The lack of a true Phone to PC syncing solution and the utter disaster that is the Xbox Music experience is really frustrating. The removal of key features from Zune is inexcusable. That said, I've come to terms with this and am just defeated and wating for MS to at least improve this a tiny bit.

The real unsettling thing is the tone of this story. It reads exactly like a MS press release. I know this a WP site with MS fans, but this article makes me question this site's integrtity to the core.

I'm curious as there was no mentioning of using other products for management, such as windows media player (which isn't really syncing but rather 1 way sending). Also I have been wondering if there are superior third party syncing apps? It is quite lame that an individual song cannot be sent using the new app for Windows 7.

Syncing with Mac is more advanced than the options available to Android users. One thing is lacking - the ability to backup from one device and restore to a different device (of the same type). If you ever have to replace your phone, it's difficult to know you had a backup but can't restore it to the new device - at least it didn't work for me (maybe there is a trick to it). Otherwise, really nice Mac integration. Google could learn a lesson here about how it should be done!

So it means if I do not have windows 8 windows phone 8 is useless for me?

the Windows Phone 8 desktop client is available for Windows 7, but it is in beta. in addition, Windows Phone 8 shows up on a PC just like a USB drive. so, you can transfer music and photos to the phone using the File Explorer.

so may complaints about the windows phone sync software and cloud sync. Take a look http://answers.microsoft.com/en-us/winphone/forum/wp8 Microsoft have really screwed up here and a massive step back on Zune and WP7. I hope MS sort this out soon as its letting the whole eco-system down.

I love my Lumia 820 but am extremely annoyed that I can't get any music on my phone. The Mac app simply doesn't work for me. No music will transfer across! And I bought the 820 over the 920 for the price but also storage. And I can't get any micro sd cards to work without crashing my phone and having to reset it. Any ideas anyone?

In Windows Phone app -> File -> 'Allow access to Folder..' & select your iTunes folder.

Thanks, will try tomorrow and let you know. Any idea what types/ brand of micro sd cards are supported? My 64gb sandisk doesn't work.

Can someone please.detail how to sync music to and from #wp8 including songs you download from Xbox music on the phone and PC. How.does one create and sync playlists with Xbox music songs without suing the cloud collection which fails to match half the songs in my playlists. How does one edit and curate playlists over time and have it sync with wp8? Zune answered these questions but doesn't recognize Xbox music DRM songs.....

I agree about wanting Zune to work. It's fantasitic and one of the reasons I've moved over to Windows phone.
I hope Microsoft draws heavily from Zune in it's future iteration so Xbox Music service.

The mac connector is adequate but I hope they develop it more in the future. I wish I didn't even have to use my MBA but my Surface came with half the HD space so I can't load all of my music on it.

honestly im a huge supporter of windows phone but i agree with the unhappy users, media managing for me has been dreadful and so i do most of my stuff on my phone itself. Can someone please explain to me how to create playlists on windows phone 8 desktop client for pc? using windows 8 pro on a desktop.

I am confused.

I am at current a Windows Mobile 6.5.x user, running on a Windows 7 machine, using WMDC (although I really do miss Activesync)

I am using Outlook 2010 as my primary (and really only) PIM tool; I much prefer being able to do things offline.

If I go with a Windows Phone 8 device, will i still be able to sync directly with Outlook 2010 (without having to shunt things online first)? If no, does this piece of software (for WIN7) allow me to do so now?

No version of Windows Phone syncs directly with Outlook desktop client. You can sync to Outlook through the cloud (aka server). if you're using Outlook without a server, then you can export your contacts to your phone.
see:
http://support.microsoft.com/kb/2454811
and
http://support.microsoft.com/kb/2459660

My biggest issue with WP8 tight now is the fact that all my music in my PC is recognized as Zune music. Every album I had downloaded fro. ITunes is saved on my PC as an mp4(I don't know why that happened), and so I'm screwed in two ways now;
1) my 920 will not recognize any of the music I have.
2) mom. PC only runs Vista, so my sync is completely fucked. It is super hard to get things synched correctly.
3) I will now take about a week to convert all my music I to mp3 so I can play my this stupid rule that only mp3's are recognized on 920. Wtf I say!

I really miss using the Zune software to manage my Lumia 920 like it did with my old LG Quantum. With Zune, it recognized all of my iTunes purchases, album art and all, and I can sort by date, album, artist, etc..., then drag and drop whatever I wanted and it will be in the Quantum. Now, I have to open up iTunes, do the sorting there, THEN go to the Windows Phone desktop app, MANUALLY scroll through the list to find what I needed, then make sure it's checkmarked... REPEAT for each thing I want to sync. Frustrating and time consuming. My only gripe about WP8. =(

Not to mention, with pictures and videos, Zune sorts by date, and puts the newest stuff on top, so I can just select the ones I needed, and dragged it to my old WP7 Quantum (also the little "phone" icon that shows up when it's on the device!). With the Windows Phone desktop app, I can't sort. And unless I check "Sync All Pictures" which I don't want to do, I have to manually go look for the new stuff. When you have thousands of pictures... BLAH

This is an amazing coincidence since just yesterday I was trying to get info about this. My mom just got her first WP but she has a Mac and I'm not very familiar with its OS, therefore we had plenty of troubles syncing the device. We could not sync the photos from the phone to the mac, after pressing the sync button the bar showed a successful sync but the photos where nowhere to be seen. I realised that this windows phone connector software had a "beta" tag and since the mac doesn't have mountain lion we couldn't download the version that you mention in this post, any ideas how can I get it to work? Thank you Rich for the post

And no wireless sync... Why remove a feature (an awesome one at that) that was there from the very beginning? (FM radio too :/)

I want Zune support for my 822. I still use my Zune HD, but it stinks I can't sync the phone. I'm using WMP for now; but what a DRM nightmare.

Since when does WPCentral post MS marketing copy as new content?

Horrible job. Not a single criticism or gap analysis here, for soemthing that is roundly agreed to be a serious shortcoming of the WP8 experience. I've never been more disappointed in this site.

Also, for the record Drag and Drop != Sync. Import != Sync.

I really wanted to jump to wp8 and w8, but the syncing is just terrible. Why is it I can drag across my content to my 2 year old android phone as well as to my brand new nexus 7, play whichever format I want, including multiple audio tracks and subtitles, and windows forces me to sync? Guess I'll hold out from jumping ship until ms gets it together. Very disappointing.

Most of us are just complaining about the syncing issue. WP8 is perfectly capable of supporting importing (aka drag and drop). Syncing is only compulsory for WP7 and WP7.5. WP8 is recognized as a removable device in Windows Explorer, so no forcing whatsoever.

Would love to see wireless sync come back. Hate plugging in the phone to add music.

I was so happy not suffering from "yet charging or still fiddling with the plug?"
But now iOS and Android users smile upon me with a big grin saying: "yet synced or still fiddling with the plug"

That white phone looks gorgeous with that tile combo!

How do you sync iTune Playlist??? Can someone give me a step by step?
thank you!

I do not want to sound too negative but this is really dissapointing. Both Windows Phone 8 and Windows 8 are great OSes.Unfortuantellly accompanying applications are really really bad (Video and Music for W8 + sycnch app for WP8). No turn by turn navigation on HTC 8x
How is Microsoft supposed to compete with others?

in order to thank everyone, characteristic, novel style, varieties, low price and good quality, and the low sale price. Thank everyone http://gg.gg/11qu http://gg.gg/11qu http://gg.gg/11qu http://gg.gg/11qu
│\_╭╭╭╭╭_/│  
 │         │\|/  
 │ ●     ● │—☆—  
 │○ ╰┬┬┬╯ ○│/|\  
 │   ╰—╯   /  
 ╰—┬○————┬○╯  
  ╭│     │╮  
  ╰┴—————┴╯

My Lumia 920 still (even with the new Windows Phone app on W8) gets the "Your phone is having trouble" sync error. Since the App is still DOA, I'll have to take these accolades at face value presently. :(

Unfortunately, if you're using Windows XP, there's very little support at all. WP8's saving grace is that it shows up as removable storage through Windows Explorer but I can't understand why they couldn't make it work with Zune or update Zune for those users who still need have to use XP. Or, let the new app support WP7.5. For all its strengths, this is where the WP story falls short. Why can't there be ONE single app that supports WP7.5 and 8 and works on Windows XP through to 8 and RT? It almost makes using Mac OS X actually look attractive.

This is the confusing mess of support: WP7.5 on Windows XP - Zune WP8 on Windows XP - Explorer only WP7.5 on Vista - Zune WP8 on Vista - Explorer only WP7.5 on 7,8 - Zune WP8 on 7,8 - Windows Phone client for desktop, Windows Phone client app (Metro) WP7.5 on 8 RT - No support WP8 on 8 RT - Windows Phone client app (Metro)

As a Windows XP owner, this all just seems a cheap and cheerful scam to force people into upgrading the software on their PC to enable the phone to be able to 'communicate' with it.
Very disappointed!


I just downloaded the Windows App for my Mac and ran into a video issue. How do you sync MOV files from mac to windows phone? I even tried converting my MOV files to WMV. But iPhoto doesn't accept WMV files... and it looks like windows phone sync uses iPhoto and iTunes to sync photos, videos, and music. Syncing photos and music went well, I had no problem with that. But how do you sync MOV files into windows phone? I've already tried converting to WMV files but iPhoto and iTunes wont accept those files... therefore, wondows can't access my WMV files on my Mac. Pease help.