T-Mobile US rolling out Windows Phone 8107 HTC HD7 update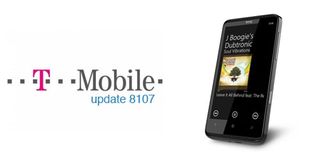 It has been officially announced on the T-Mobile U.S. support forum that the carrier is rolling out the Windows Phone 8107 update out to HTC HD7 owners. The 8107 OS update introduces numerous changes, but the highlight is the fix for the disappearing keyboard bug.
Be sure to check Zune (or the Mac Windows Phone Connector) for the notification. Unfortunately there's still no word on a 8107 rollout date for Lumia 710 owners on the T-Mobile network, though you can hack the handset to receive the update along with new firmware.
This has been confirmed by our readers who have received the update notification on their handsets. Let us know when you get yours in the comments.
Source: T-Mobile, thanks everyone who tipped us!
Rich Edmonds is Senior Editor of PC hardware at Windows Central, covering everything related to PC components and NAS. He's been involved in technology for more than a decade and knows a thing or two about the magic inside a PC chassis. You can follow him over on Twitter at @RichEdmonds.
Downloading it right meow...

Come on art my HTC titan really needs that update that stupid keyboard disappearing all the time is a really pain in the ass!!!

Great news! I am liking T-Mobile more and more. If they release a phone with a keyboard I'd be comfortable dumping AT&T for them.

@lippidp - I ended up with the HTC HD7 on T-Mobile because of the keyboard! My fat fingers work very, very nicely with that combo (HD7+WP7).
Also, I ditched AT&T after 15 YEARS because they have become so incompetent, so inept that it gives their "Rethink Possible" slogan all new meanings!


Installed the first part of the update, now I keep getting the Update Unsuccessful error (error #80180008) for 8107. Tried over and over again, restared phone & PC, same error. Is anyone else seeing this?

How much free memory do you have? On the last update I kept getting a error code (can't remember code) I deleted some apps and freed up about 1 GB and it updated.

over 3gb free, so hoping that's not it

Trying this again on a different PC and getting the same error. Am I the only one? Does anyone know of a fix for error 80180008?

Its memory.. Sync everything then factory reset.. unfortunately you will lose game save data and texts,, but update will work

Any idea of how much free memory you need free?

Nope. Did a full wipe and still getting the same error. Any other ideas? Very frustrating.

Try a different USB cable and plug into a rear USB port.

I had an error once, but don't remember which code. It turned out to be something with the Windows Live account and my son's Xbox 360, of all things. This is another reason WP is not enterprise-ready (not that you asked).

Downloading now about time no more twits to T-MO asking for the keyboard fix

Holy crap it did one update checked it now i am getting another onekeep it coming

Whoopeee......I truly hate AT&T. Can't wait to be done with them come Sept. And I am disappointed MS hasn't found a way to get this update out to everyone.

really, i wonder how long it gone take them to roll up tango if it took them so
long just to send this update ????

:::::Insert my at&t grumbling and complaints here:::::

I'm on att and have this update on my first Gen focus, then again I interop-unlocked mine, :P

Some good news from Tmo, my HD7 will thank them.

But they had to spoil it with their "promotional" email I also received today.
I have 5 lines with T-Mobile, LONG time customer, I have all Windows phones and have NEVER had an Android handset with them. They email me today asking me to "Amaze myself with Android power". Really T-Mo? Really?


Tell them you prefer to keep your photos private and will, therefore, avoid Android "power."

I read on the Tmo site that, one of the features of this update is: "boosts battery life". If this is true, that would be awesome!
I haven't gotten my update yet. After a day or so of using your HD7, please let us know if it seems like you have better battery performance.

My HD7 is on Bell in Canada. I've had 8107 for over a month and, sadly, battery life is just as abysmal as it was on build 7740, and every prior build, going back to pre-Nodo when I first got it.

Dell Venue Pro update status please? :-(

What about the hd7s???.. And my keyboard just disappeared while typing this -_-

Oh man, I'm planning to switch from TMOBILE to ATT when my contract is up in November. They are making it hard, though. I've got the HD7 and it seems like TMOBILE is the first to push out updates, their plan is cheaper, and they give you FREE tethering. My only problem is that my service is bad in my apartment and I've fallen in love with the Nokia 900...such a hard decision, but it's 8 months away so anything could happen (:

Once Tmo refarms their HSPA network to the PCS band then u can have the 900

It'll be fully compatible with the Tmo network once the transition is complete. It will even be able to use LTe

Where did you hear Tmo was changing their frequency to Att? What would be the motive for tmo? This would make all Tmo's current phones obsolete. I totally wish tmo & att would have 1 standard for frequencies but whoever changes is gonna have some pissed off current customers.

Tmo themselves said they are switching to the PCS band for a portion of their data but they will NOT break legacy devices. They are doing this to free up spectrum on their current AWS bands to make room for 4G LTE.

I can't believe so many people don't know this. It should be an article here.

No visual voicemail on att either. FYI

Try youmail (magikmail). It's free and way better than carrier visual voicemail.
1. If there in your contacts it calls there name out to them.
2. If your somewhere where the call don't go thru you get a email or text notification of the vm or missed call.

Thanks for the notice! Saw this on the app while on the bus heading home. Updated asap with no issues :)

Looks like i got 3 updates, the 7740, 8107 and HTC update. Hopefullty the HTC update fixes the internet sharing issue where phone would pick 3g over wi-fi. To bad no release notes for htc update. and oh yeah, the MAC switing all the time, would be nice if that was fixed too.

Uhhh if your on a WiFi network with your phone. Why would you use internet sharing with WiFi? Wouldn't it be easier to just connect to the WiFi network directly with your other device? I think it's suppose to use your 3G with internet sharing. There is nothing to fix here.

THats not the issue at hand. Lets say i'm home and i have wi-fi connected, the phone will on its own start using 3G instead. Not only that sometimes kinda stays in limbo and doesn't use either for a bit. Well documented issue with many windows phones with Internet Sharing. This issue will not happen until the first time you turn internet sharing on.

Oh ok I know what you mean now. I have a similar issue. At my house sometimes I have 3G, 2G and no signal. Same thing at work. I have super slow access. I guess when the signal gets weak it jumps back in forth. I turn my cellular data off and it runs perfect.

That could be something going on. On this particular issue i mentioned, does not matter much what 3G signal is, it will just stick to 3G even in very low signal conditions. I'm scared to turn on internet sharing now, working fine now :)

Does anyone know if this update fixed the Zune player issue? http://answers.microsoft.com/en-us/winphone/forum/wp7-wpmusic/zune-on-htc-wp7-freezes-between-songs/e862bde0-fd1f-471e-9822-5c7a44746390

Can I get this by I unbranding my ATT Quantum?

Yes. Been available for quite some time I'm told.

Man I feel bad for you Americans. I've had 8107 on my Bell HD7 for like at least a month, without forcing it. Bell may have EOL'd my phone and made it $0/1 year 2 months after I committed to a 3 year term, but at least they're supporting the phone with timely updates...

Just installed 8107, thank you to T-Mobile and HTC. First off thou, I am still peaved it took this long. The update was released several months ago.
FYI: after the 8107 update there is an HTC update.

Still waiting for my update so I can be done with the disappearing keyboard on the Dell Venue Pro. This whole 'wait for the carriers to get their crap in gear' is really souring the Windows Phone experience. They need to fond a way to fix this and fix it soon

Wow finally! I'll download it when I get home. That Muttafuck#Ng keyboard drive me crazy! Thanks T-Mobile;)

8107 goodness just installed, thanks T-mo....finally!!!

its really awesome mobile ...



Apuestas Deportivas Online

Yes surrie bob-
Got my updates yesterday through Zune even

Lol combat medic
Great super troopers reference!!!

Having some problems with update.
1. It shows 3G with max bars but I get the no internet connection.
2. Email live tiles not updating. Under lock screen it shows I have new emails. When I open and on the home page I have no indication on my live tiles that I have new emails. I can open my email and like the locked screen indicated I do have new massages. This wouldn't be so bad but I have 5 accounts. So I have to open each one until I find the one with messages.

I just got a pop up when I opened zune with phone plugged in for the 7740 update. Immediately jumped to 8107 and then got the htc update. Glad I got it, but like rdub said this update was put out months ago and we just now got it. Tmo has a funny way of showing appreciation to those of us who jumped on WP with the first device they were selling.

after the 8107 update on my htc hd7 now when i tap the messaging tile and slide over from message threads to online to see whos online it always says NO ONE ON LINE, never had this problem before, anyone else experiancing this?????
Windows Central Newsletter
Thank you for signing up to Windows Central. You will receive a verification email shortly.
There was a problem. Please refresh the page and try again.