T-Mobile's John Legere takes digs at competition in new holiday video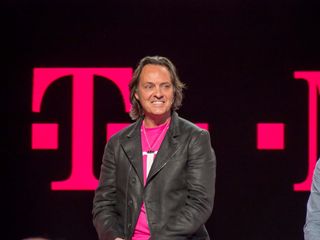 T-Mobile's has released a new video for the holidays, starring CEO John Legere. Legere sits by a fire reading a story about how worried AT&T and Verizon are about T-Mobile's gains in the last year. He says a little about T-Mobile's Q3 numbers, including the carrier's record growth.
Legere also went over some of the other initiatives from the Un-carrier this year that helped them stand out from the competition. These include Music Freedom and the recently-announced Data Stash data rollover plan.
Legere ends the video by thanking the company's employees, and promising customers that they've only just gotten started.
Source: T-Mobile on YouTube
Get the Windows Central Newsletter
All the latest news, reviews, and guides for Windows and Xbox diehards.
Oh it was so funny I forgot to laugh... , must be an American thing...

It is. Us Americans have a great sense of humor. We're not dry and stiff like alot of other countries. Posted via the Windows Phone Central App for Android

John, Where's the uncarrier 7.0 wifi calling on my HTC One M8 for Windows? -67

Dude looks like a creeper

I am loving T-Mobile!!! They are the best for me!!!

For you they are the best!!!

I'm confused, did he say T-mobile was the best for everyone?

they need more lumia support. mi fiancee upgraded to a freaking iphone just cause tmobile don't have any good lumia in the store. not even the one m8 for windows

Unless you're going with a payment plan, just buy a better Lumia outright from ATT and unlock it, or better yet, buy a factory unlocked edition (which wont rely on carrier updates) and insert your sim card. BYOD is a viable option with T-Mobile, especially since you technically have to buy the phone outright anyhow (though they do have payment plans seperate from your phone service)

If only there was a way to get the WiFi calling / text app on a 1520. I'd dump my note 4 in. Heartbeat for it. Posted via the Windows Phone Central App for Android

That is the downside to phones not sold by T-Mobile. Phones sold by competitiors and phones sold unlocked from Microsoft Mobile through places like Expansys will not have access to T-Mobile applications and features specific to T-Mobile customized hardware. However, there is an upside to manufacturer unlocked devices, in that they do not rely on carrier's to approve updates (leading to the handset recieving updates, such as firmware updates and new versions of Windows phone, much more rapidly). So permitting you live/work/spend a major portion of your time in an area that gets some kind of T-Mobile signal (2G, 3G, 4G, 4GLTE), a factory unlocked device is the way to go when the carrier themselves lack the handset.

One of my friends works at a T-Mobile call center. She got to meet him and take a selfie with him. He's apparently just as much of a trip in real life as he is during a press conference.

"...who _sprint_ to escape..." I see what he did there!

Yea its cool n all but where's the Lumia930 or the 1520 ?

I'm not from the US but isn't the point/advantage of tmobile is that you effectively bring your own phone with no restrictions? Or are US customers heavily dependent on getting carrier locked devices on contacts? If the latter then no wonder the carriers have such a tight grip on the industry there.

The problem is you have to get an unlocked device that supports the right frequencies for that carrier. Rarely available unless you get it from the carrier themselves.

We are heavily dependent on phones locked to carriers. It's slowly changing towards prepaid phones in some areas which is why I love that Microsoft is putting out affordable phones that still work well but we aren't there yet. For most Americans, shelling out $500 or more at a time for a phone is unthinkable as a lot of us ride very close to the poverty line.

So why do u guys view Republican so much then? They always voting against wage increases.

I'm not quite sure where you're coming from. What do you mean?

Huh? That's pretty uninformed.

Becasue those who vote Republican have been thouroughly brainwashed by the likes of Fox News and Rush Limbaugh into believing that paying people a livable wage is tantamount to supporting a Communist/Fascist/Socialis/Satanic takeover of America and that instead siphoning off all of the money to the wealthiest 1/4 of 1% of Americans is patriotic.

True in a way only to bedisappointed that the 930 is not even the BYOD device list because of incompatible frequencies and in order for Tmobile to keep their revenues high they can't afford to subsidize every high end 500$ phone as its money out of their pockets.

Man, if I had better service with them here I would so switch.

Had Tmobile for 8 months close to Boston, service was awful... sucks it just is not that good yet

I had great service from the North shore (Revere/Lynn/Saugus) to South shore (Quincy/Braintree/Weymouth) to Metro-West (Frankin/Mendon/Milford). I had no issues anywhere from Worcester to Boston really. Were you far out by Springfield or something?

I live in Springfield and my best friend has T-Mobile. She describes their LTE as "spotty at best".

Yup, tmo is very area dependant. Where it is available, it is quite amazing!

I just wish T Mobile worked in my area.

T-Mobile is a great cell carrier in many ways. They have a great cell price for my wife and I were as other carriers of the same want way more money. They are busy building up there data network and offering many perks without the cost. But, one thing that T-Mobile lacks and in my opinion, sucks at, is they DO NOT have a selection of Windows Phones at all. A low end lumia device or the HTC One M8, after the bad taste I have with the HTC 8x and not getting Windows Phone 8.1, I don't want another HTC again. If John Legre is answering tweets and replying to messages, then reply me this, WHY can't T-Mobile give us a bigger, better selection of Windows Phone like AT&T does? Plus, Why is T-Mobile so slow at pushing out software updates to their customers phones? AT&T seem to be the only carrier that cares about updating the phones in a timely manner.

I'm in the exact same boat. Would love to move from my 925 but HTC makes me leary and I have no desire to downgrade. I'm on my second 925 replacement so ill just grin and bear it lol

They can offer perks without the cost because they only have towers in central locations and don't have to maintain towers in mostly non-populated areas. Try going outside of main locations and you'll be on AT&T and other local towers. The only reason these cheap companies can even offer low prices is because of those of us who pay Verizon and ATT the big bucks. Without us and them, there would be no cheap services for you people.

I share the same frustration up to the point that I am thinking of writing an open letter to Legere stating how Windows is not being promoted only because i feel he is the only CEO in wireless who would care to read it.

Great idea. I like it! Make it a petition even. I'll be happy to sign

I personally just switched over to the HTC One M8 and so far the device has just been phenomenal.

Tmo needs to push out the Lumia update for my 635 & I hope they get the new Microsoft Lumia LTE phone, whenever one is released for US market. Data is super fast & service is great out here on the west coast.

Still no Hey cortana for the 635.. you are gonna be so let down when you finally get denim..

This bloke looks like some old German porn star.

There would be if you were one

Until they give the Lumia 810 some love (i.e. any firmwar updates after Amber). Forget that little prick!!!

As a former Lumia 810 owner, I feel your pain. That being said the 810 is dead. At least you get the developer preview, but if you want any of the new fun stuff, you'll need a new phone. I went with the M8. B&H Photo has some good unlocked options too.

yep, I learned my lesson, and I will never buy a carrier locked phone again, rocking the unicorn 1520 over here and not regretting it at all.

I will be buying a phone just to test on their network for 2-3 months thinking of ditching vzw. If it is reliable with calls and texting the data wont be a huge deal since nearly all bars, restaurants, gyms, parks, and all locations offer WiFi

Unfortunately, you are in for a disappointment. Of the big four, they have the worst call reception.

Maybe for you, but it depends on where you are. I have zero problems with reception 99.9% of the time. I may occasionally lose signal if I'm in the kitchen where my boyfriend recently moved to, but that's about it.

Same, in some places Tmobile is actually better then vzw and att, the most notable is that your signal doesnt instantly die when you walk into a grocery store, and yea we generally have less bars, but as long as you have even 1 bar, tmobiles network works fine, Ive yet to get even one missed text/dropped call

Your boyfriend moved into the kitchen?

Times are tough! Two Mexican families live in their living room and a Guatamalan family in the bathroom.

I tried their 30 dollar plan. To me, it was worthless. Everywhere I went, it was poor or no reception for data, which meant no text messages. It seems you can make a call on any service though. I had mostly "G" signal (Whatever that is) and "E" and still couldn't get texts out. Don't even think about using the internet either. This was in the country though. Good Luck! I'm waiting for them to expand their network. But it doesn't seem like they're doing that. They just seem to be upgrading what they have and adding, I think WLTE is what they call it, which is faster internet...again...on their current network. My experience, T-Mobile is night and day when it comes to coverage on the big TWO! Well, for me, it's just ONE...AT&T!

They've been pitching "we're expanding our network" for many years and it doesn't seem the reception is improving much.

i love this guy. this is why im on tmobile.

Haha, I enjoyed this. Really glad to be a longtime T-Mobile customer. It'll be 13 years on January 28, 2015. Am in the process of adding my boyfriend to my line as his contract with his parents on Verizon just ended. With the addition of this fourth line, we're getting bumped up from 1GB of data to 2.5GB. Sweet!

That's really sweet ! But they hate Nebraska and entire Midwest ! Had to return phone since I was not able to even place calls (a lot of dead spots). But more competition is welcome, Verizon & AT&T are too cheap (??) !

ha! He awesome. I gotta say, T-mobile does know how to interact with the customers. Definately setting the bar there with out a doubt.

T-mobile is really great where I live. Had a problem with lack of signal in my house, but that's a fault of the signal not being able to penetrate the building fully, so that's no fault of T-mobile. I talked to them and they gave me a CellFi unit and now I'm good to go. I love T-mobile's attitude and all that they do for their customers, and I'm trying to get my parents to make the switch from AT&T

This guy is nuts. This is hilarious, but he's nuts lol I'd love to see the faces of Deutsche Telekom's board of directors when watching what their American branch is doing XD

DT doesn't care one bit. That's what makes the entire situation with T-Mobile so sad. In many ways T-Mobile is a house of cards. I know many of their "fans" point to their recent growth the past couple of years, but they tend to forget all that growth came as a result of a $5 billion breakup fee when the AT&T merger was disallowed. You can't count on competitors to fund your growth and T-Mo's owners are not investing a thing into T-Mo. And after the way they treated Sprint on that potential merger, not many companies are banging on DT's door to buy T-Mo, and without good ownership that growth T-Mo has been seeing is going to dry up. Such a waste of talent with Legere at T-Mo and DT not taking advantage of it. Would have loved to have seen the Sprint/T-Mo merger and what Legere could have done with that combined company with Softbank's financial backing. They would have given Verizon and AT&T a huge comepetitor rather quickly.

I get better service on cricket

Still pissed at them for the 810. 1:20 how professional of them.

Video was kinda funny.but i left T-Mobile for ATT when the 920 came out and couldn't be happier. While t-mobile has made some good changes to their service... To win back my family and friends Tmobile has to show more support for Windows Phone..Get the premium phones, get the updates out quickly ( hopefully windows phone 10 will move away from carrier updates) and stop sales from forcing apple and androids in my face especially when I'm looking for windows! ​

The ******* mouth on this ************ lol, did he say sh*?! @_@ I think it's great that at least they're trying something, seems the only gripe most people have is reception, though its understandable if you know about the tech in general. I've been with them since they bought out VoiceStream in the early 2000's and have never had a problem with them. Despite any horror stories I've heard or witnessed with friends and family, they've done everything to take care of ME. That's all I care about. =[

I would have switched to T-Mobile, but their store/employees just aren't very professional (at least in my experience). Posted via the WPC App for Android!