T-Mobile Un-carrier 8 gives you rollover data with Data Stash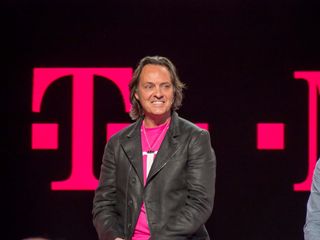 T-Mobile has today announced Un-carrier 8.0, introducing its new personal Data Stash feature for subscribers. This new Data Stash will enable anyone who doesn't use up their data allowance for that month to store this remaining balance on their T-Mobile account for use another time. Put simply, you'll be able to automatically save the remaining data allowance each month for free, and then use this hidden stash whenever you run over the limit.
As touched on above, Data Stash will be available to everyone – both existing and new T-Mobile customers and individual, family or business accounts – at no extra charge. The only requirement is that customers are subscribed to an eligible postpaid Simple Choice plan — 3GB per month for phones, or 1GB for tablets. If that wasn't enough already, T-Mobile also announced it will provide 10GB of 4G LTE data for free to get everyone started with Data Stash.
The only downside is each MB of saved data is only available for a year before expiring, so you can't horde data for too long. T-Mobile US CEO John Legere commented on today's announcement:
As an added bonus, there's no limit to how much data can be saved each month and stored in Data Stash. The new feature will roll out across eligible T-Mobile plans starting in January 2015. Aside from the Data Stash announcement, T-Mobile also revealed the company now reaches 260 million Americans coast to coast with its LTE network, expanding to reach an additional 10 million people in just the last 60 days. Plans are in place for 2015 to reach 300 million people through further rapid network expansion, including the complete shutdown of its 2G network.
See the press release below for more details.
Bellevue, Washington − December 16, 2014 − T-Mobile (NYSE: TMUS) today announced its next industry-rocking Un-carrier™ move − eliminating the infuriating wireless industry practice of confiscating unused data you've already paid for. With Un-carrier 8.0, high-speed data you don't use each month automatically rolls into a personal Data Stash™ so you can use it when you need it for up to a year. And, the best part is that Data Stash is included at no extra charge for every single new and existing T-Mobile customer – individual, family or business – on an eligible postpaid Simple Choice plan who buys extra high-speed data for their smartphone or tablet.
In addition, T-Mobile announced they will start every Data Stash with a whopping 10 GB of 4G LTE data – for free. That's 10 GB of free data for every line in the family on a qualifying plan. And on top of that, the Un-carrier announced several major new milestones in the build-out of its Data Strong™ network.
"Can you imagine your gas station siphoning unused gas from your car each month? The US wireless industry is even worse," said John Legere, president and CEO for T-Mobile. "Americans have been gamed by the carriers into buying huge data plans – all to avoid getting screwed with overage penalties. Only to find out they bought more than they need which is then confiscated by the carrier. For the consumer it's lose, lose.
"That data is rightfully yours," added Legere. "And, we're putting an end to this appalling industry practice today. With Data Stash, when you buy additional high-speed data, there's no need to lose what you don't use."
With T-Mobile's Data Stash − the first such program from a national wireless provider − you don't have to worry about buying extra high-speed data you'll never use − or not having that data when you need it most. You've paid for it. Now you can use it when you need it for up to a full year.
Starting in January 2015, Data Stash will be automatically available at no extra charge to every T-Mobile customer – every individual, family and business – with a postpaid Simple Choice plan who has purchased additional 4G LTE data, 3GB or more for smartphones and 1 GB or more for tablets. And, you'll start out with a Free Data Stash with up to 10 GB of 4G LTE data.
Once you've used up that Free Data Stash, any unused high speed data − rounded up to the nearest megabyte – will start to roll into your Data Stash automatically every month. And there's no limit to how much data you can collect in your Data Stash. When you need extra high-speed data, you'll automatically start tapping into your data deposits. Now, when you pay extra for 4G LTE data, you won't lose data you don't use.
Businesses face the same challenges when it comes to the data guessing game – just multiplied by the number of employees they have. Think it's hard choosing how much data to buy for you and your family? Try figuring out how much to buy for you and your 50 employees. More than a third of U.S. businesses on shared data plans have been hit by punitive overage penalties, and others resort to buying more data than they need – all just to avoid budget-busting overage penalties at the end of the month.
"Like every Un-carrier move we make, Data Stash also came from listening to customers," added Legere. "This year on Twitter, customers asked the carriers to create a program to roll data forward more than 40,000 times. So this isn't rocket science. It's just that we seem to be the only company in this industry that cares enough to listen. That's fine by me."
T-Mobile's Data Strong Network Expansion
Data Stash is made possible by T-Mobile's unique Data Strong network design which was purpose built for the data-intensive way people use smartphones and tablets today. Today, after an epic year of network firsts and massive advancements, the Un-carrier announced several major new milestones as it continues to expand and enhance its network at an unprecedented pace:
First, T-Mobile continues to grow its LTE footprint and now reaches more people than ever before − 260 million Americans coast to coast, expanding to reach an additional 10 million people in just the last 60 days. Second, on the heels of upgrading T-Mobile's network to its ultra-fast Wideband LTE in New York, the Un-carrier now reaches 121 metropolitan areas across the country with Wideband LTE, giving customers more capacity and up to a 50 percent boost in speeds. Already, T-Mobile customers in the NYC metro area have reported download speeds in excess of an unprecedented 100 Mbps.
Finally, T-Mobile announced that it has deployed its newly acquired 700Mhz spectrum in Cleveland, Colorado Springs, Minneapolis and Washington, D.C. boosting network reach, improving in-building coverage and extending coverage well beyond major population centers.
The Un-carrier expects to continue its rapid fire network improvements in 2015 and has already set a few resolutions for the New Year − like reaching 300 million people with T-Mobile's blazing-fast LTE network.
For more information on T-Mobile's network advancements this year, please read this blog by T-Mobile CTO Neville Ray. For more information on T-Mobile's Data Strong network, please visit www.t-mobile.com/DataStrong. For more information about T-Mobile's Data Stash and other ground-breaking Un-carrier benefits, please visit www.t-mobile.com/DataStash.
Windows Central Newsletter
Get the best of Windows Central in in your inbox, every day!
Rich Edmonds was formerly a Senior Editor of PC hardware at Windows Central, covering everything related to PC components and NAS. He's been involved in technology for more than a decade and knows a thing or two about the magic inside a PC chassis. You can follow him on Twitter at @RichEdmonds.
So like the previous AT&T/Cingular rollover minutes used to be? Which I believe was scrapped a few years back and they just ended up making it unlimited anyways. Wouldn't it be awesome if they just made their data unlimited too?

I hope. I had 1gb left over from last month oh Verizon and I wish I still had it

I am not too fond of T-Mobile's phone offerings or their coverage in general. However, I do like that because they are growing so rapidely AT&T and Verizon have no choice but continue to change their business models to retain customers. This is why competition is a good thing. It only takes one to rattle the cages.

T-Mobile's phone offerings? Buy your own phone.

Not sure att rolled over data, minutes yes, and they still do, but not data, been with them for about 5 years and don't recall they ever rolled over data, but I sure hope they follow suit with data roll over

I had AT&T for a very long time. They never had rollover data.

They never had roll over data they had rollover minutes

They had roll over minutes back when they used to be Cingular wireless.

yyaasssss!!!!! lol ❤ my service.

How about a fix for Lumia internet sharing breaking on unlocked phones...

That's not really fair. They did not vet the unlocked phones, nor do they even have the right to update them.

It does appear to be their fault. When you slap in the SIM it even takes you to the T-Mobile to add the package. It's something funky they did with their APN. I have a pretty good idea why too. They could fix it. It is all unlocked phones too not just Windows. I rarely used it anyway so I could care less and if I need it I will pick up a 521 and SIM switch while I need it.

Incorrect. It is a setting in the Windows Phone registry that flags data that's used for internet sharing. T-Mobile reads that flag and redirects you to a web portal. It's a problem on Droids too but easily fixable. On WP not so much. It's a big reason why I do not use WP anymore.


Unlike you I actually have a Windows phone to see the error messages and what the account panel says. It wants me to add a $10 a month data plan for 1GB share data.

Unlike me? I have a Windows Phone. I just don't use it, and I see the same exact account panel you mention. The only way around it is to add a hotspot feature from Tmo. Facts are hard to understand I see.

It goes off the APN. I have a unlocked 1520 and I still got the 8.1 update through at&t.

I had a 1520.3 as well. It's definitely set in the registry. I performed many tests to prove it (including hotspot, using alternate phone platforms, etc). Then found the answer with a droid phone. It's set in the phone and Tmo watches for the flag. Check xda forums for more info. It's there. No need to guess.

How about you go start your own damn network and fix everything yourself? B-Mobile (b for bitch)

Now that is not very nice, why would you say that, so mean, bully, meanie...

Plz if don't have anything nice to say then dint say anything at all!

I have two unlocked phones and tethering works on both. I think Cyan and the latest developer previews fixed this issue. Unbranded 1020 from MS Store, and 1520.3.

My unlocked Lumia 920's internet sharing works on WP8.1.1 (latest Developer Preview).

If t mobile could service my 1520 with LTE, id move over ASAP. I know they have shitty coverage but I dont like getting phone calls anyway lol

T-mo has great coverage here where I live south of Atlanta. I got the 1520.3 that gets the full speeds (40 mbps down). I do wish they would offer better windows phones.

OTP north of Atl and it is spotty unfortunately for me, and I travel for them to really makes some waves they need to find some rural land and add towers.

I was using a Lumia 1020 on T-Mobile and then upgraded to a Lumia 1520.3. Only reason why I am leaving them is because when I have service it's awesome with around 40Mbps down but its real spotty where I live. Switching to ATT for now until they decided to improve more in my area. As soon as that happens, I'm going back. They have been improving my area over the past year. It's just not "there" yet. Almost but not there yet.

Before people complain about this not being given to prepaid customers, remember that T-Mobile needs to do SOME stuff extra for post-paid customers now that there aren't free phones. Also, you can get a postpaid plan with no credit check anyway, so it's not like they're excluding those with limited credit. It's just an incentive to sign up for a recurring plan. And that's still without a contract required.

Actually you do need a credit check... they checked mine when I was just buying a phone line for my uncle. Bought the flip phone cash at their store.

You CAN get a credit check, but you have had the option to not check credit for months. It's called simple choice no credit check. It default charges a deposit of the same amount to every person who opts out.

I'm a bit confused here. Do u need to have at least 3gb of data on ur plan(per line) to get data stash? I see Cingular (ATT) and Verizon copying this again..Sure Cingular had it donkey years ago but not alot of pple will remember that anymore. T-Mobile will drive Verizon and ATT out of business sooner or later with their aggressive pricing and marketing.

Basically if you stick with the base $50 rate you don't get the stash because they consider that "free" data. So this doesn't help my family but ill try not to complain since its a nice benefit for those that are eligible.

I thought as much. We have the $100 / 4 lines (2.5GB each) promotion. I suppose I can call customer svc and try to round up .5 to nearest 1 to make my 2.5GB ---> 3GB. I doubt I'd get far with my decimal rounding skills. It sucks tho...this is like a good deal but with a twist I don't even use 1gb on my account so adding $10 for add'l 1GB just to reach 3gb and qualify for the Stash is pointless but good move nonetheless.

Actually, with your 4-for-100 plan, you can move up to 4.5 GB for $10. That's a promotional data plan, same as the 2.5 GB for free, that's available to the 4-for-100 and 6+ family plans. Same deal as the 2.5 GB, it expires 1/2/2016 and at that point changes back to 3 GB for $10.

I know the 2.5GB expires on 1/2/16 at which time it goes back to 1GB /per line. Going back to the Data Heist deal, I see a tiny letters with fineprints that says: The privilege of letting you stash away your data (read rollover) is $10 per month (3GB) but I suppose it's worth it for those who qualify already (and an option for those who wants it). This is of no use if you don't even use close to 2GB monthl but could be should your monthly usage heads south.

I don't think you understand just how much bigger than T-Mobile both Verizon and ATT are. If T-Mobile ever did actually start to become a threat either (or both) of those companies would provide an MVNO with the means to undercut T-Mobile in every way possible and keep them contained. It sucks, but I just don't see a path where T-Mobile could "win".

While I agree with your perspective, the number of new subscribers is all that is needed IMO to tell whether T-Mobile's forceful marketing and pricing are hitting home runs.

This sounds awesome. Maybe I'll never get throttled again.

Why? This has nothing to do with throttling.

It has everything to do with throttling. Your data rolls over each month, it keeps you from getting throttled if you normally stay under your plan but then one month go over.

That still doesn't make any sense. You should still get throttled based on your usage (if that even happens). Whatever you don't use gets rolled over regardless.

T-Mobile data is "unlimited". You get throttled when you hit your high speed data allowance but your data doesn't stop or get charged additional fees. Data Stash lets you rollover to increase your allowance before the data is throttled. So it is all about throttling.

Exactly. Most months I stay under my 3gb high speed allowance. Some months (if I watch alot of videos over data) I go over midway through the month. This will be helpful in that regard. Mister2d must have the huge high speed plan.

Nope. I have the unlimited prepaid data plan @$30. I used to be a throttled AT&T customer. I still don't see the connection. If you go over enough to get throttled, how does that account for anything that rolls over. If you have 100MB left, it gets rolled over throttled or not.

Let say you have 3GB of LTE data each month. The first month you use only 1GB, and the next month you end up using 5GB for some reason. Before this, you would have had to cope with 2G speeds (throttled) while using those extra 2GB. With the new rules, you would enjoy LTE speeds during all your data usage thanks to the rolled over data.

You seem to be under the impression that TMO is arbitrarily throttling data but there is no evidence of this. TMO does throttle once the high speed data allowance is reached, in your case it's 5GB. A user on a 3GB plan with Data Stash who uses 2GB this month will have a new rolled over HSD allowance of 4GB next month (3GB + 1GB Data Stash) and so on. Exempt data can complicate things but these are the basics. One more thing. If you get to the point where you're throttled then there is nothing left to rollover.

Like soypan said. If I don't go over my HIGH SPEED allowance, I can use that at a point that I DO go over so as not to suffer 2G/3G speeds. Only happens if I watch alot of YouTube videos while not on wifi. I have unlimited data, but hate dealing with the throttled speeds....so this is a good thing for when I'm say 2 days away from a new cycle and want full LTE.

WAIT A MINUTE. You are worrying about rollover data for an unlimited data plan? This whole thread for that? lol Rollover data is not for unlimited plans from what I read in the press release. It's for plans with a set purchased amount.

It says for postpaid users (those of us that have a monthly bill), not those that buy minute cards when they run out. And it also says its for those that have at least 3gb high speed on phones or at least 1gb on a tablet.

Of course. That was implied all along. It even says so in the press release. My point still stands, nowhere does it talk about any postpaid unlimited plan. Only metered plans. When you think about it, it makes no sense for an unlimited plan to have rollover data.

mister2d, stay with us now. Ready? ALL T-MOBILE DATA PLANS ARE UNLIMITED PLANS. What is not unlimited is the high speed allowance. Once the HSD allowance is reached the speed is throttled to 2G speeds. Data Stash is rolling over the unused portion of the HSD allowance.

Okay, soo....Getting throtltled isn't really Unlimited data! hahaha How much data can anyone use on 2g? Even if you keep your phone trying to buffer up a video all month long, 2G will not get you far. So the data limit is whatever the maximum amount a 2g connection can reach in 3o or less days. My guess is maybe about....1gb? If that. Beinbg optimistic here.

When you say 2G, I think you mean 3G. T-Mobile's 2G network is almost completely decommissioned.

I still hit 2g inside my local mall in Florida. Specifically inside sears/JC Penney's.

More pocket money for Lars then.

I was thinking about this why don't data rollover

As soon as T-Mobile has service in my area I'm ditching Verizon for GSM's better selection of phones.

Sweet! Thanks T-mobile, love you guys! Get more Windows Phones to rival AT&T's monopoly on them, and it'll be perfect.

Sounds nice, but t-mobile service is garbage. But to everyone who is eligible enjoy it.

Think that depends on your area. Here in Pinellas county Florida, sprint is garbage. I had them years ago and even though they may have made improvements, I've seen speed tests that had them behind tmobile. I work with a guy that has an LG g2 on sprint and its pretty slow despite decent hardware.

I'm with At&t in Puerto Rico and by experience sprint sucks but improving, Claro is complete garbage but its more there costumer service, and t-mobile they are just plain bad, customer support, service, they just don't give a damn.

My experience as well. Sprint speeds at my house went from mediocre 3g to blazing LTE the last few months. Seriously, like 30 mb/s. Loving their improvments. Sure, a good GSM connection might max out the top speeds, but I also depend on CDMA voice calls, which have a more stable connection. Loving my Ativ S Neo but I do want more phones. Honestly though, once you hit like 4mb/s on any given occasion, you're pretty happy ha. 4mb/s is plenty for anything.

And in Downey, CA, I'm at Sprint (not Spark) at 32 mb/s while TMo loses reception. Meh. Nothing On VZW not AT&T though.

Sprint has now official become the 4th biggest US carrier. On another note, if T-Mobile had a better WP selection. I would be very tempted to switch.

Now you have more data to use when you can actually find coverage from the stash of all the data you couldn't use when there was no coverage.

This is a nice move. Of course, I've always been light on data, so it won't affect me. Still, it's nice to know that it's there. T-Mobile is making all the right moves!

< -- hugs his Verizon unlimited and unthrottled

For now. The guys here reported on Verizon having a loophole to get rid of unlimited. Work with a guy that had an iPhone 4 with unlimited, upgraded to a 6 and gets throttled now.

That's not a loophole. That's a coworker who took a subsidized upgrade and agreed to a new contract without unlimited data. Then again, I'm under contract with UDP until mid-2016... ;)

Is the data stash kept in the cloud or will I need a bigger SD card to hold it? I can see my phone's storage used up quickly holding the leftover data. /s

Oh gawd I hope this is a joke lol

I wish there was a way to know if people are serious or sarcastic /s

Silly apple user, you can't use an SD card. It's stored in the iCloud, but be careful, sometimes your rollover data will leak out. Posted via Windows Phone Central App

So with the unlimited data usage for most music services + this rollover data, is it even worth keeping my grandfathered $20 for unlimited data? I have barely been breaking 2GB over cellular now that music is free :|

I'd keep it because unlimited is now $30.

Your turn AT&T. Let me rollover my data! :-)

Thank you, Tmo! Hopefully this will help other carriers see reason.

Carrier wars are so good for the consumer. Bravo TMobile for improving it for everyone.

Nice to see a rollover plan for data now if only Rogers could adopt it

The only thing I cared about was expansion. So them setting a goal to reach 300 Million by end of next year sounds terrific. Question for T-Mobile users.. Do you get 200 MB free data for tablets with your plan or was that just a promotion for like a year ago?

I believe that's still an option but not too sure

I just saw a sign for it at WalMart a couple weeks ago.

Good guy T-Mobile! Hopefully this will force AT&T and Verizon to follow suite.

God that dude looks weird

*Unless you are on the 1GB plan. I mean I like TMO but they really should have done it for the 1GB users too.

I'm on the 500 Mb plan, which usually misses out, like on free streaming music, but they do deals all around. I got the deal with 2 GB for $5 more, which I'm quite happy with.

Hmmm may have to check out tmo soon... May be a better deal than att if service has improved in my area...

This is why I am glad ATT wasn't allowed to buy T-Mobile. As long as T-Mobile continues to make plans like this, ATT and Verizon will do something similar to compete. Lets see what ATT will offer.

Verizon and Ma Bell don't have anything to worry about, there coverage speaks for itself. Rollover data is a gimick just like rollover minutes with CIngular. I thought everyone chose T-Mobile for it truely unlimited data plan. When I had Cingular i had over thousands in rollover minutes. If you can managing to stay under 3 GB a month, you will never need this. Nice try T-Mobile. By the way I have T-Mobile, I know a lot of people say the service is good which it is. But the coverage is horrible, why you think they promote wifi calling so much. If I want to wifi call someone, I use skype. 60 minutes is only 90 bing reward credit.

T-mobile used to be unlimited in europe but soon changed after 10gb data usage by some now its the most expensive network ,still offers unlimited if you call 64kb a usable data usefull after your 1gb is used ,only good for whatsapp without pictures ,T-mobile gives but soon takes it away when they habe nabbed enough customers ,usa future customers should check how its mother networks work , maybe then at&t may look better ,better the devil you know than one thats always up for sale.

Tmob sounds so awesome. Now if they will only decide to improve service in my area im in. Seriously central Texas is hardly the sticks anymore. Build it and we will come.
Windows Central Newsletter
Thank you for signing up to Windows Central. You will receive a verification email shortly.
There was a problem. Please refresh the page and try again.