T-Mobile's Windows Phone app gets a makeover in latest update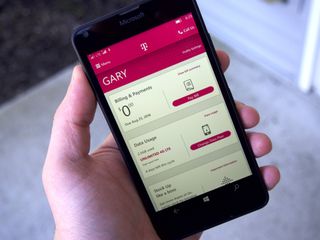 T-Mobile has rolled out a revamped version of its Windows Phone app, bringing along a whole new design. As you'd expect, the app allows you to easily check in on your billing statement, data usage, and even pay your bill in a couple of taps.
Overall, the update brings the Windows Phone version of the app up to speed with its iOS and Android counterparts. In fact, the magenta-dominated color scheme and design match those other apps exactly, making the experience consistent across platforms.
If you're using a Windows Phone on T-Mobile, you should be able to check out the newly redesigned app by grabbing the update now. Also be sure to chime in in the comments and let us know what you think!
Thanks to Gary and Per for the tips!
Download the T-Mobile app from the Windows Store (opens in new tab)
Windows Central Newsletter
Get the best of Windows Central in your inbox, every day!
Dan Thorp-Lancaster is the former Editor-in-Chief of Windows Central. He began working with Windows Central, Android Central, and iMore as a news writer in 2014 and is obsessed with tech of all sorts. You can follow Dan on Twitter @DthorpL and Instagram @heyitsdtl.
Just got the update this morning. Had to turn off wifi for it to do the tmobile 'server' login, which worked quite well. I actually like this update, looks really nice, and is not cluttered, and doesn't feel like a website wrapper app, and more like a real app.

I get "this app is not compatible with this device" unlocked L950xl w/t-mo sim on sim2

Same phone but T-Mobile SIM on slot 1 (primary). It says: "T-Mobile is currently not available." Tried with WiFi off, still the same message.

I had to restart the app twice and close it out completely in order for it to fully run right. After that, it works right every time.

But I haven't been able to even install it :(

I get the same thing. Weird

Same I got two sims and both are running tmobile.... No app love here

It tells me I have it downloaded already and i don't. Umm wtf

They also renamed the app to T-Mobile.

wow, the sky is falling?! an update for this app is shocking!

Really... Next thing you know T-Mobile will announce Wifi Calling for my Lumia 950XL.

How can I download this on a unlocked phone it say I owned this app but no option to download it

I had to use edge on my phone to google it and download it.

Why doesn't the link in the app work?

Idk but on edge I searched Windows t-mobile app. Then it was the first link and clicked on the windows version and it opens in the store. I did it for both the At&T Lumia 640s I had before and it worked.

For the 1% of the 1% Posted via the Windows Central App for Android

Looks great! Awesome... =P

Not working on my L950 with sim1 T-Mobile and sim2 at&t!
On top of this I am getting an Amber Alert...what's that mean?

A child in your general area was reported missing/kidnapped.

Not available for download on Lumia 950 XL Dual-SIM. Hopefully this changes... as well as not being compatible with Band 12 D:

Try looking on the edge browser that's where I downloaded it.

Something else is up. It's on my 950 XL Dual-SIM

Maybe they're letting it go out slowly?

I downloaded it on my unlocked 950XL DS, no issues. If it didn't show up in the store, go to your library and try to download from there. Hope that helps!

Too bad I don't think this will either make Wi-Fi calling work on a TMo 640 with 10, nor completely wipe it out. I've had this limbo like experience since moving to W10 that MMS won't work with Wi-Fi turned on (even if Wi-Fi calling is totally off). I need to turn Wi-Fi off first.

MMS has never worked over Wi-Fi Calling.

Right, but here's the thing: Wi-Fi calling is off. It's off in the settings, and it's off in the icons on the top of the screen. It doesn't work. And it still must have some influence on MMS, because it works fine on LTE and not at all on Wi-Fi. "Multimedia content in this message", I tap download, and it fails to download. Also fails to send messages to multiple recipients or with pictures as long as Wi-Fi is connected.

Your phone is acting like Wi-Fi Calling is still active. Try rebooting the phone. I remember having a similar issue occasionally with my TMoUS Lumia 925, and rebooting generally fixed it.

I've had this problem for the year and a half of having W10M. I've rebooted plenty. But I do appreciate your desire to help.

I get a "cannot connect" error then has link to go to tmobile site.

Close the app and relaunch.

I'm loving this update on my 950xl dual sim really nice. The previous one worked but was outdated.

Again, US only. O well...

You do realize this is an app made by a US company for its US-based customers, right? You might as well complain that AT&T customers can't run it either. SMH....

About time! The app wasn't even available for the longest time too!

As always it says..this application cannot run on your device :-( ...why? 950xl?

I have an unlocked dual sim 950XL, and it runs great on it. Try some of the work around people are suggesting maybe?

Same here.. Worked after a restart of the app. Though I did already have the old version installed and it auto updated.

My 950XL dreams of a T-Mobile Binge-Sim in its second slot. hehe. But alas, the local signal at the house for TM failed the LTE test and I had to give up. Someday they'll upgrade the tower out here in the boondocks.

Same here, on tmobile and can't download at all (says not compatible with my unlocked 950 DS).

Worked on my unlocked 950xl after turning off the wifi, completely closing out the app (3x) and then opening it up. No problem(?)

That sounds right. Even on iOS, it asks you to turn off wifi to actually use the app.

Just installed it. I've used the app a few times before when it came time to renew my service, and this feels so much more streamlined. I wonder if this has anything to do with the ONE and ONE+ plan restructuring that was dropping today?

Doesn't download for me on any of my unlocked phones. 950 DS, 830, or 925

Look in your library and see if you can get it there. I have dual sim unlocked 950XL and it works for me.

tried that on my 640 xl didnt work for me

This app is not compatible with all the lumias unfortunately!

Is it T-Mobile branded devices only? Because I can't download it on my unlocked 950 for some reason

Same here for the 950 XL.

The app is nice... would be greater if they throw in a T-Mobile Tuesdays extension in the app since they never made a T-Mobile Tuesdays app for Windows.

T-Mobile brand Lumia 640. Does not work on my device.

Interesting. It was seeming like T-Mobile was ready to dump WinMo devices.

Not available for my 950xl-ds

I can't install it on my HTC One (m8) with Windows 10 installed now, that I bought from T-Mobile. I can't install it on my replacement for that phone my 950XL DS with a T-mobile SIM in it. It shows up in my Library, then I tap on it, it goes to the store listing and it says 'I own the app' but it does not give me the install button to tap on. Is there a workaround for this or is this issue a Windows Store bug? I am on build W10M Anniversary Update14393.67. I had the My T-Mobile App installed but it updated and disappeared off of my phone. Does anyone have the Appx or Xap of the old app?

Works with unlocked 950XL DS. Need to restart device after install.