TaxiForSure allows booking cabs in India from your Windows Phone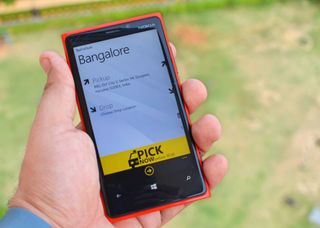 TaxiForSure.com is an aggregator of car rentals and taxis in India and offers point-to-point hires, local packages, outstation services, and airport transfers in Bangalore, Chennai, Delhi NCR, and soon in Hyderabad.
In less than three years, TaxiForSure has serviced more than 300,000 customers and is becoming a popular alternative to Meru and Olacabs. The official TaxiForSure Windows Phone 8 app arrived on the Windows Phone Store earlier this week and allows one to book a cab quickly and conveniently.
The app allows you to book a cab instantly using the 'Pick Now' option or make an advance booking with the 'Pick Later' option. From the app, you can choose the car options available (hatchback or sedan and AC or non-AC) and get a confirmed booking in few taps.
Once the booking is done, you can track status of your cab in real-time and see the driver heading towards your pick-up location on a map. The app also allows you to check the history of your previous bookings.
TaxiForSure claims to have cheaper rates than most radio cabs, and have flat rates for airport cabs in some cities. While the service allows you to book premium cabs like BMW, Mercedes, and Jaguar too, the option isn't available in the app.
Download TaxiForSure app for free for Windows Phone 8 devices from the Windows Phone Store. The app has a neat design, and a smooth, functional user experience. Give it spin when you are headed for your next meeting or need an airport drop, and let us know how you like it.
Damn India is definitely feeling the windows phone love...

I know❕❕ ... India see's more official apps every week then any other region.. Maybe even more than the US!... I think WPC should do a article about India, and WP..
...................
If this keeps up our devices are going to start to reflect the needs of that region.. No, that's not going to happen, but I'm surprised that India isn't WP's largest market.

Well in our company...ppl who used to travel to offshore rigs used to get a Samsung until about a year back...now its Lumia...that too 1320's....and the more people use it...the more they fall in love with it....

Good thing for its growth, however, even in India most companies / institutions have their official Android app for sure. Then there maybe an iOS app and least chances for WP app. Even in TV commercials, I usually see one or two logos "Get our app in Google Play" and sometimes "Get our app in app store" too but rarely I notice the third. WP sure is growing in India but not like Android. And with launch of Moto E (at Rs.7000 ~ $118) its a direct punch to Lumia 520 sales (I'm speaking of average consumers). Microsoft seriously need to do something to get their phones below this range to keep up the growth (sadly, which doesn't look possible as of now...)

Agreed.. The reason why Lumia 720 and 520 became hit in India is there is no good phones at this range in android is.. Now moto g and moto e fulfills that space

Although it might suck for Nokia, competition leads to innovation. Nokia should try harder now...

I'll say it again, and again.. "India is the land of WP".....
...................
Also, if you want a good read then check this out.. Is this true? Does it matter?
...................
http://news.softpedia.com/news/UK-Carriers-Are-Not-Ready-for-Windows-Pho...

Good to see its availability in NCR. Looking forward to download this app, it may come handy in times... (off-topic) Still echoing Modi's speech in ears... seems trustworthy.

Off topic : i cant open my store...am i the only one ?

No, you're not. Neither can I open it right now. It keeps showing "Loading..." for a long time and then shows Network Error.

Hell yes..cant even download this app

I guess its a temporary problem and shall be fixed in few hours

It's not just the store, even Bing search isn't working.

What the hell is going on today in wp..whatsapp also down and now this

Some big changes are happening hope they are good changes

And I just found out. My Onedrive is still linked to a not working email address. Service centre told me, changing emails is not possible. Unless I change my Main email account. But I then will loose everything. Just perfect.

Anybody here ever watched the commercial of TaxiForSure..?? The song used in the commercial "60-60-10-10.. 60-60-10-10.." (which is also its toll free number) was quite funny! I used to hear that song every day (every hour) while i was in Bangalore!! Lol!

Guys any reviews on Taxiforsure service? Using Meru cabs and experience has been good till now in Bangalore.

Do we have any good taxi apps state side..

We needed more banking apps with regular updates

Dude if watsapp isn't there then wp will be difficult for sales

Survival of the fittest ..I can survive without that...

Abki baar modi sarkar ... Is finally here....

Good services...Cabs in Bangalore
Windows Central Newsletter
Get the best of Windows Central in in your inbox, every day!
Thank you for signing up to Windows Central. You will receive a verification email shortly.
There was a problem. Please refresh the page and try again.