TeamViewer adds remote Windows Phone support and more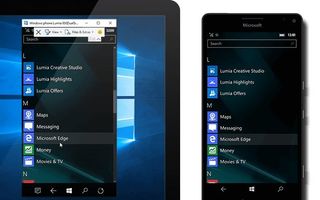 TeamViewer, an app that enables easy remote access to computers from your own computer or phone, has picked up some handy new mobile features in a recent update. Not only is Windows 10 Mobile remote access now supported, but TeamViewer now supports full mobile-to-mobile remote connections regardless of platform.
According to TeamViewer, this update makes the app the first to support remote access to Windows 10 Mobile devices from any computer. Simply fire up the app and start the connection process from your computer, and you'll be able to get things done on your Windows 10 Mobile phone from anywhere.
Likewise, mobile-to-mobile remote connections mean that you can even tap into other platforms from phone. For example, you can now remotely control and view an Android phone right from your Windows Phone.
Keep in mind that both mobile-centric features require you to be a premium user or above in order to use them. However, if you want to give the update a shot, you can grab the latest version of TeamViewer from the Windows Store now.
Thanks to Daniel H., and everyone else, for the tips!
Download TeamViewer from the Windows Store (opens in new tab)
Windows Central Newsletter
Get the best of Windows Central in your inbox, every day!
Dan Thorp-Lancaster is the former Editor-in-Chief of Windows Central. He began working with Windows Central, Android Central, and iMore as a news writer in 2014 and is obsessed with tech of all sorts. You can follow Dan on Twitter @DthorpL and Instagram @heyitsdtl.
Yeah, absolutely incredible. These guys have gone beyond the call.

I used this to help my mon yesterday from another country :) I could see her phone screen but she had to install the Teamviewer Quicksupport and I the Remote Control https://www.microsoft.com/en-us/store/p/teamviewer-quicksupport/9nblggh5... From my phone I saw her phone ------------------ The app in the post doesnt act as a server. The correct app is: Teamviewer Quicksupport

Too bad Team Viewer is among the most expensive remote control apps. Hopefully Microsoft brings QuickAssist to mobile. The competition would help with pricing.

Use the Windows feedback Hub and upvote the quick assist request.

If you have inTune on Windows 10 PC it doesn't have all of the remote support stuff it had in Windows 8 and lower - I do wish TeamViewer was cheaper but at least it's free for personal use

QuickAssist is already on mobile.

So, basically this is continuum

Huh? Uh, no, this is nothing like continuum. This is a remote control app for support specialist to help people.

Continuum is totally different concept

I dont think people realize that continuum is also for desktop and tablet as well as mobile. Its how windows fits to different things. I am also thinking its the reason why my settings in different enviornments. When I hook my laptop up to my monitor displays are extended and sound comes out my laptop. When I hook it up to the tv displays are duplicated and the sound comes out the tv. No reconfiguring. It just works and remembers :).

Oh yes this must be the Continuuuuum thing.

Finally, Nokia Beamer lives!!!! I've been waiting for new way to do Mobile to Mobile support since Nokia Beamer was discontinued. Side Note* Dan, in the sentence "..Android phone right from your Windows Phone​", the "P" in Windows Phone should be lowercase as it is in Android phone. It the correct context that you used the word "Phone", it is the device type so it should be "Windows phone".

$1689 for a premium license.

As I said. Too expensive for many people.

Yep, that's my major issue with TeamViewer, love their software but their license is insane.

Well, @ least it works for free.

Yes TeamViewer is great for personal use at no cost

As FearL0rd noticed as well, you guys are featuring the wrong TeamViewer app. You are talking about QuickSupport, but linking to the standard TeamViewer app. Please fix!

That, and the desktop version does not appear to be a store app, while the mobile version is. On the desktop side, you go to https://start.teamviewer.com and type in the ID that is given to the mobile user.

The TeamViewer app from the Windows Store connects to the phone app just fine.

so awesome, can remote support my mom in law!

Is this an awesome example of what having a common windows core can give us? Like was it easy for team viewer to extend their to phone support?

Good. but it is very slow compared to android. Hope they improve that.

Fantastic for remote deploying mobile apps. Dev Dream.

This has been possible for months. What the article does not mention is that you have to install the Teamviewer QuickSupport app to control Windows 10 Mobile. That's right, it's a separate app. It's not possible to use unattended. It's meant for support only with the app open to confirm every time a connection is made. Don't think that you'll be able to remote to your own phone if it's left elsewhere!
Although, I am not complaining, just informing. These are welcome additions!

Thanks for pointing this out, was really wondering how this was to be done.

This is absolutely fantastic

I'm kind of surprised that this is possible with UWP right now. Did TeamViewer work with Microsoft to get special app permissions?

Yeah, I was thinking the same thing

Yay, it works for me! A little bit laggy on my 640 XL, but still... :D

Too bad that TV QS doesn't keep your connection alive when your Mobile screen is turned off.

Wow some people get bent out of shape just from the title, good lord.