TeamViewer is now a universal app for Windows 10 desktop and mobile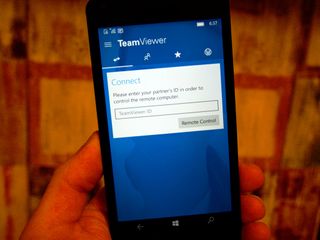 TeamViewer, a popular app that allows remote access to PCs from your phone, has been updated to become a universal app across Windows 10 Mobile and Windows 10 today. The update brings the app up to version 11.100.51355. And though there is no new changelog posted for this version, but according to the number of tips we've received and our own checking, the app is indeed now universal.
To recap, TeamViewer allows users to remotely control Windows, Mac, and Linux computers from virtually anywhere. The app uses 256-bit AES session encoding and 2048-bit RSA key exchange for high security, requires little configuration, and support multiple monitors.
For the latest TeamViewer update, hit up the link to the Windows Store below, and let us know what you think in the comments!
Big thanks to everyone for the tips!
Download TeamViewer from the Windows Store (opens in new tab)
Windows Central Newsletter
Get the best of Windows Central in in your inbox, every day!
Dan Thorp-Lancaster is the former Editor-in-Chief of Windows Central. He began working with Windows Central, Android Central, and iMore as a news writer in 2014 and is obsessed with tech of all sorts. You can follow Dan on Twitter @DthorpL and Instagram @heyitsdtl.
Apps still coming in...W10M not dead... Yet

im really surorised (positively) myself how well devs adopted windows 10. Please keep them apps coming :)

We need to see more apps from developers new to the platform.. But, the current ones seem slightly more interested..

okay i'm confused now. what the advantage of the windows 10 app over desktop win 32 teamviewer app?

In this case not so much other than they'll be the same version and we are sure to get continued w10m support. Being universal app if they drop w10m support they'll drop w10 and that's not gonna happen. You gotta love TeamViewer for great support of w10m

Universal apps don't necessarily have to work on mobile

But when they do, they have most of the features of their desktop counterparts and are likely to support continuum

more secure, no registery fidlling. works on multiple devices, PC, Xbox, Mobile

Great post as always, that "yet" at the end tells it all. Constructive criticism, or persistent masochism?

Slow and steady wins the race is the MS motto.

Teamviewer always does a great job of bringing their apps along to the latest and greatest. They support so many platforms and quick. I wish I could get my company on Teamviewer instead of LMI and Kaseya but the current setup does work well for us.

try GFI Max... way better than Kaseya and uses teamviewer

well teamviewer on Windows 10 PC store, wasn't good, well the windows 8 app, wasn't great. and they didn't really update it much. the phone version was better, so this is good. now they can keep focusing on updating both apps. but before i remember even though teamviewer was there, it was not really updated much, and it never got great features.

What the hell are you saying? Your comment is only "not good" " not great" "before better" "never got great features".
Not even one detail to understand what you're saying.
It's a software to remote computers and mobile. And, to me, that I used it EVERY DAY on both, always worked perfectly for what it's meant to be.

calm down, dude. I have TeamViewer installed also on Android and comparing it with the Windows 10 version, it's better (waaay better) than the Android version.

lol, as long as I can control my i7 8GB RAM PC from my 950XL using continuum, I dont need "updates" or even "features"

Your wish is my wish too. LMI doesn't seem too bothered with developing Windows native app.

Teamviewer is just awesome! I prefer it to logmein personally.... Both solutions are use at my company. Teamviewer did not hid behind some low market share excuse and gave us a great app... Their app has always worked better than log me in did on other platforms... Kudos to them!

Yeah team viewer is awesome! Their windows phone support got me to try them out and I found it to be the best I'd tried!

Great and supports version 11

Does it work with the display dock on big screen?

If it's universal then yes, it should work

Can't say thanks enough to these developers.

Can this app be used to log into a W10 phone as well?

Doubt it, most likely viewer only due to limitations.

Nope, you can't remotely control a Win10 mobile. At least with this app.

This will be so awesome when it happens. Then I can't help my parents without raging through the phone cause they do r fer it lolz!

Yessssss! Back in biz, missed it after upgrading to 10

Really awesome =) I see a lot of apps becoming universal and more awesome, and exclusive indy games thanks to the ID@Xbox program =D Good news =) Remember people, the market share figure for Windows Phone, just includes phones, unlike iOS and Android. Which is why Microsoft is keen to bring tablets under 8" under the Windows Mobile branding =) It's only fair, given that those tablets aren't included in any figures at all, taking a big chunk out of PC shipment figures and mobile market share figures at the same time!

Universal apps are awesome! I'm glad team viewer jumped on board.! I suspect the more people find out how great universal apps are more developers will pick them up.

Hi @, Can anyone explain me how the universal app works and what it does/mean? Thanks!

Its one app that works on Windows Phone, windows desktop, windows tablet, even Xbox and Holens. The developer writes one set of code and just defines different layouts for different screen sizes/form factors.

In simple words, universal apps on any Windows device like phone to PC = continuum

Continuum is a different thing, independent from universal apps

So what's the purpose of using continuum when you don't have universal apps?
The reason why MS keep showing Office is because they are universal apps and that's the point. Sure code once and get anywhere on windows is independent but for a pc and phone to work as continuum, you do need universal apps.

Dam finally=D, really been missing this one since the insiders started haha

These native UWP apps are soooo fast. Literally.

Yes! Feels like a desktop app

Better..stronger..faster..

Great to see this back in the Store!

Perfect for phones with continuum.

Speaking of Continuum, the XL buyers are getting the big freebie. We 950 buyers (left out in the promo-less cold..) have to buy it on the side. Did anybody even find a spot on https://www.windowscentral.com/e?link=https2F%2Fclick.linksynergy.co... where we can buy a Display Dock? I can't find it.

You can use continuum wirelessly too if that ain't a problem but yeah, having a dock is much better

Good. I updated to TV11 on my PC, and it stopped working on my phone because the app wasn't updated. I can now update my PC again (I had to roll back).

I've been using TeamViewer on my Windows 8.1 machines and my Windows Phone 8.1 devices for quite some time. And TV works BETTER on those devices than it does on any of my W10 or W10M devices.

yeah but there are no win10m devices yet (except a handful of AT&T early deliveries). If you are using a beta of win10m, does that truly count?

No beta bro. Build 10586 is legit now. The final version to the public

Still unstable and slow without firmware

Don't have a firmware for my phone. Running 10586 without any hiccups. Problems very rare to none. No slow and unstable as you speak unfortunately. P.S there won't be any firmware also

If you have a Lumia running W10M, check Extras in settings. You have new firmware.

I don't think 10586 is necessarily the final version to the public. Not because the as-a-service marketing, but because of the feedback alert I received yesterday basically asking if I thought 10586 was good enough for the masses. Personally, I hope we get another build that fixes Mobile Hotspot.

Awesomeness.....!
It is the most used app on my devices.

When I get my Lumia 950 in a few days I want to only buy win10u apps (as they all become available). How can I identify a true native Windows 10 universal app on the Windows Store?

It's written there in the changelog or there is an indication down like PC,Mobile so yeah, simple as that

Awesome news! TeamViewer is one of those must-haves for me and their app has only been getting better and better with each release :D

Universal apps are awesome :)

Universal apps are awesome. Maybe it could save window mobile platform.

Wow great, i use this a lot.

TeamViewer is such a great service. I use it to help my elderly mother on her computer.

That's the only reason I got it. While I don't mind the 'support' calls, it is easier at 82 to be shown rather than told how to do something.

Previous version worked great also

11 is techinally still their beta - but that said, most of their beta stuff is market ready. Good times to see this get into the W10P side.

AFAIK the app is only an out connection. There is no way to set it as an unattended client.
Windows Central Newsletter
Thank you for signing up to Windows Central. You will receive a verification email shortly.
There was a problem. Please refresh the page and try again.