Telegram Messenger Beta gets updated with new typing statuses, smart notifications and more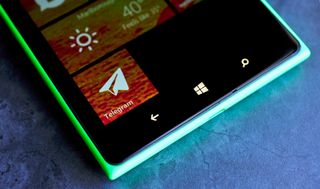 Telegram Messenger Beta has been updated to version 1.10. This release includes numerous features like new typing statuses, smart notifications, invite links for group chattering and more. It was only a few weeks back when we last looked at an update for the official client.
Here's the list of changes for version 1.10:
Invite links for group chats
Smart notifications
Stickers tab in emoji menu
Captions for photos
Places and directions in locations
'Listened' status for voice messages
Advanced 'typing' status: sending photo, recording audio, etc.
It's a sizeable update and one we're sure fans of the messenger service will appreciate. You can download the official Telegram Windows Phone app using the link below. Do note that it's still in beta so don't be surprised of an issue here and there.
Download Telegram Messenger Beta (free)
Thanks to everyone who tipped us!
Windows Central Newsletter
Get the best of Windows Central in your inbox, every day!
Rich Edmonds was formerly a Senior Editor of PC hardware at Windows Central, covering everything related to PC components and NAS. He's been involved in technology for more than a decade and knows a thing or two about the magic inside a PC chassis. You can follow him on Twitter at @RichEdmonds.
Didn't understand what's smart notification, exactly

Your status will say recording or sending a photo when you are performing those actions, like it says writting when you're doing so

What you said is more like: "Advanced 'typing' status: sending photo, recording audio, etc."

You are talking about "Status", not "Notifications".

When someone writes you ten messages in 10 seconds, you won't get 10 notifications basically

Smart Notifications Tired of buzzing notifications from active group chats? Sick of multiple notifications every time somebody forwards you a dozen messages? Getting notifications on mobile while chatting with the same person from your desktop? Fixed! Starting today, you will be notified only when it is necessary.

I'm asking for this feature for a long time :D

It was described in their blog post for that update https://telegram.org/blog/captions-places

Invite links for group *chatting

I can't see the stickers tab. Someone can help?

I really wish it would get a redesign as most messaging apps for windows phone are so unattractive and use the default messaging look. I hope this update fixes the lag in receiving messages and sending images.

I wish all messenger use the default messenger look, it makes them look like part of the whole system

+1520
And that's why I LOVE WP

i really like the native messaging look though. Ive tried adding backgrounds and the such like and always turn them off. And ive tried other apps like hike and jongla and always go back to this because of the way it looks :-)

Yeah, even I like this clean look of Telegram and WhatsApp.

I can go further, I regret the Message Hub where you war not supposed to open more than one app in order to chat thru diffrent chanels: SMS, Facebook, etc..

Strange... When I showed whatsapp to my friend who uses android he said black is nice I want that.. Grass is always greener on the other side :P

Very few of my friends use Telegram Messenger.... But its feature rich
WhatsApp seems ignoring Windowsphone but 300 of my friends use it including 11 different chat groups.....
Probably my world would be better in Mirror world

Or you could switch. I use the Windows Central app for the iPhone to check on W10, Xbox and Microsoft. Windows Phones currently blows big time. There's not ONE decent app here. Can you believe that?

App gap going soon... Well I can't afford for new phone until next year......

I really like my Lumia 930 (mainly the camera)... But its fun that the Android central and iMore app dosent exist on Windows phone... But Andoid and iPhone have Windows Central.

Let's hope. The only reason I see for anyone even considering a Windows powered phone is Continuum. But that's it. It doesn't excel at anything. Unwanted animations, app opening speed is more than 3 seconds, bad multitasking etc.

I don't have any issues with my Icon. Apps open instantly, multitasking is great and easy, and I'm not sure what you mean by the animations.

Wished many people use it here in my country

Great App, but nobody use it in Spain...

Umm I am sorry but shouldn't wc should use a photo which has the new telegram icon? Just saying.

Now if only kik would push out an update for win phone so we can send videos just like IOS and Android..

It's never going to come. Kik have officially dropped support for WP. Maybe Windows 10 could see a return for them.....

I wish you didn't have to be in the app while downloading videos. It should be able to do it in the background. I don't know I this is a windowsphone limitation thing or what, but it sucks.. Love the app though, I use it all the time.

Uploading as well. It fucks up if I leave the app before it's fully uploaded.

Right.. You have to start everything over from the beginning which is just unacceptable..

Can anybody activate the message box like in WhatsApp. I mean no extra line for time and checks? I saw that feature on store images.

Great app with constant upgrades. I've convinced a lot of friends on other platforms to try it out.

Also, if you're listening, Telegram developers: How about a "download all" option in "shared media", and the ability to see who has seen your text in group chat.

Why still beta?
The app runs just great
And greater than WhatsApp