Telegram Messenger Beta update brings hashtags, easier reply options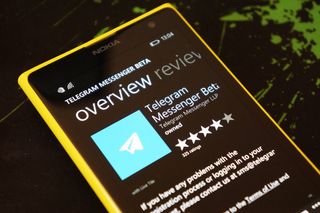 Telegram Messenger Beta has just received an update that brings several enhancements when using the groups feature. You can now reply to specific messages in a group chat, and mention select users in a group through the @usernames feature. Hashtag support is also new in this update.
These are the changes in version 1.8.0.0:
Reply to specific messages in groups
Mention @usernames in groups to notify multiple users
Add comments when forwarding messages
Use #hashtags for easier search
Revised notifications in groups: mentioned users and people you reply to will be notified (private chat notification settings apply in this case instead of group settings)
Telegram Messenger continues to be one of the most feature-filled messaging clients on Windows Phone. What do you guys like the most about the service?
Download Telegram Messenger Beta for Windows Phone
Thanks everyone for the tips!
Get the Windows Central Newsletter
All the latest news, reviews, and guides for Windows and Xbox diehards.
Harish Jonnalagadda is a Senior Editor overseeing Asia for Android Central, Windows Central's sister site. When not reviewing phones, he's testing PC hardware, including video cards, motherboards, gaming accessories, and keyboards.
Even WC can do with #HashTags.

Yes of course i , we , all wp users likes it..! ( :

Might be developer forgot to remove "BETA" . Man this has lot of features than WhatsApp..... And True thing is we cannot bring all our friends to telegram Messenger

I'm using it, but it still unstable. So, this BETA tag is necessary for user.

Remember when we didn't have even an Official Telegram?

Ya right. Mitogram, Chatogram, etc etc.

Still takes ages to load in the beginning or if the networks is a bit slow... Watsaap is ahead wen it comes to optimization on slow networks so may be that's why...

Yes WhatsApp is great on my 2G network, I can vouch for that.

Reinstall the app.. I had the problem too but reinstalling fixed it.

Reinstalling doesn't fix that network lag

Telegram is one of the fastest messaging apps I've used.

Telegram seems slower on startup because all the messages are being loaded from the server. In WhatsApp messages are stored locally and new messages are loaded as they arrive

Still in beta. Most of the windows apps are beta for years..

At least they have better support and frequent update + improvement unlike the WhatsApp.

i would disagree with you on that

Y the fuck beta versions rulling wp store

I just wish it gets more popular than whatsapp. They are apparently more dedicated to the platform.

Maybe one day when Whatsapp finally start collecting payment.

It has all the features but none of my friends :(

Yeah, the same applies to hike messenger for me

Yes. Waiting for hike update....!

This is great as the windows desktop version just got these features the other day. Love telegram just wish it was better designed. I support apps that support Windows phone.

This is just amazing app with superb features but can't use it as no friends use it..

Yes ur right, monkeys don't know the taste of ginger...

Bandar kya jaane adrak ka swaad? Hindi me zyada acha lagta hai :-D

#hashtag feature is awesome..yo search a particular msgs in a group conversation..!

Good: This is the best messaging app for Windows Phone. Whatsapp and Facebook messenger are slow to resume. When you touch the start screen icon, they reset and take you back to the chat/friends list. Telegram implements this nicely. When you touch Telegram icon it takes you to the previous chat so that you can quicky resume replying. I don't know why both Whatsapp and Facebook messenger don't get this simple and beautiful thought of Telegram. Flipboard also does this resume in a nice way. When you resume by touching the Flipboard icon, it resume to where you left the app rather than resetting to some predefined place as the app wishes. Its just beautiful. Because the apps don't implement resume properly, people blame Windows Phone that resume doesn't work properly or has lots of delays. Bad (may be): The only thing I didn't like about Telegram is the font size of messages in chat. There is no option to adjust it too. Default font looks small.

Soon, with windows 10, you wouldn't need to go into the app to reply

I like it that it is faster than WhatsApp when loading and resuming. I love that I can use a desktop client too and everything keeps synced seamlessly. I know Skype does this, but Telegram is way faster on WP than the slow Skype app (at least on my HTC One M8). And finally, I love the secret chat feature. After reading about how their security and privacy model works, I find it great. Something I'd like to see is the ability to select multiple pictures to send from Windows Phone instead of selecting and sending individually. WhatsApp allows the user to do this. Hopefully Telegram includes this in a future update.

Agreed. Selecting multiple pictures has been a headache too with Telegram. Skype, hmmm, I'm highly surprised why it is taking Microsoft to fix Skype's issue on Windows Phone. It is the slowest performer of all and it keeps on refreshing people's status everytime you open it, rather than doing it in the background. This is where I really hate about MSFT, that it takes forever to fix issues with its OWN app. If its because of Azure where Skype backend lives, then its not worth running it on Azure. We don't want poor performance.

Telegram is just a copy of WhatsApp (: But better.

Really you guys won't believe that i was just thinking early in the morning that would be nice if hashtag feature will be available in group message for WhatsApp. And now it happens on telegram...

Waiting for hike update(full sticker store, voice calling etc)!

Agreed we need Hike and WhatsApp Calling

They must add the ability to put backgrounds

Use line is way better than telegram and WhatsApp!

God no, it's sluggish, not to mention the enormous app headers

Man this is an awesome messaging app. I so wish people would use this instead of what'sapp

Sometimes it doesn't work properly. But its security secure than facebook or what's app

This is awesomeness overload!

Their dedication to the platform is best, I think it could be so much better than WhatsApp in the long run

I think it is already better than WhatsApp now.

I wonder when they will drop the Beta from the name. It seems pretty feature rich at this point.

How does the @user work? I type it in and only certain people in the group show up and are tagged.

The person has to have set a username i think. By going to the settings page. A person does not have a username by default.

How long does it want to keep using beta?

Now this is great. I wrote to them about the username reply in group messages feature. Happy that it's available now.

I wish it'd get Cortana support.