Ten underrated and overlooked Xbox One games that everyone should play
Xbox One has no shortage of games big and small, and many don't get the attention they deserve.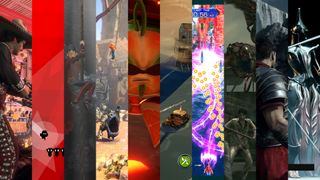 With so many titles out there, great games often slip through the cracks. Here are ten retail and indie Xbox games you might've missed that definitely warrant another look.
Dead Rising 3
The Dead Rising series has a loyal following, but Dead Rising 3 slipped under many gamers' radars due to the widespread negativity surrounding the Xbox One console launch. The more fervent of the non-Xbox crowd dismissed it as a lesser game because of its 720p native resolution. But launch titles often have to make graphical sacrifices. What Dead Rising 3 has no shortage of is fun.
Dead Rising 3 stars new protagonist Nick Ramos, a mechanic caught up in a zombie outbreak. The series' claim to fame is the massive number of zombies it throws on-screen, and Dead Rising 3 does not disappoint. The actual color palette of this one is unfortunately dingy, but it otherwise maintains the traditional Dead Rising sense of whimsy.
As always, players can wield and create an arsenal of creative and wacky weapons for the battles ahead. Nick even gets to plow through the undead hordes in a variety of vehicles. Loads of optional missions and the super difficult Nightmare will keep players busy for ages.
Should you have missed Dead Rising 3 the first time around, now's the time to jump in. The Apocalypse Edition includes all four of the game's story DLCs in one package. It's a bargain at $29.99, especially if you have a friend handy for online co-op. With Dead Rising 4 on the horizon, there's no better way to prepare than with this Xbox One and PC exclusive.
See on the Xbox Store (opens in new tab)
Electronic Super Joy
Indie platformers are a dime a dozen nowadays, though mostly they tend to be puzzle platformers. Electronic Super Joy doesn't have time for puzzles, however. It's too busy being stylish, subversive, and really freaking difficult.
Electronic Super Joy offers more than fifty levels of ultra-challenging platforming, plus an endless mode. Our hero faces overwhelming odds, usually with nothing but a stomp maneuver at his disposal. Most levels can be completed in less than two minutes, but your first run-throughs will likely take far longer. Deaths are accompanied by suggestive "ooh yeah" voice samples that simultaneously confuse and reduce the sting of failure.
The whole game is very rave-like, with silhouetted characters and enemies cast in front of colorful, pulsating worlds. The electronic dance music soundtrack is one of the best in gaming. And a silly story involving an evil pope stealing the player's butt keeps things lighthearted, even when the levels occasionally get too tough for their own good.
Electronic Super Joy might not be as well-known as Super Meat Boy, but it's just as worthy of a place in the platforming hall of fame.
See on the Xbox Store (opens in new tab)
The Flame in the Flood
A Kickstarter success story, The Flame in the Flood takes place in a bleak setting: a world that has (somewhat recently) been ravaged by some apocalyptic disaster. With civilization largely wiped out, a girl named Scout and her dog must team up and try to survive against the elements and carnivorous predators.
The game takes place in a procedurally generated world, so every playthrough is different. Scout and her dog can collect a huge variety of resources and use them for food, medical purposes, crafting, and more. The game provides some tutorial information, but it still leaves a lot of the crafting experience up to the player to discover. This can be rough, as you won't live long until you figure out how to make fires and craft bags to carry more items.
Scout's world consists of isolated areas connected by a massive river. She'll have to navigate its dangerous waters, searching for supplies and new places to dock and explore. Unpredictable weather, rapids, and ever-present needs like hunger and thirst threaten to end Scout's journey at any time. The Flame in the Flood has a sparse story and ending, but players can tackle Endless Mode for the ultimate challenge.
Despite its modest production budget, The Flame in the Flood provides a more memorable world than many AAA games. Steel yourself for a challenge and you'll find this struggle for survival captivating.
See on the Xbox Store (opens in new tab)
King's Quest
During the 1980s and 1990s, King's Quest was one of the best-known graphical adventure games. Although original publisher Sierra Studios no longer exists in its original form, the Sierra name lives on under Activision's ownership. And in 2015, King's Quest returned as an ongoing episodic adventure game worthy of the series' name.
The new game's framing device involves Graham, the now-elderly hero of past games, recounting his adventures to his granddaughter Gwendolyn. Not only does this provide quality narration from Graham (Christopher Lloyd) and Gwendolyn, it also creates interesting storytelling opportunities. When young Graham dies during gameplay, the death is explained as a lapse in memory or a test for the listener.
A beautiful art style brings the lighthearted adventure to life. As for gameplay, it has been streamlined so that players need only rely on two buttons to solve puzzles. First-person and action sequences keep things moving along. There are Quick Time Events too, but not nearly as many as in Telltale games.
King's Quest is far more interactive than Telltale adventures too, and each episode is much longer as well. As of this writing, the fourth of five episodes is about to be released. You can grab the first episode for free and either buy subsequent episodes individually or as a set. The $29.99 Complete Collection includes a bonus epilogue not sold separately, so that's the version we recommend.
See on the Xbox Store (opens in new tab)
Max: The Curse of Brotherhood
One day, Max comes home to find his younger brother Felix has broken his toys. Understandably upset and looking for a way to punish the little toy breaker, Max accidentally banishes Felix to another world. Much like in the movie Labyrinth, our hero must journey into that dangerous world to save his lost sibling.
Luckily for Max, he quickly finds a magic marker that gives him extraordinary abilities. He can use it to raise and lower platforms, create tree branches and vines, control waterspouts, shoot fireballs, and more. Using these skills, Max must survive 20 levels of platforming challenges and solve clever puzzles. The controls occasionally make those trials harder than necessary, but the game's creativity and its surprisingly well-told story mostly make up for the rough edges.
A launch-era title, Max: The Curse of Brotherhood had arrived before many gamers had picked up an Xbox One. If you missed this downloadable gem before, now's the time to pick up the marker and join Max for an adventure.
See on the Xbox Store (opens in new tab)
Plants vs. Zombies: Garden Warfare 2
Although the first Garden Warfare became a cult hit early in the Xbox One's lifecycle, this year's much-improved sequel seems to have slipped by without nearly the same mainstream notice. That's a shame, because Garden Warfare 2 is a family-friendly third-person shooter with lots of competitive and cooperative goodness.
The zombies have overrun the town of Suburbia thanks to interference from the future. The war-torn city now functions as the game's hub world, with both factions occupying a camp on opposite sides of the map. From your home base, players can take on story-based solo quests, multiplayer-focused daily challenges, customize their characters, and more.
The first Garden Warfare was only really good as a competitive online game, but the sequel opens things up by making all modes available in single-player, split-screen, and online. The four-player co-op mode can now be played with zombies in addition to plants, adding some welcome variety. And 12-versus-12 online battles still offer plenty of frenzied competition.
Plants vs. Zombies: Garden Warfare 2 is available to purchase or for free to EA Access members. Although a cheerful and lighthearted shooter like this will never be able to compete with realistic FPS titles like Call of Duty: Infinite Warfare and Battlefield 1, Garden Warfare 2 fills an important niche with casual shooter fans and younger players.
See on the Xbox Store (opens in new tab)
Raiden V
Japanese-developed games and shoot 'em ups are both quite uncommon on Xbox One. That makes Raiden V, which is both of those things, pretty special. It's also the latest in the long-running Raiden series – and currently an Xbox exclusive to boot.
This Raiden has a bit more story than most shmups, brought to life by (painfully cheesy) voice actors as you play. In the near future, an unusual new form of crystal appears and begins causing Earth's military machines to go haywire. Only team Raiden can stop the massive forces of corrupted machinery and save the world.
All Raiden games are vertically scrolling shmups. Raiden V maintains that vertical aspect ratio, opting to fill the sides of the screen with stats and story details. The graphics are fully 3D, but the game still plays like a traditional 2D shooter. Raiden is a bullet hell shmup, but selectable difficulties and local co-op keep things manageable.
23 stages (counting alternate paths), three playable ships with nine weapons each, and a separate Boss mode ensure plenty of longevity. Raiden V sells for $50, a bit high by some players' estimations. But Xbox One will only get more excellent shmups like Raiden if it actually sells, so don't let the price dissuade you from picking it up.
See on the Xbox Store (opens in new tab)
Resident Evil 5
Capcom recently released several classic Resident Evil games on Xbox One, to varying amounts of fanfare. Resident Evil 5 received little notice, as mainstream gamers tend to lump it in with the abysmal Resident Evil 6 as evidence that the series went off-track after Resident Evil 4. But 5 is a much, much better game than 6, and easily one of the best 2-player co-op games on the market.
The game begins as Chris Redfield and newcomer Sheva are sent to investigate mysterious goings-on in an African village. It turns out that the locals have become infected with parasites similar to the ones from Resident Evil 4. They're violent and bloodthirsty like zombies, but can wield weapons and coordinate with each other. Sometimes huge tentacles burst out of their heads, too.
Where the story goes from there doesn't matter so much – all later Resident Evils suffer from bad writing. But 5 offers some fantastic cooperative elements that really make its gameplay sing. When playing solo, you'll manage your AI partner and share inventory between characters. In split-screen or online, watching each other's back and coordinating inventory becomes even more important. Sometimes you'll face overwhelming odds, but as long as you work together, you'll both make it out alive.
Resident Evil 5 also features the best "metagame" of the series. Replaying levels on new difficulties yields welcome rewards, with inventory and weapon upgrades carrying over throughout. Eventually, you'll be able to unlock unlimited ammo and other helpful perks that provide an awesome sense of power.
The move to Xbox One brings increased resolution and framerate (plus all previously released DLC), making a fantastic third-person shooter that much better. Gamers who missed it the first time around or just need a co-op fix won't find many better bargains than Resident Evil 5's $19.99 asking price on Xbox One.
See on the Xbox Store (opens in new tab)
Ryse: Son of Rome
Another launch exclusive that was unfairly dismissed as a result of the negativity surrounding the Xbox One launch is Ryse: Son of Rome from Crytek and Microsoft. Despite its age, Ryse continues to be one of the most graphically impressive Xbox One titles, but it also plays better than people give it credit for.
Ryse takes place during the times of the Roman Empire. The game follows the lift of Marius Titus from his childhood into his days as a general. Marius eventually embarks on a quest to avenge the deaths of his family at the orders of the villainous Nero. The story is brought to life by beautiful, engaging cinematic scenes.
The actual gameplay mostly consists of hack-and-slash battles. Players will need to carefully manage attacks, blocking, and movement in order to come out alive – and slice their enemies to pieces. The game also has some mild strategic aspects as you command troops in battle, but they largely take a backseat to the blood-soaked combat. Ryse is all about the hard-hitting action and narrative.
If you missed Ryse early on, you'll want to give the Legendary Edition a look. It bundles all of the game's single-player and multiplayer DLC maps in one $29.99 package. Even several years into the Xbox One's lifespan, few action games look as good as Ryse: Son of Rome.
See on the Xbox Store (opens in new tab)
Warframe
Before popular free to play MMOs like Star Trek Online and Neverwinter showed up on Xbox One, we had Warframe. Although Warframe is arguably not an MMO, its online connectivity and continuous update cycle put it in pretty much the same ballpark.
Warframe takes place within the same universe as cult classic Xbox 360 actioner Dark Sector, only thousands of years in the future. The story begins with the player waking from cryosleep as a member of the Tenno, an ancient race of warriors (think space ninjas). The Tenno are at war with three evil factions, including the Grineer (ghastly cybernetic clones), the Corpus (a militarized mega-corporation), and the Infested, monstrous victims of a virus originating in Dark Sector.
With over 30 distinctive playable Warframes, countless weapons, parts, pets, and helper characters to collect, and more than fourteen planets and planetoids filled with missions, Warframe is a huge game that you can enjoy for free. Team up with up to four online players cooperatively to take on missions and hunt for resources.
Warframe just celebrated its two-year anniversary on Xbox One. The game has drastically grown and evolved since launch, so it's definitely worth a second look from lapsed players. Don't let this game's free to play nature fool you – Warframe is one of the best online action games around.
See on the Xbox Store (opens in new tab)
Did we miss any Xbox One games that you guys consider underrated? Let us know in the comments!
Windows Central Newsletter
Get the best of Windows Central in in your inbox, every day!
Paul Acevedo is the Games Editor at Windows Central. A lifelong gamer, he has written about videogames for over 15 years and reviewed over 350 games for our site. Follow him on Twitter @PaulRAcevedo. Don't hate. Appreciate!
Ryse and Max are 2 games I really enjoyed. Alot more than many of the highly scored games that media portray as amazing. Great games.

Might be because reviewers play a lot of games, so if they see a game that has the same mechanics than 200 other games they've played in the last few years, and it's not the best iteration of those mechanics, then it lowers their opinion of the whole experience. On the other hand, your average player might not be that familiar with the mechanics (so can't tell good from bad, at least on the short term), and in the case of Ryse is impressed by the visuals, then they might enjoy the experience a whole lot more.

Oh I'm well versed in gaming my friend. I have played a ton of hack n slash games. From God Of War to Dantes Inferno. Ninja Blade to Bayonetta. Ninja Gaiden to Onimusha. Ryse is a fantastic cinematic game. Problem is there are to many agendas in reviews. Games like The Last Of Us get rediculously high scores. When they don't deserve it. Sure it has pretty good graphics. But the hand holding, broken stealth and repetitve gameplay just get overlooked because it's Naughty Dog. Sorry the game isn't even in the top 20 games of last gen let alone all time. The review media is embarrassing the last 10 years.

Hey, everybody has different opinions and experiences games and other media differently. Although I think some of these games like Ryse maybe should've reviewed higher, I can't begrudge someone for liking them less than me. Some of the games I say are fantastic in my reviews, you or others would play and end up disliking. The important thing is people make a good case for their evaluation, which is true of most reviews I read.

Your last sentence is really the important one, and also why review scores suck; they just simplify things too much and don't account for individual preferences (at the very least each reviewer should have a log of the scores they've given to different games so readers can compare how their preferences align). There are objectively good things, and objectively bad things that can be said about games too.

While yes sometimes some reviews do make good cases. In alot they don't. My example of TLOU is a big one. No review mentions that the stealth is broken. No review mentions that it's the lineiest game out there. They also don't mention its constant repetitive gameplay. They all fixate on the last few hours of the game. Storywise. But to get to that point you have to play through a subpar game. With very nice visuals. Other games get plagerised by this. Hell other Naughty Dog games are better than it by a mile. MGS5 is another recent game. Every MGS fan I know thinks it's the worst in the series. It isn't meant to be an open world game. As a result loses alot of the MGS appeal. Yet the media breezed over its glaring issues and rated it high as a kite. Unfortunately agendas exist out there. More often than not against MS exclusives as well. Just check the recent FH3 metacritic page. A couple of reviews at the bottom are clearly clickbait and never happen to other platforms. It's sad really.

Paul, That is the key thing about reviews. People who depend on reviews for games, need to read reviews all the time. Find a reviewer that reviews games you like and see their review. Just like ReCore (would like to see you do a review), first thoughts after seeing 5 reviews... It's buggy, very bland graphicly, and horrable loading times... even at $40, I dont think i will jump at it at this point..

That's the proper way to look at reviews. I don't think Richard quite gets the subjective nature of games and reviews, unfortunately. Jez reviewed ReCore for us, so I unfortunately haven't had a crack at the game. Sounds like they got the loading times down to long but reasonable with the latest patch, at least. Even Horizon 3's loading times are fairly excessive, and we all love that game. But yeah, it sounds like waiting on a price drop for ReCore is a reasonable course of action - especially given how crowded this season is with great games.

Ryse and The Last of Us are of the same ilk, they are both cinematic experiences, the gameplay side of it takes second fiddle. I, personally, really enjoyed both but TLoU is a lot better than Ryse at telling its story.

Trouble is I love story games. But if you check my PSN ID I never bothered to finish the last of us. It was just so boring, even storywise up until Winter. I literally stopped and watched the story cutscenes on Youtube to see the fuss. Great last few hours. But why wade through mediocre storytelling before that to get to it? Exactly what FF13 did. The game got good after 25 hours. What good us that????? Difference with Ryse it was fun from the get go. And gave us some great twists towards the end.

Ryse's shorter length really helped it in that regard, but like you said reviews are stupid and crucified it for that. Had it been longer I think the gameplay mechanics would have worn very thin. The reason I prefer the style of the likes of TLoU (Naughty Dog in general actually) and, for that matter, Quantum Break is because they are very character driven games. Yeah there are cutscenes to actually progress the story but during gameplay you have these fantastic dialog exchanges that open up the personalities of the characters and help to develop meaningful and real relationships.

Also Quantum Break is by far the BEST ever game at storytelling period. It's ridiculously amazing how movielike and tv like it is. Animations, lip syncing, voice acting, dialogue is all way ahead of any other game. But yet reviewers kept going on about gameplay??? Yet it was clearly a cinematic experience just like The Last Of Us with its shallow gameplay mechanics. Very strange how reviewers pick and choose when gameplay is important to them.

For me personally it's Planescape: Torment, but that's a while different conversation. Although if we are taking recent Uncharted 4. My only qualm with QB is that there was a bit too much of the lore told through emails and notes. I would really like Remedy to continue the Quantum Break series of games to help flesh out the characters. It's like seeing characters in season 1 of a show compared to say season 3, they're motivations develop and enhance over the course of each season. It's why I peg UC4 above QB, it's had so much background to it's characters already yet still manages to build them further with new characters coming into the mix and old relationships hitting new bumps.

Nice article! I always thought Ryse looked superb, but my buddy put me off. I always intended to come back to it at some point, was hoping it would make Games With Gold. Sadly, I can't see it, as apparently MS had a fall out with the debs. Max was the first One game that I maxed out. PvZ 1 was perfect as a way to introduce my kids to shooters, so fun. I'm just playing 2, but I am struggling with it as some of the maps seem excessively complex.

You should play Ryse and judge for yourself. Be weary not something for the kids to watch as it is pretty graphicly violent lol. I was ranked 10th globally for awhile when it first came out that's how much I Ioved playing multiplayer, my gamertag is some obscure player+random characters. I haven't changed it as all the good names have been taken lol. I got assigned that when I started up the games hub on Wp8.x the first time on my L920.

Ryse is an excellent game, at least for me it's a must buy and it's cheap on ebay. Posted via the Windows Central App for Android

I'd play Ryse, if it hit GWG, but that's probably it.

I'd pay up to $20 it, I think it's worth that but, no way $60.... nice looking game, no question...

Kings Quest a year later is still not finished. It's only up to chapter 3. This is frustrating. It's a great game but it's not finished.

Chapter 4 comes out this month. They're taking their times, but at least each chapter is fairly long and entertaining.

Dead rising 3 is a great game love the series

I think this is one of the few series that I can say improve with each game . I enjoyed the first game, but not enough to finish it during a rental, and was surprised by how improved two and it's spinoffs were. Usually this is the other way around for me, especially if I really like a game (Mass Effect).

Great list. Garden Warfare 2 is the best!

I would put Elite: Dangerous on the list.

Kings quest needs the remaining episodes already!!! Posted via the Windows Central App for Android

Warframe. Already one of my favorite games of all time. I've played the game for a year now and This has been the first time since Gears Of War. (That one will always be my #1) where I've had such an amazing, smooth, intuitive, interactive and most of all.. Fun experience in a video game.

Kalimba, Fru, Fantasia, Lovers in a Dangerous Spacetime, Super Time Force, Dark Dreams Don't Die, Kung-Fu for Kinect

Considered Kalimba, but there are so many puzzle platformers and the character switching gets pretty arduous at times. Still a fine game though. Lovers was in my Best of 2015 roundup, so I didn't use it again for this one. D4 I considered but considering that it's unlikely to be finished (and the Kinect stuff, which is poorly implemented IMO), I decided against it.

Here's a shout out to Strider! The game is really good. However, no one talks about Strider since Amazon bought the developers, Double Helix, and they were never heard from again, Thanks Amazon, lol. https://www.microsoft.com/en-US/store/p/Strider/BXDT91NTZNDV

Yeah... It's strange how Amazon just swallowed them and removed them from the face of the earth really... Really strange. They had some powerfull IP's.

Strider was one of my top games of 2014! I tried to put mostly different games on this list. http://www.windowscentral.com/best-xbox-one-games-2014

Strider was one of those games (loved the original NES game), that I wanted to play so bad but, never picked it up... Maybe it will show up as a freebie on Xbox one...and I would start playing it right away... Sigh, too many games WAYY to little time :-\

Thanks for this article Paul! I'm a big fan of under-the-radar gems in games, music, movies etc! :-)

I have completed Ryse twice and play it every now and then. Dead rising 3 is awesome.

Velocity 2X is another overlooked gem that deserves your attention. Posted via my Nexus 5X

Great article, I need to check out Max: the curse of brotherhood. Have you tried Armikrog? Posted via the Windows Central App for Android

I got Armikrog but haven't played it yet. However, early PC reviews lead me to believe it will not be as polished as the games that made it onto this list.

The controls leave a bit to be desired during some of the puzzles. However, the story is fun, as is the humour.

Lots of gems on this list. I concur with the first five absolutely.

Ryse was visually spectacular. especially for a launch title.

Unravel! Posted via the Windows Central App for Android

I've played Max and Ryse. Max is a fun little game. Good for kids, too. Ryse is visually fantastic. Gameplay is good, but can be a bit to much slash and hack with a dash of dodge. Underated game IMO.

Bought Dead rising during launch but didn't had the time to start it, only manage to had some fun after the last dlc came out. (SF)

King's Quest looks beautiful.

Unravel, as well as Ori & The Blind Forest ✔

Great article. It's nice to see some of these games in the spotlight for a change, a lot of people miss out on them because of that. I agree with some of these games which I've also enjoyed personally, and now I may try out a couple new ones too! Posted via the Windows Central App for Android

Totally agree with Dead Rising 3! It's a total blast and it's really fun to play it co-op with a buddy!

Thank you for the article. I'm always on the casual look for more family oriented games to enjoy with my children, especially as winter approaches. The one one line I found amusing was "​family-friendly third-person shooter." I'm sure the game is benign, but this line, this day in age, is an oxymoron at best. I grew up playing some shooters: Doom, Wolfenstein, etc. But now I have little appetite for them and find them sad and depressing in ways. I'd love to see a list of truly family-friendly, local co-op games that are fun. My family has enjoyed with many laughs and smiles Rayman's Legends, but I'd love to see or know about more of these types of games. I think Nintendo has Xbox One beat in this area. A Mario Kart type game would be great. What happened to games that brought people together locally? Maybe they're out there and I just don't know about them. Thanks agains for the article. I'm going to see if King's Quest might be a fun one to try out for the family. If you've got Doc Brown as the voice over, it's got to be a winner, right?

Glad you liked the article! I'm not a big shooter guy at all, but Garden Warfare has a lot of casual appeal. It's family friendly in that it features cartoonish characters who shoot and battle each other in very lighthearted, non-bloody ways. A clever spin-off of Plants vs. Zombies, a tower defense game that isn't going to ruffle anyone's feathers. I don't play it all the time or anything, but it's fun every once in awhile, especially in co-op. Yes, King's Quest is made so much better by Christopher Lloyd's presence. And you know, there are a lot of local multiplayer games out there - they just tend to slip under the radar, as with several games in this roundup. Nothing's as amazing as Rayman Legends, really. But other local co-op Xbox One games include: Lovers in a Dangerous Spacetime, Castle Crashers, Pang Adventures, Extreme Exorcism, Never Alone, Pac-Man 256, Warriors Orochi 3, Badland, Beach Buggy Racing, Chariot, Clusterpuck 99, Dad Beat Dads, Defense Grid 2, Dungeon Punks, Geometry Wars 3, Guacamelee, Hyperdrive Massacre, Starwhal, #IDARB, Knight Squad, Lara Croft and the Temple of Osiris, all of the LEGO games, all Skylanders games, Mega Coin Squad, Minecraft, Riptide GP2, Toto Temple Deluxe, Tumblestone, Worms WMD, and Wonder Shot. Phew! Those are just the ones I have installed. :)

Sunset Overdrive? Totally underrated in my estimation.

so many games so little time. I finished max I have finished rise and finished dead rising 3. early on there were not many games so you had to play the few games you had. :P great list. to bad garden warfare 2 made the list. I still didn't buy it I might never at this point.

>so many games so little time. That is the understatement of my life... If only I could win powerball so I can play video games all day long... and the funny thing, is I would spend about 4-6 hours a day playing....IF I COULD..

Great article. This reminded me of games yet to play (dead rising 3 apocalypse edition sealed), and seek others out. I have most of these, and will pickup the couple I don't. Raiden V is $50 digital / $70+ on disc though. Plants vs Zombies (both) get played daily in this house. Really fun, splitscreen for all modes (PvZ 2) was a tremendous addition. The whole family enjoys it.

Glad you liked it! Thanks for catching that mistake, too. :)

Ryse: Son of Rome was a nice looking game(a Xbox one release title) but, so so game play, Kill 10-15 people, move and repeat, graphicly I remember it being really nice looking but, game play seemed a little rushed.. After about an hour into it, it got old. If you never played it, it should be a maybe title unless you get it for like $20, then I would say worthy... Not worth $50-60 in my eyes... Max was a fun game, it was a freebie on Xbox one at one point, that is how I got it. It is a worthy platformer and no question fun.

My under-rated game would have to be Smite. Good graphics. Always updated. Plenty of characters to use (Five classes with several in each for a total of over 70). The game has plenty of modes and each game requires a different strategy depending on the opponent. Best of all, you earn gold and gems just for logging in daily so you never have to spend any real money.

That's a great suggestion. Smite seemed really cool when I played it, but I don't have the time to devote to really appreciating it. Glad they keep adding new content and keeping it free. :)
Windows Central Newsletter
Thank you for signing up to Windows Central. You will receive a verification email shortly.
There was a problem. Please refresh the page and try again.