Xbox One launch exclusives Dead Rising 3, Forza 5, and Ryse getting GOTY Editions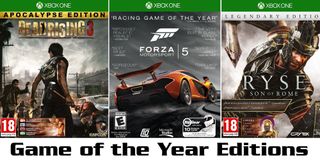 The Xbox One launched with three exclusive retail titles last year: Dead Rising 3, Forza Motorsport 5, and Ryse: Son of Rome. Did you buy the system at launch or shortly thereafter, but miss out on some of those games? Or maybe you're planning to jump in with one of this fall's bundles, such as the Madden, Sunset Overdrive, and Call of Duty bundles.
If you still want any of the big launch games, you're in luck. GameStop has outed the October release of "Game of the Year" Editions (GOTY) for all three launch exclusives. These new editions will bundle the main games with some or all of their downloadable content (DLC), making them quite a bargain if you haven't got those games already. Even luckier for our awesome readers, we're here to share impressions of each game and what their new editions will offer.
All three Game of the Year Editions will cost $49.99. No word yet on whether the new editions will be available as downloadable purchases, but I certainly hope so.
Dead Rising 3 Apocalypse Edition
The Dead Rising series is known for its mixture of zombie horror, oddball comedy, and massive hordes of enemies on-screen at once. Part three suffers from an unfortunate brown color scheme, but otherwise everything players love from previous games has been improved upon.
The world is completely open now and filled with drivable vehicles, providing plenty of chances for gory road. Two-player online co-op and robust SmartGlass support further round out this impressive exclusive. Check out our preview for more details.
The Apocalypse Edition came to Steam earlier this month, where it sells for $49.99. The Xbox One version looks to be identical in content. In addition to the base game, you'll get:
Operation Broken Eagle: Play as Ops Commander Adam Kane as he attempts to capture the nation's missing President.
Fallen Angel: Play as all-new character Angel Quijano as she fights to keep a group of survivors safe from zombies.
Chaos Rising: Play as renegade biker Hunter Thibodeux as he breaks out of prison, seeks revenge, and fights to regain control of his gang.
The Last Agent: Play as Brad Park, a ZDC Agent who learns the unhappy truths about his employers and the cause of the zombie outbreak.
That's $40 worth of DLC, or $30 worth if one were to buy the Season Pass. DLC vehicles, weapons, and outfits carry over to the main game.
Not included in the Apocalypse Edition is the "Super Ultra Dead Rising 3 Arcade Remix Hyper Edition EX Plus Alpha" released during E3 in June. That final DLC pack adds a 4-player online mode, new playable characters, and a slew of unlockable outfits based on classic Capcom games like Street Fighter, Final Fight, and Ghosts 'N Goblins. It's a pretty desirable add-on, and well worth its price of $9.99 at Xbox.com.
The Dead Rising 3 Apocalypse Edition should be arriving on Wednesday, October 8th. GameStop lists it at a 36 GB installation.
Forza 5 Racing Game of the Year Edition
The Forza series is known for its hyper realistic simulation aspects. Forza 5 is a pure simulation, unlike the more arcade-style Forza Horizon 2 (which launches next week). But even the mainline Forza games allow players to toggle various assists that can make driving manageable for beginners. I'm no racing expert, and I swear by the green race line that tells you where and when to turn and slow down.
Forza 5 is a beautiful game, its engine running in 1080p at 60 frames per second. The cars and tracks are recreated down to the minutest details. The game also uses the power of the cloud to populate single-player session with Drivatars. These are AI versions of your actual Xbox Live friends and other players, created from their personal racing styles. Naturally, Forza 5 supports online races for up to 16 players as well.
GameStop lists Forza 5 Racing GOTY Edition as including 17 racetracks on disc, a number which includes all of tracks like the Nurburgring that were released as free DLC. Certainly it will be nice not having to download them separately – players can just install the 40 GB disc directly.
According to the store listing and cover art, this new edition will include 10 bonus downloadable cars. If that'd all the GOTY Edition includes over the original release, it will be lacking the majority of Forza 5's 60 DLC cars (which cost $50 when bought as a Season Pass). Hopefully they're all included, otherwise this version is really just a $10 better value than the original disc. Better than nothing, I suppose! We should find out between now and the Thursday, October 9th date listed at GameStop.
Ryse Legendary Edition
This epic action game takes place during the times of the Roman Empire. The game follows the lift of Marius Titus from his childhood into his days as a general. Marius eventually embarks on a quest to avenge the deaths of his family at the orders of the villainous Nero.
Of the three major Xbox One launch exclusives, Ryse has been widely praised as the most visually impressive of the bunch. Although it runs at 900p instead of 1080p, Ryse features lavish environments and extremely detailed characters. You still won't find many prettier Xbox One games.
Those looks might be a case of style over substance though, as some gamers find Ryse's game play repetitive. It mostly consists of hack-and-slash battles. Players will need to carefully manage attacks, blocking, and movement in order to come out alive – and slice their enemies to pieces. There are also some mild strategic aspects as you command troops in battle, but they largely take a backseat to the combat.
Ryse's campaign is a bit on the short side at six hours or so, although it offers multiple difficulty levels to encourage replay. An online cooperative multiplayer mode allows two players to team up and engage in fights within the Roman Colosseum.
GameStop's listing shares an October 9th release date but doesn't currently describe the addition content of the Legendary Edition. Still, the contents of this particular game were already leaked by Belgian retailer Game Mania.
The Legendary Edition adds the following to Ryse:
Four add-on packs: The Colosseum Pack ($4), Duel of Fates Pack ($6), Morituri Pack ($8), and Mars' Chosen Pack ($9). All are currently available together in the $20 Season Pass as well. Together, they add 14 co-op maps, six Gladiator skins, and several alternate single-player maps.
Three solo maps: These appear to be exclusive to the Legendary Edition.
A bonus Legionary Skin
The Legendary Edition Bonus Pack appears on Xbox.com, but can't be purchased right now. Either Microsoft plans to sell the above contents as an upgrade (essentially replacing the Season Pass), or the pack is a separate download for buyers of the retail Legendary Edition. The upcoming Steam version will include the Season Pass content but (apparently) not the new Xbox One bonus content.
The right time to buy?
The bundling of console games with their downloadable content as Game of the Year Editions is a common practice. It allows the publisher to keep a game selling at retail, as well as encouraging new players to join in those games' multiplayer modes. Consumers benefit as well, since the GOTY Editions usually represent a better value than a game and its DLC separately.
How do you guys feel about Dead Rising 3 Apocalypse Edition, Forza 5 Racing Game of the Year Edition, and Ryse Legendary Edition? Will you be picking up any of these updated releases?
Get the Windows Central Newsletter
All the latest news, reviews, and guides for Windows and Xbox diehards.
Paul Acevedo is the Games Editor at Windows Central. A lifelong gamer, he has written about videogames for over 15 years and reviewed over 350 games for our site. Follow him on Twitter @PaulRAcevedo. Don't hate. Appreciate!