Thank you for watching our videos!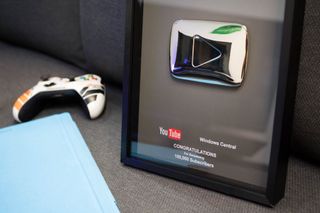 We just received a plaque from Youtube congratulating us for surpassing 100,000 subscribers, and we would like to say THANK YOU! Thanks for watching our videos! We work hard to make sure you keep coming back for the content we produce. And if you're not a subscriber yet, click here, and you'll be notified whenever a new video goes public.
As you know, October 6th is a big day for Microsoft. Windows Central will be at the launch event in New York City to cover all the new products that will be announced. We expect to see new Surfaces, Lumias, second-gen Band 2, and more. You can read Dan's post on what to expect from Microsoft's Windows 10 devices event for more details. We'll upload our hands-on videos as soon as we can, so make sure you've subscribed to be notified as soon as they're available.
We're also planning to add more weekly video content to our channel. Our #AskDanWindows episodes have been getting positive feedback from you so far, and we're in the process of bringing back the podcast. We have ideas for other series as well, and we'll share them with you when we're ready.
Again, thanks for watching our videos! Feel free to leave feedback below, good or bad. How can we improve? What kind of videos would you like to see? Let us know in the comments!
Good, tell them to lighten the hell up and loosen the reigns on MyTube and MetroTube then.

Thanks, I thought so also.

I'm surprised Google hasn't blocked plaques for Microsoft related videos.

This is a video sharing service, not a communist propaganda machine.

No it's a fascist propaganda machine ;)

Your video's are about Microsoft. I call shenanigans.

Woo hoo! Congrats Windows Central!!!

Third. And keep up the good WC!

Congrats on the hits. But why not get your own Mobile Nations video server? And cash the advertising money directly. Like quit some news sites are doing more and more. (besides WC forcing us to create a gmail account just to be able to subscribe to WC video's).

Well, posting to Youtube is a social media platform on its own. Many people watch video's there as their main/first source, so uploading them there to get views is not weird. But yeah, they could use their own platform. Thing is, you'd have to invest a lot of time and money to get it right. Plus you'd have to provide support and stuff. All in all, it might be just as convenient for using Youtube, even though you might make more money on your own (if you know what you are doing). I think that people blocking ads are hurting more than the amount of money they get per commercial. Many items are already sponsored, so why bother?

Thats true their are alternatives aswell vimeo, daily motion, etc, etc

I want a Microsoft alternative to be honest. I have a Gmail account from like 10 years ago that I don't even know the password, I don't want google to have more data on me than they already get just from me going online, my tin foil hat is massive when it comes to google because I just don't trust them. Google, Microsoft and Apple all release duplicate devices, software and services so I've never understood why we don't have a MSTube. The only google service I actively use is Youtube and that's only because I have to or I can't see videos on this site or a few others. The other platforms are just too small, and if Microsoft released their own service it would be too small as well but at least the small amount of content would probably be relevant to me. As for the article, keep up the good work, I really appreciate the effort put into them, especially the ask Dan windows series.

YouTube is the second biggest search engine on the planet. Right after Google.

Congrats WinCentral team ! Like your videos ! One suggestion though: Can you guys sort out your playlists ? Its kindda messy now and if I want to find a specific video its kind of difficult. Other than that, congrats !

I second this suggestion.

Gratz! I'd subscribe but don't have gmail anymore.

So because of WC Youtube is getting more visitors which means more ad revenue for Google.


I'm waiting for the "Ask Dan Fireside Chat" to premier. In his smoking jacket and a glass of whiskey.

Yay for bringing the podcast back

Is it a real physical plaque? Or just one of those pdf email attachments you have to print off yourself?

The reflection says it's legit.

lol, it's legit, not printed

I have seen most your comments and you use the word lol too much made me lol

We are thanking you for great content.

And you know there are more than just that number. I cant be the only one who wont subscribe to You Tube channels because I dont want a Google email account. Congratulations!

Congrats :D you should probably update the facebook page . It still is "windows phone central " :P

Someone is squatting on 'Windows Central' and we can't just change to it :/

Just saw the page. They haven't posted anything and actually have a link to your website in the description. Can't you guys complain to facebook and get the page?

They probably can just ask the owner of the page, anyways I didn't know you guys have a FB page xD

Its a Facebook policy, you could only change your name once in 90 days.

AskDan is the best video series on Windows Central. One area of improvement I think should be reviews. The quality of videos on Windows Central has increased recently and I hope it continues to get better. Congratulations and all the best for the future! :)

Here's my feedback: I feel that the intro (and sometimes outro) could use some refreshments. Also you mainly focus on desktop and mobile, not a lot about xbox or business (especially xbox could use some more video's about hardware/accessoires). Some articles about games or apps could use a more critical note and perhaps some more video's about "what app should i use for situation x" might be handy. Give advice for parents what to use, give advice for students what to use, give advice for people who think mail or alarm is too limited, etc. And it seems we have less pre/post event videos nowadays. I think the microsoft-event will get a few again, but for Build we didn't really get much. And there aren't many rumor/insider videos too. And what about consumer reviews? Ask a few people to review new versions to see what they think about it. And perhaps (if you want to promote windows too) you could go to a shop and show people how things work there. Perhaps even ask those employees what things they often get asked or what they like and dislike?

Good tips. Looking into doing more on gaming.

Kudos to windows central. :)

Shame they didn't send you a WP app instead, probably would have cost less to make!

Congrats Mark and WC! You guys have been doing great videos!

Why thank you tho? Areyouleaving them?

Burn it to show dominance Posted via the Windows Central App for Android

Sterling work guys. I genuinely loathe the idea of a Google account, but I may have to do it. I watch most of your videos, nice way to catch up on the gaming streams as I can never make the times. The ask Dan stuff rocks, and I'd like to see a podcast, I watch them while cleaning the kitchen. Love the insights into stuff too. Fingers crossed MS figure a way to link the Xbox into Continuum, I'd like to see a video of that.

Congrats on the award. I wish you (and many others) had a dailymotion account or at least mirrored content to them. I want to support google as little as possible.

I'm confused. Tons of people are saying they don't have a gmail account so cant subscribe... Am I the only one who can (still?) log into youtube with my hotmail email?

Me too, I also have a hotmail acount and I have never had issues with youtube.

Nope. Think new accounts require Google, those people who signed up in the old days are still good.

I'd love it if the windows central app would link to the videos more often. Usually has an error. Title not found.

I've been there watching for a long time....congrats!

Congratz guys! I hope more people will continue to realize how interesting and great Microsoft is.

Congrats Guys!!!! I like the videos you make, especially your reviews, down to stuff like showing us your office and then there is #AskDan, your a pretty good place to get my Windows news from!!!! So keep up the good work!!!! :p

Congrats!!! Keep up the good work. Waiting for a post saying "Windows Central app updated with a fresh new look". Can we expect that?

Think how many more you would have if Google didn't try as hard as possible to keep me from using my devices to have a good experience with their services.

I hope you requested for an official YouTube app for Windows.

Congrats Windows Central. Thank you for dedicated windows channel providing quality videos. Hope you achieve more...

Congrjulation.. Can't wait for million

Good job dudes (and possible dudettes)! Love the videos and the Ask Dan shows :)

Love it when he says "Take care everybody" at the end

My Pleasure. You and your team make good videos Daniel. Congratulations!

Stoked for you guys. Especially, Mark Guim. Since he's been on board, there's been more video content, and premium, high quality content to boot, on this site. Dan's charming personality does the rest /s. LOL. But congrats. I enjoy George Ponder's accent when reviewing things and this sure has become a social network for me. Thanks guys for the content, I'd never ad block ya.
Windows Central Newsletter
Thank you for signing up to Windows Central. You will receive a verification email shortly.
There was a problem. Please refresh the page and try again.