Thayam is a nice strategy game for Windows to relive board games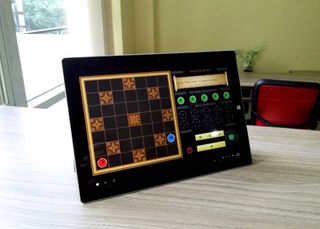 Thayam is an ancient Indian strategy game played by two, three or four people using a pair of Indian dice – a rectangular cuboid that has dents on three of the longer sides.
Primarily a game of chance, Thayam is an interesting game that helps in developing counting skills and involves thinking and planning. Traditionally, played on a square board, which is usually a 7x7 grid, there are lots of variation to the game board design and rules. Thayam for Windows 8.1 and Windows 10 devices bring the fun of the popular board game to your PCs and tablets (I love board games on tablet or convertibles because you can lay it flat like a board!).
Every player's game begins with 5 of their soldiers in the base and the objective of the game is to get all 5 soldiers onto the board first and then to the palace. The first player to get all soldiers to the palace is the winner. The soldiers follow a simple but labyrinthine path around the board to reach the palace.
Even if you haven't heard of the game or don't know how to play it, you'd like playing Thayam. There's a detailed, yet simple, how to available within the game and it guides you well to get started. It's an interesting game, and good fun especially when you are playing in a group. If you are a fan of board games or looking for a time pass game for family or friends get-togethers, check it out and let us know how you like it.
Windows Central Newsletter
Get the best of Windows Central in in your inbox, every day!
Does it include Snake and Ladder......? Edit : It's Windows apps only :(

Waiting for windows phone

hmmm. so you are reading all this...

Since its a universal app i just need to submit it for windows phone. Will do it this week sometime. In the mean time i am making it playable over network as well.

Mmm >.< links take me to the music store

So is it that Juye ka game which Shakuni and Yudhishthir played? :D

Yes. But as mentioned, there are lot of variations in the board design and rules depending on the region. The western world knows it simply as "Ludo"

अरे ! है कोई शकुनी मामा ये game खेलने के लिये? $_$

Never heard of it before, but it looks really interesting. I'll give it a try later.

Tamil games! Yay finally :)
Windows Central Newsletter
Thank you for signing up to Windows Central. You will receive a verification email shortly.
There was a problem. Please refresh the page and try again.