Thayam is a nice strategy game for Windows to relive board games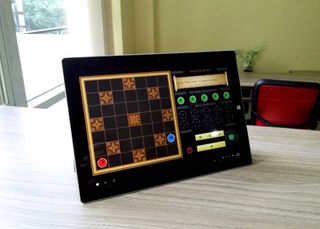 Thayam is an ancient Indian strategy game played by two, three or four people using a pair of Indian dice – a rectangular cuboid that has dents on three of the longer sides.
Primarily a game of chance, Thayam is an interesting game that helps in developing counting skills and involves thinking and planning. Traditionally, played on a square board, which is usually a 7x7 grid, there are lots of variation to the game board design and rules. Thayam for Windows 8.1 and Windows 10 devices bring the fun of the popular board game to your PCs and tablets (I love board games on tablet or convertibles because you can lay it flat like a board!).
Every player's game begins with 5 of their soldiers in the base and the objective of the game is to get all 5 soldiers onto the board first and then to the palace. The first player to get all soldiers to the palace is the winner. The soldiers follow a simple but labyrinthine path around the board to reach the palace.
Even if you haven't heard of the game or don't know how to play it, you'd like playing Thayam. There's a detailed, yet simple, how to available within the game and it guides you well to get started. It's an interesting game, and good fun especially when you are playing in a group. If you are a fan of board games or looking for a time pass game for family or friends get-togethers, check it out and let us know how you like it.
Get the Windows Central Newsletter
All the latest news, reviews, and guides for Windows and Xbox diehards.