There are now over 100,000 Xbox Live Achievements to unlock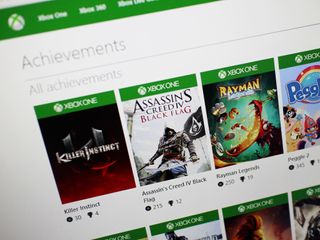 People who play games that support Xbox Live Achievements can now unlock over 100,000 of them. That's how many of these virtual goals have been put into the games made by Microsoft and its third party partners across all of its platforms.
The numbers come from the fan site True Achievements, which has been tracking and cataloging all of the achievements players can unlock since the first Xbox Live game was released for the Xbox 360 in November 2005. The console claims 76% of all Xbox Live Achievements, followed by the Xbox One with 14%. Games for Windows Live comes next with 5%, Windows Phone is fourth with 3%, and Windows 8 s fifth with 2%. There are also Xbox Live Achievements to be unlocked by playing a few games on iOS, Android and on the web.
True Achievements has a ton of other Xbox Live Achievements states, including a prediction that there will be 16,819 achievements released in 2015, which would be a new record.
Source: True Achievements
What's that in Gamerscore again?
Also I wish I could delete games and also display 100%ed games easier, that's more important to me.

From TrueAchievements.com I have unlocked about 6500 achievements with a gamerscore of 137,000. More to go, more games, small money, small time.

Not bad. :) I only have 12,608 achievements (250,448gs)

THIS!!! I downloaded a game that went free two years ago on WP and a few months later their servers shut down thus making impossible to unlock the rest of the chivos. I hate having non-complete achievement lists

Create , tinker, aoe:o , flight, & 1vs100 are my sol achievements

13,335 achievements - over 13%! =D

Windows 10 has a few in the Beta Minecraft. I was amused when I was playing it the other night while my wife was watching TV on the Xbox One. Every time I unlocked an achievement on my Surface Pro a notification would pop up on the Xbox One. I didn't know it responded that quickly.

Lol, that's funny! Your internet must be fast if it responds that quickly!!!

Did the a bah-doop sound and banner show up on your Windows 10 PC when you unlocked an achievement in Minecraft: Windows 10 edition? It didn't for me. Then I went to the achievement list in the Xbox app for Minecraft and it was entirely in Japanese. Was it in English for you?

I have completed just 85 Xbox live achievements and gamer score of 760 with 10 Xbox titles I tried

Can anyone tell me what's the point of achievements?? I mean, you accomplish difficult stuff in games.. Then what?? What's next??

It's bragging rights mainly. There are also small rewards given as far as "cash back" on purchases made through the digital store.

It's also an additional incentive for us to play the games. You know...those of us who actually enjoy gaming for gaming and have moved on from that childish mindset of yours ;) Posted via the Windows Central App for Android

I have literally no idea what you are talking about. What 'childish mindset' are you referring to?

Me either, its childish to play games so people attempting to get these virtual achievements (the name says it all really) are the ones who're childish.

I wouldn't say it's childish. I mean it's like getting the high score in an arcade. You get the bragging rights. You get to put your initals up for everyone to see and try to beat.

Error pbr9002 when purchasing : (

Sorry to ask this here; Couldn't wait... I downloaded the windows 10 update., it finished preparing for installation. Then asked me to restart. I did restart.. But nothing happened.. My machine just rebooted.. it didnt install the update..
Waat am i doing wrong? please help even though I asked this is wrong place.

My bad. I couldn't even wait for few mins... It automatically opened a popup after few mins.. Now installing the os update... Sorry for the trouble.....

Hahahaha I dunno why this absolutely make my smile hahaha

Wow, some of my friends play games waaaay too much if they have over 50% of all available gamer point. EDIT: Nevermind, that 100,000 total achievements not gamer points/score.

I first read it that way too. So you are not alone.

There are 669,000 apps in windows store!!!

Achievements and Gamerscore really engage me to play every game I get, even if it isn't the most addictive game. It gives a great progression system that is universal over every gamer. It's a really great system.

I am surprised to read that the dead GfWL still has more achievements than WP

Games for Windows live is bigger than WP?... Oh my...

By wasting tons of dollers!!

Does it have an actual price/discount for completing the achievement? If not, why bother.
Windows Central Newsletter
Get the best of Windows Central in in your inbox, every day!
Thank you for signing up to Windows Central. You will receive a verification email shortly.
There was a problem. Please refresh the page and try again.