Three UK to provide free Wi-Fi on London Underground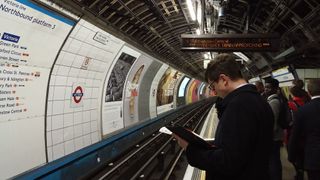 Three UK has announced that it is partnering with Virgin Media to provide its customers with free access to Virgin's Wi-Fi network on the London Underground. Other carriers like EE, Vodafone and O2 have already made similar deals in the past.
Three's Director of Customer Strategy, Danny Dixon, revealed to TechRadar that free Wi-Fi access will be available at 137 Underground stations by the end of July. The wireless coverage is extended to ticket halls, corridors and platforms. Customers on a carrier that hasn't yet struck a deal with Virgin Media will have to buy a Wi-Fi pass (opens in new tab) to avail the service.
Three UK users, are you excited about the free Wi-Fi access on the tube?
Source: TechRadar
They should have chosen gowex. Oh wait.

Three is hands dows the best network in the UK.

Agreed... This, Feel At Home, and truly unlimited blazing fast 4G make it the BEST choice.

Shame they don't do national Wi-Fi option. Would help take strain of their already struggling 4g service.

its hardly struggling. Give them time to activate more masts in cities. In my town only 2 of many masts are activated for 4G. And my town is in London, it will take time.

No, I agree that their pricing is much better than any other carrier but their signal is just awful. I live in a town with a population of roughly 25,000 people but they can't be bothered to offer reliable signal anywhere in the town, plus the second you step out of any town or city into the country most of the time their signal just goes compleatly.

Lol this is standard in Bulgaria's Sofia Subway. On thong the British are catching up

Other mobile networks has this for a while - it is only 3 UK that is catching up.

Why don't they just build regular cell coverage in the subway? Here in Vienna, we've had cell coverage in the subway (everywhere - the stations, the tunnels) for as long as I can remember (definitely more than 10 years). I've never had a dropped call on my daily commute. This Wifi coverage sure is nice to have. But you still won't be able to call someone or send a text ...

I agree. In fact it makes more sense commercially. If they provide cell phone coverage any data use will come out of the customers data allowance and they won't have to provide free WiFi. Not to mention the additional revenue from calls

This isn't possible in tune tunnels as they are too small.

London Underground has too many narrow and twisted tunnels (compared with newer systems) for this to work.

To be honest data is all most ppl need esp with the use of apps like whatsapp and viber to take over calls and text. I dont know anyone in the UK that doesn't have at least one of these

So I'm guessing that the other stations are underground and are able to reach the underground?

Indian here still waiting for proper 3g services!Lolz!Good for u guyz!

Massive win! I really do question why anyone would use any other carrier in the UK. Until you call Three's customer services that is!

In Moscow's underground 20Mb/s
Windows Central Newsletter
Get the best of Windows Central in in your inbox, every day!
Thank you for signing up to Windows Central. You will receive a verification email shortly.
There was a problem. Please refresh the page and try again.