Three UK to introduce pre-credit check for new subscribers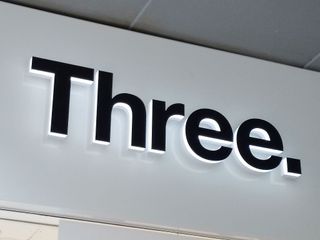 With any new mobile subscription comes the requisite credit check, and for customers with low credit scores, the potential to be denied their service plan or phone of choice. To smooth out this process, Three UK has revealed that it'll soon introduce pre-credit checks to give potential customers "an indication" of whether they'll pass a credit check "without negatively affecting" credit ratings.
Users will be asked to enter their name, address and date of birth before being given a likely yea or nay for their desired subscription. The main advantage of this approach is that a full credit check wouldn't be carried out, which could adversely affect the customer's credit rating.
Three is taking feedback on this new approach over on its website, including asking users if they'd consider taking out a rolling SIM-only plan for three months to build their credit score, and whether they'd consider paying a higher amount up-front (and less per month) for their chosen package.
Source: Three UK (opens in new tab); via: Coolsmartphone
Off topic but, if i install gdr 1 to my cyan updated 1320, will bluetooth 4 redisabled? Because when i installed wp8.1 when im on black,it was disabled

Can someone answer my question because I am so confused :(

You are more likely to get a useful response to your question by using the search facility (it's not there for decoration), instead of hijacking the comments section of a totally unrelated topic.

Off topic to your off topic, but on topic to the topic - Three are great, this is really useful for a lot of people. In my younger days I remember I used to get really nervous around this, a soft credit check is a really nice initiative from Three

What a brilliant thing this is. It's a small change but one that will benefit a lot of people. I have never understood why being turned down for credit should negatively impact a subsequent credit decision.

Interesting proposition; in the UK, if your credit score is low (or you want lower bills), you tend to go on PAYG.

True. But then again it does appear to be a good method of rebuilding credit score. Currently the only option is either some pre-paid card which you don't use, but still pay £5 a month for, doing it that way - or more dangerously, using one of those credit cards designed to (allegedly) rebuild credit. Out of those three choices (no pun intended), I would probably go with the phone idea (and keep using a PayG SIM with someone else like I am already).

Wow this is cool i wish they could introduce this in SA

Three is lining up great stuff lately. It would really take something out of this world for me to ditch them.

I tried them out a few months ago, ive never used a network with such a poor network coverage and voice quality. The lack of any 2G signal made my phone useless for 70% of the day. I left them after 3 days. Vodafone now and I get 4G most of the time and if signal is poor I get my 2G

I've found Three's coverage to be very good, the lack of 2G coverage isn't a problem for me as they have 98% 3G coverage anyway. Also 4G at no extra cost is killer.

I am on 3 with a great deal but bought my 1320 from Phones 4 U so unlocked. 3 is about the only carrier with realistic data plans. They need to promote the Windows phone though and stock more models. The pre credit check is a good move and sympathetic and considerate to potential customers. For some reason the Windows phone reception kicks the crap out of the Iphone, my wife has an Iphone and has terrible connection issues but my 1320 has full bars. The only downside to three is customer service centres, OMG they are terrible.

Yeah the customer service is awful! The only time I had to contact them when I was with them was when I was leaving but that experiance really makes me question if I want to go back to them

Its no better now but if you purchase in store you get better face to face service. If you buy or upgrade by phone or online it seems its a different company. Even when you have a problem and you have bought / upgrade by phone or online and go into a store they are restricted to what they can do and its fun watching the poor sales assistant trying to explain to the contact centre

I feel like i'm the only person thinking of LEAVING Three (lol), their tarrifs are withour par, but their customer services are significantly under par and that is why I'm considering a move to O2...I dont mean to sound rude etc but...I cant take having to talk to non-UK customer sercvices any longer! I've spent over 6 hours on the phone to Three in the past 4 weeks trying to resolve a spiderweb of messy issues caused by Three's billing/customer services depts that would've taken 15 mins for the likes of O2 to sort....If only O2 were bit cheaper & offered truly unlimited data they've have me sign up instantly. It took 3 years for Three to offer a foc signal booster to me after years of complaining of poor signal @ home! O2 signal is fine hence my reasoning that I may move...I cant seem to climb down from this fence I'm sitting on LOL!

Your absolutely right, its a shame as the actual plans they offer are the best around especially now with the way smartphones have evolved. Makes me laugh when O2 but an add on TV stating you get a massive 1 gig of data, that's really not that massive at all if you want to use a lot of features on your phone. I have unlimited data do sticking with them, even though the call centres and lack of English vocabulary is the worst ever, and as for billing issues don't get me started as I will have another stroke.

The best deal I've got is a Lumia 1320 I bought from phones4u and I'm using a Virgin sim with unlimited data, calls and texts for only £15 per month. Its also a 30 day rolling contract. Virgin use EE and T-Mobile mast so the coverage is excellent too.

I'm just finishing working at Three after 3 years to go off to Uni. This is great, Three as a whole has the best intentions - the services and plans are great! The only place they are a let down is customer service on the phone but they are working on it! Great company though.

Don't mean this to sound rude, harsh or prejudiced in any way, but they need to bring their customer services in house in UK to have real overwhelming superiority. They'd walk over all the other networks hands down if they do that. Their tariffs are the best for sure.

Something like that is being worked on I believe, not 100% sure though as only working in one of the stores we didn't hear much about things until a day or two before they launch

I thought three already conducted this just like the other providers. Guess I was wrong lol.

I have tried so many times to get a Lumia 1520 on contract everytime I'm being turn down because my score doesn't meet the requirements and as they check your credit it decreases tour score.... I like this Policy that Three is using maybe SA carriers should learn from this
Windows Central Newsletter
Get the best of Windows Central in in your inbox, every day!
Thank you for signing up to Windows Central. You will receive a verification email shortly.
There was a problem. Please refresh the page and try again.