Three UK rolling out Nokia Lumia 800 12070 firmware update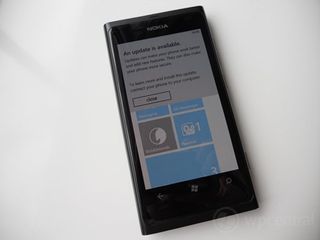 It was only last week that Nokia Germany confirmed they'll be rolling out the much anticipated 12070 "battery fix" firmware update to Lumia 800s. Now it seems as though Three UK is coming out on top with keeping customers up-to-date as we've just received notifications of an update for our Lumia 800.
The update, which was originally set for April 18th, has been confirmed by the manufacturer to be configured for a staged global release (with Singapore enjoying a premature delivery). Depending on carriers who chose to release it, the 12070 firmware update will be rolled out to new countries on April 4th, 11th, and 18th until the update has been pushed out to every Lumia 800.
After applying the update to our Lumia 800 we noticed a significant improvement to battery discharge readings. This should solve most battery life issues many owners have been experiencing. Be sure to keep an eye out for notifications on your Lumia 800s, or in Zune and the Mac Windows Phone Connector.
Have you received the update on your Lumia? If so, let us know what carrier you're with in the comments.
Windows Central Newsletter
Get the best of Windows Central in in your inbox, every day!
Rich Edmonds was formerly a Senior Editor of PC hardware at Windows Central, covering everything related to PC components and NAS. He's been involved in technology for more than a decade and knows a thing or two about the magic inside a PC chassis. You can follow him on Twitter at @RichEdmonds.
3uk rolled this update out two weeks ago the battery is a lot better and the bass on the music side is beefy I do keep in touch with 3uk every time WP central tell me about an update thanks :-)

How was your battery before the update? I got and, after the 12070, still get barely about 12 hours with very moderate use (a few calls and sms, one to two hours of browsing, couple short games). I find that clearly bellow par. The update made no practical improvement, although the discharge on idle decreased from about 150 mA to 85 mA.

would anyone know if the us lumia 710 getting any updates?

My father has a 710 and he got an update last week.

Anyone know if t-mobile UK have released the update yet?
Also will i still receive the update if I have developer unlocked my phone? (so I can debug on my phone through vs2010)

Got my update a couple of weeks ago (had to put a Vodafone sim in because I couldn't wait for three lol)

Got a Lumia from the UK and I'm in South Africa. I received the update last week.

How much does the battery life improve? Any specufic number? 10%? 20%? More?

Im pretty sure before the update after a full charge it would still show less than a day usage remaining (and if i didnt charge it during the night it would die out for sure even with the battery saver on by the next morning). After update I am testing to see how it would hold up, and so far its impressive. Ive got everything on, and have been using it just how I usually do. Moderate use, syncing couple email accounts, checking fb and reading reddit through baconit app, also listening to nokia music offline through bluetooth handsfree for a few hours. For the first time in ages I didnt charge it in the evening just to see how it would last and at the moment it says 1day 7hours since alst charge with 19% remaining charge and estimated remaining time 6hours. Although the battery saver's been on for a few hours now (so no email sync etc.), its still pretty impressive. Its almost like I got a brand new phone, much more enjoyable to use knowing it wont die halfway through the day with a somewhat heavier usage.

O2 UK told me that they're going to roll out the update this week; here's hoping!

It's irritating to see that Everything Everywhere (T-Mobile/Orange) is the last network to approve the update in the UK - i.e. they still haven't. Come on? What's the hold-up? It's the difference between a hobbled phone that doesn't last a day and outputs to headphones like a tin can on a string, versus being completely fixed with update 12070. Imagine how many customers are returning handsets as faulty when just approving this update will solve most of that.
They took an age to release Windows Phone update 8107 too.
I also realised today that my non-tampered handset's carrier profile for T-Mobile doesn't seem to work properly for MMS. I had to download and install Nokia's Network Setup app, then create a new APN, taking the settings manually from here:
http://support.t-mobile.co.uk/help-and-support/index?page=home&cat=SOFTW...
...which suggests that large numbers of T-Mobile handsets out in the wild have the wrong settings. And they can't be corrected automatically without a Zune update. What a mess.
Windows Central Newsletter
Thank you for signing up to Windows Central. You will receive a verification email shortly.
There was a problem. Please refresh the page and try again.