Tide for Windows Phone is a beautiful way to view the surf forecast for your favorite beach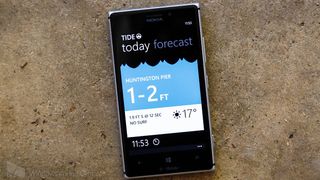 Way back in December of last year Microsoft and design blog Core77 teamed up for the second time to launch another design contest. It was called App to the Future. The goal was to produce app designs for Windows Phone and eventually pair those designs with developers. Winners were announced in March and ever since we've been waiting to see those app designs come to fruition. One of those winners, Tide, is now available for download. Let's check it out.
Tide for Windows Phone was designed by Martin Spurway out of the UK. It's a swell forecasting app that looks superb. Here's what you can do with Tide:
24 Hour scrolling forecast feature.
Accurate 5 Day forecast.
Beautifully Animated Waves.
Integrated Sharing.
Add your favorite spots.
View in UK, US or EU units.
Tide pulls data from Magic Seaweed, which is the oldest, most popular, and most detailed free long range surf forecast on the web. Tide is a beautiful way to quickly see the forecast for your favorite surf spots. It's one of those apps you'll want to show off to your friends because of how good it looks, specifically the beach information page.
After you've selected a beach you'll be looking at the tide and surf info. On the 'today' panel if you slide your finger up and down you'll browse through time for the swell info. The forecast page shows the extended forecast, tap a day to get an expanded view.
There aren't as many locations at launch, but Martin is committed to bringing more features and beaches to Tide in the near future. Be sure to share your feedback with him below or through the app itself.
Tide is free for Windows Phone 7.x and 8 devices and comes with no ads. It's a win-win and we're glad to see an app go from design concept to being available for download in the Store. Want to get it? Go grab it in the Store, use the QR code below, or swipe to the right in our app.
Windows Central Newsletter
Get the best of Windows Central in in your inbox, every day!
I would love to use this app everyday. Too bad I can't surf...

Even if you don't surf it's a handy app for most any beach activity. Heck, even if you want to walk along the beach it could be handy to know when low and high tide occur. P.S. Don't be lazy, go teach yourself a new hobby. Go surf! :)

I use Surfline, but I will give this a try. I can't surf either, but I do fall down alot ;)
it's fun to try but I would love some lessons.

Well this is a niche app, if ever i saw one!

Love the UI! Great work Martin!

Nice but some local beaches are missing and live tile would have been good too, i cant surf but nice so we can check the time before taking the kids crabbing. Nice simple graphics too!

No worries, the guys behind Tide are commited to adding more beaches in the near future. Be sure to hit them up with suggestions for beaches you'd like to see.

Ohhh don't get me wrong this is an app i would actually have paid for to get the right information, just a nice live tile, one side beach name at top but shows high tide and other side low tide or something. I will however be keeping this app and look forward to the updates

Does it support European beaches?

There are lots on there yes

No support for South African beaches... :(

Magic Seaweed used to have a Windows Phone app but it is no longer in the store. I hope Tide has info for Canadian beaches too but my loaner phone is a blackberry so I cannot see this yet to find out. I use Magic Seaweed's data to know when it is best for swimming not surfing though. I love the high surf.

Just searched for tide and magic seaweed's app is still there going to try both

San Onofre, Trestles (Uppers, Middles, Lowers, Churches), PV Cove please!

Good for boating and salt-water fishing too. Lots of good uses for this besides surfing!

Nice UI design. love the app. some beaches that I care for in So Cal or S Florida missing

I'm biased but OceanData is great if you want tides. Has tons of locations, simple, and has a live tile that shows the upcoming tides. Also has more details like moon phases and sunrise/sunset.
Windows Central Newsletter
Thank you for signing up to Windows Central. You will receive a verification email shortly.
There was a problem. Please refresh the page and try again.