App to the Future Windows Phone design winners announced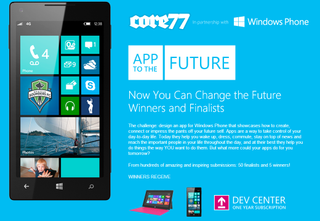 Way back in early December we told you guys about a joint contest with design magazine core77 and Microsoft – App to the Future. The contest was simple, design an app that enables you to do, connect, or delight. The contest recently ended and below are the five winning designs. Go ogle the Metro Microsoft Design Language goodness.
4weather
This weather app was designed by Alexander Uhlig from Germany. While there are currently a handful of visually stunning weather apps in the Store, the more options the merrier right?
fitCHAMP
Here is a social fitness app from Christian Valencia and Shelby Blair in Seattle. The app connects with different APIs of all the personal trackers out there (like the Fitbit) to create a well-designed dashboard to view your stats.
HappyAppy
HappyApp hails from Yian Ling Cheong and Sarah Sykes, from Singapore and Wisconsin. The two designed an app that is allows two friends to send dances to each other.
Tide
Here's an app that my southern California self would greatly appreciate materializing. Tide is a design from Martin Spurway who hails from the UK. Tide is a surfing forecast app that helps wave seekers see current conditions and get predictions.
TripUs
Sittitsak Jiampotjaman from Bangkok designed TripUs, an app to help sort your recent vacation. TripUs works by organizing your social activities into one nice view. It aggregates updates from places like Facebook and Twitter, along with photos to make a time trip timeline.
You can get a list of honorable mentions and other finalists at the source below.
As of this moment, all those apps above are just designs that need to pair with a developer to create a working app for the Windows Phone Store. If a developer teams up with design from the App to the Future contest they could be eligible for a new Windows Phone.
Congrats to the winners and runner ups. The designs look great and we can't wait to see your apps hit the Store in the future.
Source: App to the Future
Windows Central Newsletter
Get the best of Windows Central in in your inbox, every day!
Slightly OT, but have to ask. What phone is being shown in at least three of these photos? I keep seeing it in Microsoft ads and love the look of it. Makes me think of an "official" Microsoft WP8 phone.

To my knowledge, it's a render of a non-existent phone that Microsoft uses in it's different ads. Think "generic WP".

Aren't most of the pics of the Lumia 820, with a couple 920s in the mix? Can the op be more specific of which pic?

Its a 820 but the camera and top speaker are from a 8x I think.

Its a generic design. Winners have a choice of WP devices with a retail value of $499 or less according to the site but the phone shown is not a particular device. Kind of like the phone that was always used during the WP7 days.

Haha, i thought "Go ogle..." was Google...

Same here. I was confused and upset and the same time.

Trips Us is actually nice. Still don't know why a weather app will be on the list though. More options are good, but it's so common I can even view it on my TV.

I WANT THESE NOW!!! Especially tide!

The app I designed "Leadme", an honorable mention finalist can be viewed in more detail here (Skydrive Link):
http://sdrv.ms/XwXZqg

Very nice. I would have rated it higher than a weather app.

Thanks mate, I took a major risk designing an app that may not necessarily have the design/visual appeal for a design challenge. But this is right up there in terms of functionality and the need to have an app to guide visual impaired people... tough pill to swallow, but good experience though!

Very nice indeed. Good work bro.

Looks good and highly functional.

World+dog yawns...
To be honest - its hard to me to see how these apps (with some individual exceptions) can take the WP platform forward. Congrats to all the winners, finalists and honourable mentions - but IMHO these apps (or at least someof the winners) barelly can fall into the bold statement of 'App To The Future'.
Another aspect is on the contest criterias - two of them were originality (hum, yet another weather app? yet another task management app, c'mon guys?) and how the app follows the Metro Design Language Guidelines (again, at least few examples were those guidelines are broken).
I was expecting more...

Well it isn't just a generic weather app that looks pretty like Amazing Weather and WeatherFlow. Read the description before dismissing it like WPCentral has.

A weather app that lets you zero in what the weather will be like when and where you actually plan to be outside by utilizing a new adaptive forecast feed at its root, an extended and more informative set of "climacons" and finally the choice of the best forecast data vendor for your region.

Explain to me how this 'new adaptive forecast' feed is any different or more accurate what meteorologists can do now. It's a nice looking weather app.

Until it is released I can't, but the people who decided on it being the winner certainly thought it was noteworthy, even one pointing out that it uses a mixture of AI. That sounds a lot more interesting than being just being another pretty looking weather app.

C'mon Sam... 'New Adaptive Forecast Feed' means instead of showing you the temperature, it takes control of the phone's processor and heats up or cools down the phone, right there in your hands! (wearing gloves while using this app reduces the experience and is not recommended)

Metro doesn't mean a monochrome wall of Segoe. Read up on what it fundamentally is, it is in no way tied to specific templates or fonts. The fact that Microsoft chose these apps should tell you something about your understanding of Metro.

...... sounds like *somebody* didn't get their app design chosen.

Oh definitely :) But as i mentioned - the point is I was expecting much more from the chosen ones....
And I assume everyone has a right to give his opinion.



Not on Thursdays. Thursdays are "...her opinion..." days.

Maaan, these make my "find+collect" app look crummy! :( lol
Windows Central Newsletter
Thank you for signing up to Windows Central. You will receive a verification email shortly.
There was a problem. Please refresh the page and try again.