Tiles for Outlook, what Live Tiles should be for your Outlook calendar
Tiles for Outlook is a Windows 10 app that allows for the creation of Live Tiles for your Outlook calendar.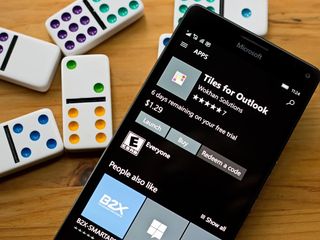 Available for Windows 10 PC and Mobile, Tiles for Outlook delivers a calendar tile that is clean in appearance and customizable from the colors to content. You can set the Live Tile to any of your Outlook calendars or create specific tiles to remind you of important events.
There is a 7-day trial version available for Tiles for Outlook with the full version running $1.29. If you rely on Outlook to keep track of your day but don't care for the native Live Tile, you'd be crazy not to try Tiles for Outlook.
While Tiles for Outlook is a feature-rich Windows 10 app, it is rather modest in its design. The app opens directly to the Live Tile creation menu, with a preview tile anchored to the top of the display. All of the customization options line up beneath.
Tiles for Outlook offers you the option to add a title to the Live Tile and three different layout styles. "Agenda style" displays the current date with upcoming appointments, and the "monthly calendar" style displays a full month with dates and appointments highlighted. Finally, there's a "birthdays layout" that highlights special events.
Once you have decided on the layout style, Tiles for Outlook includes options for what and how information is displayed. These settings include:
Calendar and Events: Here you can choose which calendars are pulled from for the Live Tile and enable the app to retrieve birthdates from your contacts list. Note that the birthday Live Tile has the option to display the person's age.
Appearance: This set of options allows you to set the maximum number of events displayed on a Live Tile (1-12), how many days ahead you want the app to search for events (1-30) and establish the Live Tile's colors.
Options: This feature set includes display options for the Live Tile such as turning on/off the Tile's title, current date, calendar bullet color, location information and 24-hour mode. You also have the options to display an appointment's timeline and show the week number.
The appearance options also include icon choices for the birthday Live Tile. Color settings include a decent pallet of colors to choose from, an opacity slider and the option to use a picture for the background instead of a color shade. Tapping on Tiles for Outlook's Live Tile sends you to the app, but in a blink, redirects you to the Outlook calendar.
Tiles for Outlook supports the creation of multiple Live Tile designs, making it easy to swap out layouts with a simple tap. Just tap on the menu arrow at the top of the creation screen to reveal an additional list that contains your creations. Another really nice feature with Tiles for Outlook is any changes to your Live Tiles are reflected automatically on the Start Screen. This eliminates the need to un-pin/re-pin a Live Tile.
Overall impression
While there is room for improvement, the Outlook calendar does a pretty good job of things. For me, the weakest feature of Outlook has been the lack of customization to the Live Tile. Tiles for Outlook fills that void and then some.
Having the ability to customize not only the appearance of your calendar Live Tile but also the content is a must for many Windows 10 users. It allows you to glance at your schedule to see how much free time you have between appointments, whether you're on the run with your Windows 10 Mobile phone or by taking a glimpse at your PC Start Screen.
Tiles for Outlook delivers this feature, without the need to install a third-party calendar. Setting up your Outlook Live Tile is easy, and if you need to change it, the modifications are made seamlessly to your Start Screen. It's just a good Windows 10 app to have and how Microsoft should have set up the Outlook Live Tiles to begin with.
If you rely on Outlook for your scheduling and aren't happy with the native options, you'd be nuts not to try Tiles for Outlook. The 7-day trial gives you access to all the app's features, and it shouldn't take long for you to decide if it is worth the investment.
If you have given Tiles for Outlook a try, let us know what you think of things in the comments or join in on [this Windows Central Forum discussion] with the developer.
Download Tiles for Outlook from the Windows Store (opens in new tab)
George is the Reviews Editor at Windows Central, concentrating on Windows 10 PC and Mobile apps. He's been a supporter of the platform since the days of Windows CE and uses his current Windows 10 Mobile phone daily to keep up with life and enjoy a game during down time.
Good to see we are still getting some options

I know it is just my opinion, but I've always found these to be too cluttered on the Start Screen. I prefer either the native option or a 2X2 tile option, as in the desktop.

Exactly my thoughts. I really love the idea of such apps, but they're visual execution is mostly not to my liking, e. g. without usage of different font sizes and weights.

Live tile doesn't work for me, it doesn't display anything but the app logo ☹ Anyone else ?

Used to work on my 650, but no more. Reinstall didn't work either

Sorry to read that!! What version of Windows are you using? Thanks

Last insider build, 15210 !

Try soft reset (hold volume down and power button at same time for few seconds) the phone will reboot.. This might work give it a shot

It makes it even weirder then, as I'm on it too. The app must be crashing somehow, I'll check the reports.

@Alkaziel, looks like you're the developer. Thanks for interacting with us. I too have the problem where I only get the icon, no calendare on my Windows 10 phone (CU). I also tried it on my Windows 10 PC, which seems to mostly work, but it ties to the calendars in Windows Calendar, NOT OUTLOOK. Is that intentional? Is there a way to get it to use my Outlook calendars instead? Also, it appears to ignore my selection for how many items to display (tried to get it to display the max # that would fit on a single tile without flipping, but it doesn't seem to accept my change to fewer items.

Totally agree that Microsoft is not properly exploiting their bright idea of Live Tiles.
No Live Tiles for Skype contacts and so on.

It same to Simple Calendar

I am using Chronos Calendar. It is same thing.

Not exactly: Tiles for Outlook only provides customizable tiles. Chronos (which I liked a lot) is a fully featured calendar, and one of the bests, by far.
I'm therefore not targeting the same users, but those happy with the default Outlook calendar :-)

A big THANK YOU for your review and for your conclusion George! One of those times when opening up Windows Central app gives me a big smile ;-)
Glad you enjoy my app!!!!

I've been using Simple Calendar for ages, but it seems to keep forgetting that I've paid for it, so it keeps reverting to demo mode. Tiles for Outlook looks like a worthy replacement.

My favourite option as a heavy Outlook user to this day, is Week View 8.1, I find it simpler, and much easier on the eye as you can see 5 appointments with venue and times on the live tile, excellent app, give it a try!!!

I've installed the trial on my 640 and it's working great, including on the lock screen! One question: the text on the live tile is less bright than my other live tiles. It's white text, and in the app I set the background opacity to minimum and Text Brush opacity to maximum. Is that incorrect, or is there something I'm missing? The text on the live tile is noticeably dimmer/less white than the text on other live tiles.

It's like the old days...keep it coming with the apps, please. A loyal Windows Phone user

Live Tiles are yet another 90% effort from Microsoft. They have a great idea, far better than static icons with number badges...and they just let it sit there for years stagnating. Such a waste.

Great App Tiles for Outlook! It is what Microsoft needs for outlook calendar i like many other have used Chronos Calendar for a long time and it is the best for a full calendar but I find it's only bring used for the tile that I have on my start screen, I loaded your 7- day trial created a very nice tile put it on the start screen went to outlook calendar added a event and Tiles for Outlook showed way before Chronos. Keep up the good work, running on 15063.2 Lumia Icon.

On Windows (PC), it does not work with Outlook. It works with Windows Mail. The listed calendars and colors of each calendar are both coming from Windows Mail. It is not listing my Outlook-only calendars at all. So it doesn't appear to be "Tiles for Outlook" but rather "Tiles for Mail." On my Windows Phone (10 Creators Update, not on Fast Ring), I'm having the same problem others have reported -- only seeing the apps' icon, not my calendar. I'd be happy to pay for it based on the feature set if it worked, but it looks like the developer has 6 days to fix before the trial expires and I give up.

Alkaziel,
I'm assuming you're the developer. I tried installing it last night on my Lumia 950 XL (running Creator's Update (I'm not using a preview version, but rather the official release)), but I ran into a problem. There was not option to show my calendar events on the lockscreen. When I went into Settings -> Lockscreen, I went to select "Choose an App to Show Detailed Status", I did not see "Tiles for Outlook" listed... Could you look into that? Cheers,
Justin
Windows Central Newsletter
Thank you for signing up to Windows Central. You will receive a verification email shortly.
There was a problem. Please refresh the page and try again.