Tim Hortons app lets you pay for your coffee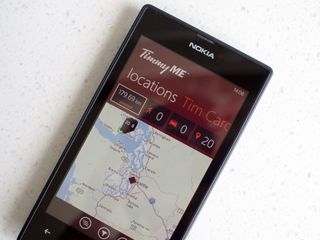 Canadian coffee chain Tim Hortons has just released the official TimmyMe app that lets you pay for your coffee with your Windows Phone. Similar to how the official Starbucks app in the U.S. works for iOS and Android, TimmyMe allows you to store your Tim Hortons gift cards on the phone to pay for coffee and snacks. When you're ready to pay, a barcode displays on your Windows Phone and your barista can scan the code for payment.
The app is built as a universal app so it will work on both Windows as well as Windows Phone.
In addition to being able to pay using your phone, TimmyMe also allows you top off and reload gift cards using the app. There is even an auto-reload feature once your balance falls below a certain threshold.
And if you don't know where your nearest Tim Hortons location is, the app will also display a map with location information for those who are in need of a caffeine fix.
You can download the app in the Canadian Windows Phone store or by scanning in the QR code below.
Thanks Justin for the tip!
Windows Central Newsletter
Get the best of Windows Central in your inbox, every day!
Chuong's passion for gadgets began with the humble PDA. Since then, he has covered a range of consumer and enterprise devices, raning from smartphones to tablets, laptops to desktops and everything in between for publications like Pocketnow, Digital Trends, Wareable, Paste Magazine, and TechRadar in the past before joining the awesome team at Windows Central. Based in the San Francisco Bay Area, when not working, he likes exploring the diverse and eclectic food scene, taking short jaunts to wine country, soaking in the sun along California's coast, consuming news, and finding new hiking trails.
What!? A Canadian WP app? I hope this starts a trend!

Love Timmy's. I miss it after spending some time in Toronto. No Timmy's is Midwest US

TimHortons is in Ohio. Not too many though.

Plenty of Tims in my area of Ohio. Too bad they suck. I used to like them, not so much anymore. Quality has gone too far down hill

There is a Timmy's on nearly every corner here in Buffalo.

Well they canada already have metro app, fido app.

I totally agree! I hope to see more Canadian apps. Next thing we need is more Canadian banking apps.

Now all we need is support from enstream so we can do away with this gift card crap in canada

Love Tim Hortons! Need another holiday in Canada lol

This is definitely a WP official week. I love ❤ it. Keep the official apps coming. Thanks for coming to WP.

This is certainly good news. If you prefer Starbucks, the app Sbux Card is also good for purchasing for your coffees with your phone. It is nice to have an official coffee app though, hopefully more will come.

This app is also available in the U.S. for those of us lucky enough to have a Tim Hortons nearby.

hope they can enable nfc payment on this soon.

Agreed it will be very nice!

Doubt enstream will since their using tools from rim

Seriously. Blackberry has the app for crying out loud!

There's still an unreasonably high number of people using Blackberries here for some reason.

Probably because they want to support Canadian companies.

Not only that. BB has NFC payment unlike all the other platforms. Use it all the time.

What a pleasant surprise! I don't see how this is any more convenient than Interac Flash, but it's always nice to see official WP apps for companies up here in the Great White Frozen North.

I agree but our service provider collective in Canada is using rim developed backend so I doubt will see secure sim required solutions till after blue is fully deployed maybe

Yay! Finally! Hope this starts a trend for other Canadian companies to make apps for WP!

Starbucks where ya at? Russia? Mexico? No US? :'(

Starbucks told me the other day it is in the works - maybe not enough are asking about it

Starbucks is to expensive to be worth the effort

Horton hears a who? Good news for you Canadians, though it might seem a bit daft, pulling out your Surface to pay for a latte.

It's available on phone and tablet.

Funny, I was at a Tims this morning and saw the sign advertising the app for iPhone, Blackberry and Android and complained to the wife that we need it for WP. I take full credit for this. Well, that and my several tweets to them about it awhile back lol

I submitted it to wheres my app? a few weeks ago when ms updated it to allow submissions other then what is already there & yet they havent updated it yet

Screw Starbucks, we don't have an official app

Starbucks is working on it I bugged them the other day via twitter - maybe more people need to ask them about it

Guess only apples users go there? According to a infographic i read a few years ago

Yah, yippee.
Go Canada apps.

Geeuz, Tim's and SPG on the same day. It's a good day for Canadian WP users!

We also now have a Manulife financial app aswell

There was a Tim Horton's in Canal Winchester, Ohio that I used to go to all the time in the winter season. Oh how I miss their doughnuts and hot chocolate. Brings back good memories.

Nice! Another Columbus area native! I don't go often, but there's one like a mile from my work at Polaris!

Wendy's bought Tim Hortons, so there are some in New York. Maybe they haven't expanded into the rest of America

They were sold back to a Canadian group several years ago. Wendy's did not own them for long.

Tim Horton's is having a lot of trouble taking off in the States. They have something like 300 stores, but some have closed as they're having trouble competing with entrenched brands like Dunkin Donuts. On the flipside, Tim Horton's ran Dunkin Donuts out of Canada like 10 years ago.

Too bad, from a promotional standpoint, that all signs in the stores only show iOS, Android, and BB as available platforms.

Totally agree. I find it quite strange that they are found a major push for their mobile apps recently, but they could have easily waited a few weeks ago they could include the Windows app.

Yeah, really weird. Maybe any new ones will show it.

Pilot project started long time ago. Probably way before WP app was even in development. It just recently went live in all locations. Those signs were approved and printed long time ago.

tim hortons doesn't have "baristas". they have minimum wage employees that barely know what coffee is.


'Baristas' are also minimum wage employees who barely know what coffee is. That is a word popularized by Starbucks to make people feel like they were getting a more premium experience. It's like when Apple brands their display as 'Retina', instead of just describing it using the technical specifications as most other companies would. You're not necessarily getting a better display, but when its differentiated like that a lot of people will just assume that to be the case. In more cynical terms, you can call a piece of shit whatever you want, it's still a piece of shit.

This is awesome news! Non-critical app, but considering how Windows Phone is non-existent in Canada, having a significant brand such as Tim Horton's produce an app is very cool. I pray that carrier exclusivity ends and we start seeing devices such as 1520, 925, 930, and beyond, here in Canada.

I totally agree with this.

Good stuff...let's hope Tim Hortons shows off the Windows Phone logo in their TimmyMe banners and advertisements. But thinking long-term, it would be a good idea for Microsoft to consider talking to the leading Canadian banks and getting them to support Windows Phone's NFC, be it Interac Flash or Visa/MasterCard.

Visa support was announced but nothing materialized on this side of the globe yet

They don't necessarily need to partner with banks as much as carriers. Soon Bell will be launching their own payment wallet (beyond RBC/TD integration) that will be basically bank agnostic however will probably not include WP due to the fact WP doesn't launch phones in Canada other than Rogers. (Which Blows)

Microsoft Canada is trying to get Bell to launch Windows Phones, but they are reluctant. There is no market for WP in Canada; sadly. Worse still, if you've been into a Rogers store lately, it looks they're probably scaling back on WP as well.

Only other problem is the big 3 is using security backend tech from rim

Lol. Barista.... @ Timmies!!! Bahaha

I prefer to think of the Timmies Ladies as Ron James tells it .... https://www.youtube.com/watch?v=iv_qssv1Q1w

Sweet - that is all I have to say!!

The only reason I am even aware of Tim Hortons is due to, How I met your Mother. Makes me want to go there now....

No Tim Horton's here in DC. Too far from civilization I suppose. But as an expat Canuck this is a must have app. Just to put on my start screen :)

My family in the great white north will be happy eh

Always great to see an official app.. Well done Tim.

Thank god Im an exchange student from Brazil living in Canada and I can go to Tims anytime. I think Im the only one in Winnipeg that has an Lumia 1020 here.

Yessssssssss! Finally! I kept seeing the ad for it but they had no WP support! This is the only app I need.

Sweet! I was just in Timmy's the other day and saw the ad for TimmyMe, and thought "that'd be handy on my HTC 8X." How to be, Tim's!

I was starting to get cheesed off that they kept emailing me about these apps especially when they're mobile site is in disarray

I cant express how happy I am to know that this app has made its way to WP. I'm glad that Tim Hortons decided to have this app on WP. I wish Dunkin Doughnuts had an app.

They forgot to mention the app is voice enabled and works with Cortana. Simply say "Timmy Me pay..." and it'll bring your default Tim Card so you can quickly pay for your order.

I just emailed them about two weeks ago asking when a WP app version was coming out. This is great!

HORRIBLE!!!
Anyone try the app before commenting? It's a shamefull attempt at app making. Buggy and FUGLY. As a designer it is insulting to me that products in this state make it to market at all. I love this platform it disapoints me to no end when stuff like this polutes the ecosystem we work so hard to make awesome. My angry 2 cents.

At least its better then there website since it doesn't render properly anymore

someone alert @darrensproat

We need Starbucks and Dunkin stateside.

While I wouldn't necessarily expect one in Canada; I find it genuinely surprising that Starbucks, at least, hasn't launched in the States yet.