The Times newspaper working on official Windows Phone 8 app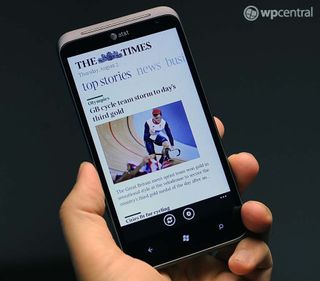 The Times (www.thetimes.co.uk (opens in new tab)), a British newspaper, has revealed to readers that the publication is working on a Windows Phone 8 app. Previously sporting an official app for older versions of Windows Phone, the app was pulled and is no longer available. While there's no official release date or ETA, we're excited to see the newspaper continuing to support the platform.
Louisa from customer services stated in a response to a question put forward, "we are currently developing an app for Windows Phone 8." When queried whether the team is also working on a solution for Windows 8, she noted that they're currently looking at multiple new platforms to support and will advise readers when said apps become available.
We'll keep our eyes peeled for apps on both Windows Phone 8 and Windows 8.
Thanks, Michael, for the tip!
Rich Edmonds is a word conjurer at Windows Central, covering everything related to Windows, gaming, and hardware. He's been involved in technology for more than a decade and knows a thing or two about the magic inside a device chassis. You can follow him over on Twitter at @RichEdmonds.
Yay. About time they got involved.

Will I be able to subscribe to it here in the US or will it be region locked?

Would love Daily Mail - UK version of TMZ...

The big dogs keep on coming!

That's what they keep saying!

This is a disaster - they've been saying they're bringing out a Windows 8 app for over a year. I have no fewer than three emails from their digital team promising this, but they "don't know when".
If they've pulled the Windows Phone app, this doesn't fill me with confidence they'll replace it any time soon

You should really say "The Times, in the UK" in the title. England isn't the only country in the world and the New York Times is the real Times... Blah, Blah, Blah

The Times is clearly the real times and New York Times is not The Times founded in 1785
New York Times founded in 1851

will this app include all the football highlights videos as well like on iOS and Android. When i tweeted Oliver Kay of the Times sports writers, was told to avoid Windows Phone, when i asked why there was no Windows Phone support.

But... it's already on WP8 - I use it often?

I'm more concerned about why The Times' Goals app isn't scheduled to be coming... they've advertised it so much and it's only for iPhone and Android...

Just checked, it works on my HTC 8X but must have been pulled from the Store. It definitely once was available for WP8 though. Why did it leave?

No one cares...however, I would really REALLY like to have a WatchESPN app. Pretty please with cherries on top?

@Wilber: you've been living in different planet. The Times (UK) is one of the most respectable newspaper in the world. It' great that the BIG guns are joying W8. So, yes. We do take care of this 'small' fact.

Wake me up when the print media becomes relevant again. Until then, WatchESPN please.

Well, I can see your insightful world view is coloured by a Sports Channel but for many (thankfully) the "Print" media is a valuable source of considered journalism and a broadening of horizons beyond 5 second blogs (normally chosen to reinforce a preference or established worldview than to challenge one).
I'm annoyed they have pulled The Times App as it worked fine on Windows Phone 8 though it could have done with more features and offline support. I hope they pull their finger out soon, as my 1020 may eventually ship and I'll miss it.
Not having the App on Windows 8 has prevented me from getting a Windows 8 tablet so far, I really want one and would have bought a £279 RT for that alone. If I look at my tablet use (HP TouchPad with Cyanogenmod) then reading the "paper" could be 30min to 60min every day. I really don't want another Android tablet though.

Nice to have more choice, but I'll stick with The Guardian, thanks.

Ugh, the Guardian, pretentious like its readership (no offence). Of all the UK papers, The Times is just about the only bearable one.
Windows Central Newsletter
Get the best of Windows Central in in your inbox, every day!
Thank you for signing up to Windows Central. You will receive a verification email shortly.
There was a problem. Please refresh the page and try again.