Today Widgets - add weather forecasts and quotes to your lock screen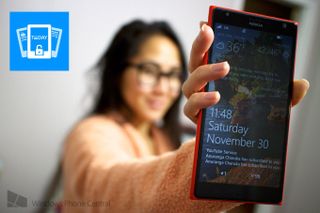 If you want weather forecasts and daily quotes on your lock screen, check out Today Widgets for Windows Phone 8. It uses the Bing Image of the Day as the lock screen background and adds widgets over it. There are only a couple of widgets right now. Weather and quotes are currently supported, but more should be coming.
The help screen shows up when you first open the app. It tells you to pin the app to your home screen and configure the widgets.
Swipe to the right to configure the weather widget. You can change the number of days in the forecast from 2 to 5. Make sure the location services on your phone is enabled to show accurate weather forecast. You can also change the units to Fahrenheit or Celsius. You can see a preview of the widget in this section. Don't want the weather widget on the lock screen? You can turn it off.
The daily quotes widget is new to Today Widgets 2.0. There are six categories to choose from: funny, management, sports, life, love, and inspire. We like that you can preview how it looks in this setting.
By default, it uses the Bing Image of the Day, you can change this to any of your photos. Select from any of the albums available in your camera roll or even Facebook, if you added your Facebook account to your Windows Phone.
One downside to this app is that you need to open it at least once every 14 days to continue the lock screen update task. It would have been nice to set it once and then leave it alone. Today Widgets is free at the Windows Phone Store. There are ads in the app when setting up the widgets, but no ads show up in the lock screen. If you don't want to see any ads at all, there's an in-app purchase for $1.29.
What other widgets would you like on your lock screen? Let us know in the comments!
Windows Central Newsletter
Get the best of Windows Central in in your inbox, every day!
Lockmix is more complete, but looks good

Lockie is still my fav app

Even if today is sunday u wp people keep posting thats good to see after so many months

I like this better than the other ones.

Damn that big ass screen looks amazing

What is that YouTube service notification?

I am using awesome lock, pretty good. But I love the meaning quote of this app, perhaps will give a shot later


Dungeon hunter 4 is available in 'windows store'.

Thanks for the heads up! I wish it would come out for windows phone soon

The windows 8 version is not xbox but atleast its free

I don't think the windows phone version will have Xbox either. I just hope it comes out really soon, because I'd probably play it on my phone more than I would on my win 8 laptop lol

Used to use this app, but right now lockmix is the best of the bunch for me. Love the live-tile styled widgets.

This may be irrelevant to the article but still...RIP Paul Walker:'(

Roger Rodas died in that crash too, he was a professional race driver and part owner of a performance parts company. R.I.P. Paul Walker and Roger Rodas :(

Mark, the problem about opening the app at least once every 14 days is not because of the app. It is yet another poorly design issue with Windows Phone background tasks.

Poor design for some, blessing for the others. Why would I want an app I only use once a month to consume data and battery when I don't even look at its content anyway!? It is clever design as far as I am concerned as most customers download apps and then don't use all of them always. They just sit there using up data and battery in background and we forget about them anyway.

It is the primary reason users complain about app live tiles stopping. If you do not want an app to use resources, which you have already permitted it to do in its settings, then uninstall it or turn the setting off! That is not a lot to expect. Conversely, a big strength of Windows phone lies in the live tiles. Users do not need to use the app once they have set their tile up the way they like, they just follow the tile. For that to just stop happening because they do not open the app, is a failure to come up with a decent resource management scheme, and to resort to a broken one.

I can't use my own image. Dunno why. Lockmix is nicer. Chill! ;)

widgets, tiles, messigings items? The wordlingo is getting confusing. Widgets reminds me of android, but this is windows phone, right??

I've been using this one for a while now. I love the week weather forecast which they don't show here. One of the better looking ones. It can get buggy at times and force you to update it manually but it's not too bad. all you do is open the app, it updates and than you close it. It seems to happen when there is no service. I guess that messes it up. I also haven't noticed any effect on my battery which is a big plus.

If you want a good looking weather by week on your lock screen...download Amazing Weather HD

Red 1520 teasing photo grrr still waiting xp

And again.. What countries available on bing lockscreen?
As always? (US, FR, GR, CN)?

Was the cover picture taken with Nokia Refocus?

Does not load "user image" as lockscreen background. I have no idea why And I'd like to know what's the source for weather forecast


Same, the "User Image" feature doesn't appear to work


Really, 1520 is just BIIGGGGGG

I would like to see my calendar activities.

It's crashing on my 920 :(

Lockie has all of these features and then some. Sticking with Lockie.

Don't refresh lock screen until open app :(
Windows Central Newsletter
Thank you for signing up to Windows Central. You will receive a verification email shortly.
There was a problem. Please refresh the page and try again.