Today's Word - learn a new word every day with Windows Phone 8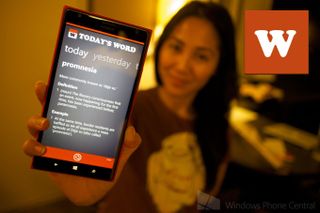 Do you want to increase your vocabulary? One way to do that is by learning a new word every day. Today's Word, a new app from the Windows Phone Store was built to help you with that. Just open the app and you will be given the word of the day. In case you missed it, yesterday's word is also available. If you're eager, you can also look at tomorrow's word.
Each of the word displays its definition and example. Some words also include the pronunciation and their origin.
Want to share the knowledge? There's a share button for each word. It publishes a status update for Facebook and/or Twitter. It looks like this:
We think E4 Studio, the publisher of this app, should also include the link to the Windows Phone Store in these status updates so that our friends can easily start using the app, too.
The initial release of Today's Word supports 3 live tiles: small, medium, and wide. The definition is displayed if you're using the wide size tile. It's a simple app and we really like it. The words and definitions are taken from Wordnik, according to the credit section of the app.
We believe this app will improve our vocabulary because we look at our Windows Phone device frequently throughout the day. Seeing a new word with its definition in our home screen several times each day will help keep it in our memory.
What are some improvements we'd like to see in future updates? We think it would be nice to include Today's Word as an option in our lock screen background. That's currently not supported yet. We're not sure if this is a problem with the app or Wordnik's data, but pronunciation is not available for every word.
Today's Word is a free download for Windows Phone 8 devices at the Windows Phone Store. We highly recommend pinning it to your home screen. Check it out and let us know if you like it!
Windows Central Newsletter
Get the best of Windows Central in in your inbox, every day!
I've been using the word of the day pin from the dictionary app on my 1520 but this will take center stage on my start screen now :)

I've been using Daniel Rubino's posts to learn new words. I could never replace Daniel.

Does the medium tile not display the definition? I'm using the Advanced English Dictionary app and it, too, offers the same feature. Its medium and wide tiles display the definition.

Same here, works just fine.

I like the 3 columns!
How do you force it to update the tile, doesn't show a word or definition for me. Okay it works now, prefer it showed on front side of tile and wrapped the text.

It should show up after about 20 minutes. Noticed this with other apps too.

Mark is your wife/girlfriend/significant other a model

You noticed the familiar theme there too?

Other languages would be nice.

Yeah how about Thai? Bing translator works for that though.

Its not bad, but one thing I hate is the prompt if I want to exit... Of course I want to, that's why I hit the back button!

+925 Like the app, but "Do you want to exit?" needs to be removed with vigor.

Medium tile doesn't show definition, which is a shame. Aaa6122, thanks for the recommendation of advanced English dictionary, I'm trying that too.

Will wait until lock screen option.

Be nice if you could set it to send a notification like the dictionary app, only have it work properly. It's not the sort of thing I would want to waste wide tile space on and I would never open the app.

I get black text on a dark grey background very hard on eyes, uninstalled it

Study Assist is better and maybe Best!

Pretty ugly app & tile. Won't be making my roster unfortunately. However I will be checking out the mentioned apps in this thread, as this seems like a nice function.

Have had Arkwords on my start screen since March 2011. New word everyday and tile has never failed to update. My go to dictionary and translator.

+1 Arkwords is my preferred dictionary application.

Arkwords is great but it hasn't been updated since 3/9/2012

That could mean that the application is so good it doesn't need an update. Or, it could mean that the developer of the application couldn't be bothered to update it. I'll go with the former unless you happen to know of any bugs or faults that need fixing.

More language support as is needed as usual with these type of apps.

Was the cover picture taken with Nokia Refocus?

Promnesia (προμνησία) it' s a greek word, by the way :)

I can find it in the app store

I started having rapid battery drain (from full battery to <5% within 5 hours) around the time I installed this. After 2 days I made a few settings changes on the phone (which weren't problematic before, but just to cover all the bases) at the same time I uninstalled this, and battery problems have resolved. Can't say it's a cause/effect, but seems like this app might be the culprit.
Windows Central Newsletter
Thank you for signing up to Windows Central. You will receive a verification email shortly.
There was a problem. Please refresh the page and try again.