Today's Word - learn a new word every day with Windows Phone 8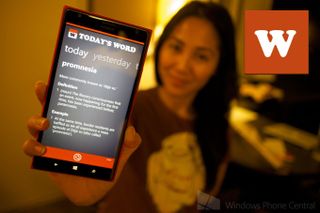 Do you want to increase your vocabulary? One way to do that is by learning a new word every day. Today's Word, a new app from the Windows Phone Store was built to help you with that. Just open the app and you will be given the word of the day. In case you missed it, yesterday's word is also available. If you're eager, you can also look at tomorrow's word.
Each of the word displays its definition and example. Some words also include the pronunciation and their origin.
Want to share the knowledge? There's a share button for each word. It publishes a status update for Facebook and/or Twitter. It looks like this:
We think E4 Studio, the publisher of this app, should also include the link to the Windows Phone Store in these status updates so that our friends can easily start using the app, too.
The initial release of Today's Word supports 3 live tiles: small, medium, and wide. The definition is displayed if you're using the wide size tile. It's a simple app and we really like it. The words and definitions are taken from Wordnik, according to the credit section of the app.
We believe this app will improve our vocabulary because we look at our Windows Phone device frequently throughout the day. Seeing a new word with its definition in our home screen several times each day will help keep it in our memory.
What are some improvements we'd like to see in future updates? We think it would be nice to include Today's Word as an option in our lock screen background. That's currently not supported yet. We're not sure if this is a problem with the app or Wordnik's data, but pronunciation is not available for every word.
Today's Word is a free download for Windows Phone 8 devices at the Windows Phone Store. We highly recommend pinning it to your home screen. Check it out and let us know if you like it!
Get the Windows Central Newsletter
All the latest news, reviews, and guides for Windows and Xbox diehards.