Latest update for Today's Word brings more options to display the word of the day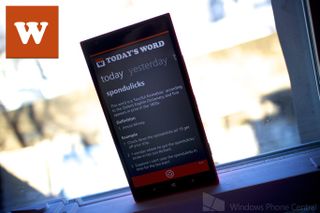 We love the live tile for Today's Word on Windows Phone 8. It lets us increase our vocabulary by displaying a new word with its definition every day. Today, the app has received an update to version 1.1. The new features appear to be in direct response to your feedbacks! Let's take a look at the change log after the break. We also have video.
What's new in Today's Word v1.1
Fix same word for today and tomorrow
Fix live tile. Should not wait 20 minutes since install the app
Add definition in medium size tile
Add settings page
Add toast notification setting
Add option to show word in lock screen
Remove exit confirmation
Add link to Windows Phone marketplace when share
E4 Studio, the developers of Today's Word, has added more ways to show you the word of the day. This is a great idea because you learn new words better when you see them more often. Initially, the definition shows up only in the large size tile. We're glad that it's now also available in the medium tile.
The latest version of Today's Word can now also place the word of the day in your lock screen. Go to your lock screen settings and select Today's Word under the option that says, "Choose an app to show detailed status."
If that's not enough, you can also make the app send a Toast notification to your device. It's currently set to 8AM, which seems like a good time, but maybe other users want to be able to change that. There's no option to change the time, but maybe E4 Studio will add it in an update.
Some users complained about the exit confirmation in the app, so that has been removed as well.
Today's Word is a free download for Windows Phone 8 devices at the Windows Phone Store. It's definitely an app we're keeping in our home screen for a while. Check it out and let us know if you like it!
Windows Central Newsletter
Get the best of Windows Central in in your inbox, every day!
Now that it displays definition on the medium tile, I'm going to try it out. Gonna compare it against Advanced English Dictionary, something I've been happy using so far.

Yay! Doesn't have that silly prompt to exit the app any more.

Its supercalifragilisticexpialidoso

Thank you WPCentral and Mark, you really boosted up downloads of Today's Word. Already working on to the next update. Keep those suggestions coming!

Would it be possible to have the definition's font size a little smaller than the word itself. I know its not possible with the default tile style (is it iconic?) but I know other styles do support it.

Definitely a good idea, even if it's just a bold font for the word, and regular for the definition. And remove the period after the definition in the live tile, it looks very strange right now.
Inserting a line between the word and the definition when possible would be good too.

Yes, a line space would be ideal.
Also, maybe add a colon after the word to indicate that the following line contains the definition?

Hi there, Thank you for your suggestions. Yes, it is possible to use different font size using Iconic live tile, but the drawback is you won't be able to view the word + definition in the medium size of the tiles, it can only show number. (CMIIW) There is another approach to this (still using flip live tile though) but there are also draw backs. But we are working on it.

Looking at your username, are you Indonesian?

The improvements are appreciated. I really like this app.

I like the app, it's simple and does what it's supposed to. But WHY have a revolving live tile? It's useless and distracting. I want to see the word of the day, not a large W. Not at any time do I want to se a large W instead. Not even for a second. It has never happened, and will never happen. It's as stupid as EPSN Hub, which spends half its time showing the words ESPN HUB in the large tile. WHY?

Yes, an option to stop flipping the tile would be nice - just display the side displaying the definition. I understand branding is important but that *can* be accomplished on the same side as the definition.

Yep, see WP Central's app for example. Actually, almost every app out there could use a look at WP Central's app, which is just fantastic. :)

This is where we got confused. Some people prefer the medium tile and others prefer the large tile. As I mentioned above, if we use Iconic style (like Message) the medium tile won't be able to show word. We thought about giving an option to pin a different style of live tile according to the user preference. But we still need more feedback for this feature.

Seems like it would be wiser to have the primary tile display the word of the day, and if they didn't want updates they could disable the background process. Or you could have an option to "enable live tile" which shows the word of the day, and when live tile is not enabled show the W icon. This is WP- you don't need user feedback to know we want information at-a-glance on our live tiles. It's the entire premise of the operating system.

Yeah, I think every app and tile size should be designed with the premise that information should be displayed at all times. Allow it to be turned off though. I don't see any point in using the FLIP style tile though, in this case.

I definitely agree with you. This should be changed in the next version.

I installed this app just yesterday and the live tile is placed right on top of my screen. Its a nice and helpful app to increase one's vocab. Good to see a lot of enhancements in the latest update. Keep developing the app and kudos to the developers !
Windows Central Newsletter
Thank you for signing up to Windows Central. You will receive a verification email shortly.
There was a problem. Please refresh the page and try again.