Todoist confirms app for Windows 10, looking for alpha testers to 'make it great'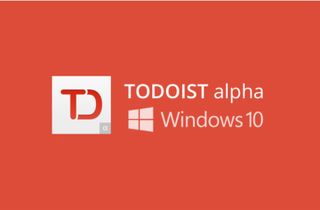 A short time ago Todoist, the hugely popular task management service, acquired the TaskCrunch Windows Phone app and its developer, Jan Kratochvil. TaskCrunch is easily the best third-party app for Todoist on Windows Phone in lieu of an official client. Part of the acquisition was with a view to better support for Windows, and that starts today.
Todoist has confirmed a Windows 10 app and is looking for people to help them alpha test it.
Alpha means it's still very, very early days, but with a passionate Windows developer on board its clear the company is serious about its plans for Windows 10. If you're interested in becoming an alpha tester, hit the source link below for more information.
In addition to this great news, Todoist is also today announcing an update for its existing Windows desktop app as well as its Outlook app. Here's what's new.
High DPI support means you'll be able to set a zoom level that's comfortable for you. No more squinting to see your tiny tasks!
Ability to manually configure proxy settings lets you securely access Todoist from behind your corporate firewall.
"Always on Top" feature allows you to keep your to-do list readily accessible on your desktop throughout the day.
Several bug fixes to make sure things work the way you expect them to.
Nowhere does Todoist confirm, or deny, this will be a Universal Windows App. However, Kratochvil is already proven as a top Windows Phone developer, so we'd at least assume that phone support is on the table somewhere.
Update: Folks who've taken the survey and signed up to test have seen that phone support is mentioned in the process. So this is good news since it probably means a Universal App.
Source: Todoist
Richard Devine is an Editor at Windows Central. A former Project Manager and long-term tech addict, he joined Mobile Nations in 2011 and has been found on Android Central and iMore as well as Windows Central. Currently you'll find him covering all manner of PC hardware and gaming, and you can follow him on Twitter and Instagram.
Bring it on!!! Apps are coming! Go Windows 10! :)

Yep! We are getting there!!!!

More developers support for Windows 10!!!!

I hate desktop apps so does this app.

Ninjas. Hijacked. My mother.

How is it compared to Wunderlist? Is it worth a try?

OMG! Wunderlist is a glorified Evernote with a background and no Live Tile (ie - worthless). Todoist - and Toodledo are true lite project managers/todo lists. Just what you need if you have multi-step projects with due dates, but don't need MS Project.

Yeah I'm hoping Wunderlist gets some love from MS soon. It needs to be a bit more robust and like you said have a live tile that alerts you to pending or overdue tasks and such. It's nice, but needs more.

Hoping to see more news running up to Windows 10 launch similar to this.
Would love an update on where Trello are with the rewrite of their Windows App, which they openly said on the job description they feel needs a lot of work

Yeah the Trello app for Windows 8.1 is beyond terrible. When you can't even save dates on your cards, you know it's bad.

The fact that they used Excel Online (instead of Google Docs) for this specific survey speaks of lot of them in regards with commitment to the platform! Signed up :)

Sorry, but I'm a pretty dedicated Wunderlist user, especially since Microsoft took it over. Its not that I wouldn't switch if something came along that was phenomenal but thats literally what it would take for me to switch because Wunderlist is just that good.

Ugh. Wunderlist doesn't even have a Live Tile.

maybe signinn up for the apha that is specifically dedicated to highlight the features that you like and need most is a good thing to help make this project the next to-do app you will use and love to use. don't you think?

Is there any App like Any.do in windows store? I mean, with Call and messaging manager..

The excel survey specifically says they have a windows phone version coming. I don't see why it wouldn't be a universal app.

Good news then. I haven't signed up. Didn't want to waste a spot when I'll probably get to see it at some point anyway!

Fantastic. TaskCrunch is great work, so I'm glad he's reaping rewards for it. But it's weird that they acquired him too. People being bought and sold, tisk tisk.

I think it was a buy-one-get-one-free kinda deal. They bought his app and then gave him a job!

That's pretty much how it went down :-)

It's probably a universal app
as the survey say.

More articles like these in the very near future, I hope.

Explain me something please guys. The applications in the W10 store are universal. There is no two versions of the App. It's the same for CPU and Phone.
Am I right?

You are correct, sir, but devs do have an option to limit them to one or the other.

Depends on developers. They can deploy an app to Windows Store and choose the availability for phones and desktop, or just phones, or just desktop, or desktop and xbox. I think you get it.

Thank you both for the answer. I hope that all devs will activate that option. Waitin' so much for Windows 10.
Btw, do you know if Asus T100 is fully compatible and upgradable to W10?

It's a universal app. Confirmed in the comments on the source link.

Clever to do is the one and only best app.

I use todoist/taskcrunch every day and for me they are the best GTD tools. Too bad for Microsoft because I bought my first windows mobile phone to be able to synch tasks with my exchange account (all fields of tasks, including categories and the like) and that was the perfect GTD solution. Today Microsoft decided to drop all of that and it's a shame... How can you hope to be a business oriented OS without these kind of tools?!

Re: ilgulamc,
"Today Microsoft decided to drop all of that..."
What? Specifically, all of what? What are you taking about? Why didn't you state your sources? What are they?

What I meant is that back in the days I was looking for a solution that let me synch calendar and tasks with my desktop outlook. I checked the solutions that were available at the time (Symbian, Sony Ericsson, Motorola, Bb, etc) I soon found out that only windows mobile would let me synch tasks in the way I needed (not only the title and priority, but also the task comment, category field, etc). With wp7 Microsoft offered a streamed down version of tasks of what it used to offer with the previous OS. I know wp7 was what it was, but at least you could find tasks in the calendar app on the same level as other calendar items (with a simple swipe right). With wp 8.1 tasks not only haven't been improved, but they have been relegated by MS to a sub menu in the calendar app. It strikes me how MS can't understand that for business users a good tasks app is a necessity. What they used to offer in WMobile was ahead of the time and really a step ahead of other competitors. Today they managed to lose all that ground...
Windows Central Newsletter
Thank you for signing up to Windows Central. You will receive a verification email shortly.
There was a problem. Please refresh the page and try again.