Tone mapping, filters and more. HDR Photo Camera gets big update in version 2.2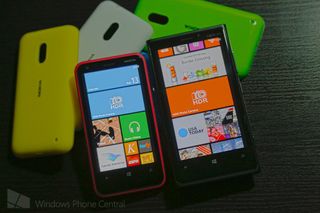 Unlike iOS, Windows Phone doesn't have any native HDR abilities baked into the camera application. Instead Microsoft left it up for developers to develop 'lenses' for your device – basically camera applications. So right now we've got two fairly solid HDR apps in the Store, HDR Photo Camera and HDR Camera. We compared the two back in mid-January, but it looks like HDR Photo received a nice update that could widen the feature gap.
Version 2.2 of HDR Photo Camera happens to include some fairly big additions. Judge for yourself:
Tone mapping
Workflow for fusing already capture set of frames
12 filters (including 4 HDR filters)
Configurable aspect ratio
Bug fixing and user interface improvements
Unlike other 'HDR' apps, HDR Photo Camera captures three consecutive images to create the large range between the lightest and darkest areas of a photograph. You get photos that seem to 'pop' with HDR and of course it's up to the photographer to determine how big or small that range is. The biggest problem is you usually need a tripod to get good image (it's also impossible to capture moving subjects using that approach). So HDR Photo Camera has included a tone mapping algorithm that can be applied to a single image – while not true HDR it can definitely improve your photos and their dynamic range.
Filters are fairly explanatory, but the addition of 4 HDR specific filters is, of course, welcomed. Back when we last checked out the app you were limited to a 16:9 aspect ratio, while it may not be a problem for most folks, the option to choose your own aspect ratio will be appreciated (especially by George).
Unfortunately the app still does not include a trial mode and at $2.49 may be hard for some of you to jump on board. It's late at night here, but if you're interested we can do a video for you guys highlighting the latest update. Let us know in the comments and we can get to it tomorrow.
HDR Photo Camera can be snagged from the Windows Phone Store right here, by using the QR code below, or by swiping to the right in our Windows Phone Central app.
Windows Central Newsletter
Get the best of Windows Central in in your inbox, every day!
I like to see a video of the apps pros and cons..

Without sounding like a noob, could someone please explain what hdr imaging is?

It's a method of trying to make a photograph look more like the way the eye would have seen. It (originally) involved taking the "same" picture multiple times with different exposures, then merging the photos together so the longer exposures were used to help make shadow areas more visible. Now it seems like it's largely used to generate overcontrasted cartoonish crap, it's kind of like the autotune of photography. It's no fault of the apps, though, grab one and apply it sparingly and it can really result in some beautiful work.

Thanks for explanation :) much appreciated

hmm... I like your analogy. If HDR is the auto-tune of photography, can we say that Instagram is the MC Hammer pants of photography?

I would like to see a video. I wonder if they improved the apps ability to align the three pics. My wife has an app on her iPhone called ProHDR (or maybe it is HDRPro) which aligns the shots perfectly almost every time even when holding the phone in your hand. If these guys can get that right I will buy it in an instant.

I freaking loved that app. Miss it almost daily. :(

I agree, I would love to see a video and possibly a link to an article to explain why I need HDR. I'd gladly spend the $ if it makes my great camera even better.

A video would be great, Might convince me to give it a try.

Even I have the same query....I am interested in the app and don't mind spending...but how will the app help?? Portico update didn't change a lot with images in my 920 the images are a bit soft than Samsung phones...will this app help in this respect??? And a video review is always welcomed.. Thankyou guys in putting in these efforts and bringing in all these news and tips...

A video reveiw would be better.

I am not going to pay that amount if I don't know how good it is. Sorry, developer.

Can you guys make a video? All I want is a good app to apply HDR effects to my photos, like Camera360 for iOS.

Hey great news, I just got my istabillizer yesterday coupled with the joby gorillapod that should take even better pictures with this app, too bad the weather sucks here now.

Video with clear photo comparison would be nice!

This app is incredible. And the new filters apply some really cool looking grunge effects too. I have a friend who uses hdrpro on his iPhone and then doctors the crap out of everything with snapseed. (the one app I am truly ticked I can't get for WP) but the results im getting with this alone is comparable. The above poster is correct. It is like auto tune. Amazing analogy. But if you are a fan of the grunge look and all the drama filters in snapseed, you will live this. And don't get me wrong, you can take straight photos without all the filters and they look very nice. A tripod is key though if you are looking for perfection.

This doesnt work on Ativ S?????

I still don't get it why developers would not offer a test version of their WP8 and W8 App. ¬_¬

For perfect image alignment, throw one of these on your keychain:
http://joby.com/smartphones/griptight-micro-stand/

Need rapid fire like on BLINK, why can't they add this yet?

Please make the video!
I really like my Nokia 920 but I do get frustrated that I can't take easy HDR photos like I could with my old iPhone 4. Anyone know if he iPhone actually takes 3 shots for HDR or just uses tone maping?

The iPhone takes 2 shots at about 1 EV distance. It does not use tone mapping and the diference between exposures is not large enough to say if it simply blends the images or if it does a more complex operation.
Windows Central Newsletter
Thank you for signing up to Windows Central. You will receive a verification email shortly.
There was a problem. Please refresh the page and try again.