Capture the King with Toon Clash Chess for Windows PC and Mobile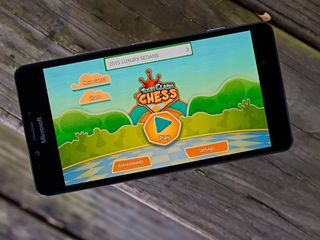 Toon Clash CHESS is a fun game of chess from the developers of Board Defenders. While Board Defenders contained chess-like elements to gameplay, Toon Clash CHESS is a complete game of chess. Just with the chess pieces tackling, punching and kicking each other.
Toon Clash CHESS is wonderfully animated in 3D, with rival neighborhood kids take on the role of King, Queen, Rook, Bishop, Knight and Pawn. Available from both the Windows 10 and Windows Phone Stores, Toon Clash CHESS has three difficulty levels, a pass-and-play mode, and your game progress is automatically saved if you have to leave a game early.
Toon Clash CHESS is reminiscent of the old Battle Chess game, just with a softer touch and an attractive title to have in your gaming library.
The opening menu for Toon Clash CHESS offers up options to view your gaming achievements, access the game's settings, jump into gameplay and view additional gaming titles from the developer. Settings cover sound/music levels, language choice and turning on/off 2D graphics and the hint markers (your movement guides).
You have the option to play the game in one of three arenas (Forest, Magic Tree and Playville) and you have the choice of chess teams. Toon Clash CHESS is a free, ad-supported game, and some of the features only available after a $5.99 upgrade. The upgrade will unlock all three gaming environments, the two-player mode, and unlimited undos and hints, as well as remove the ads. The free version is robust enough to stand on its own, but the full-screen ads can get a little tiring.
As far as the gameplay is concerned, you will have the option to choose your difficulty level (Rookie, Apprentice or Master) prior to launching a game of chess. There are a few gaming controls that line the sides of the gaming display that include:
An undo button (one per game with the free version)
A camera button to let you choose the angle of view
A hint button (locked with the free version)
A home button to surrender the game
A button to buy the game upgrade
The default view of the 3D chessboard is from above, at a slight angle. The game plays out according to the traditional rules of chess. Movement is simple: just tap the game piece you want to move and then the square on which you want the piece to move. If you have the hint markers turned on, any available moves will be highlighted yellow. Should a move result in the capture of your chess piece, it will be highlighted red.
There are plenty of animations with gameplay, such as your King jumping off his throne of books to push them as he moves or the Knight riding his pogo-stick pony from square to square. If your King is placed in check, the only permitted moves are those to get your King to safety. When your King is placed in checkmate, the opposing team will move in and knock out your King.
At the conclusion of each game, you will have the option to replay the game or head back to the main menu. However, before you can do either, you get to view a full-screen, fifteen-second video commercial. While this can be annoying, unlike other games that use this ad style, Toon Clash CHESS does give you the option to skip the ad after a few seconds.
Fun Game for Chess Fans
Toon Clash CHESS is an enjoyable game for Windows and Windows Phone. The animations and graphics are wonderfully drawn and gameplay is challenging. Overall I liked Toon Clash CHESS and can see it being a fun option to expose your children to the game of chess. But if you detest the game already, I doubt it the fun graphics will be enough to win you over.
The upgraded version is a bit on the pricey side, but the free game is strong enough to stand on its own. I think the biggest selling point for upgrading is the two-player mode and killing the fifteen-second commercials. These ads are a little irritating, but at least they're skippable.
All in all, Toon Clash CHESS is a worthy gaming title to have tucked away in your gaming library. The appeal may not be across the board but if you like, the game of chess, I think you will like Toon Clash CHESS. At last check, the game is pulling down a 4.5-star rating in the Stores (which we will agree with) and Toon Clash CHESS is available in the Windows 10 and Windows Phone Stores. Again, it is a free ad-supported game with an in-app upgrade opportunity ($5.99).
If you have tried Toon Clash CHESS, let us know what you think of things in the comments below.
Download Toon Clash CHESS for Windows and Windows Phone (opens in new tab)
George is the Reviews Editor at Windows Central, concentrating on Windows 10 PC and Mobile apps. He's been a supporter of the platform since the days of Windows CE and uses his current Windows 10 Mobile phone daily to keep up with life and enjoy a game during down time.
Good, can everyone stop complaining now that people voted for Microsoft to do a word game instead of chess now?

Countdown to whiners 3, 2, 1...

I wanted a decent chess game. Hope this is one.

I think you might prefer 3d chess.

There's like 10 in store.

Does it have multiplayer?

Windows Central, why do u no longer link the app in the Windows store from the mobile app? I always have to show in browser to find the link. Using Windows 10 mobile on Lumia 950xl

The site has been broken for months. Doesn't matter the handset. Scanning the barcode usually works.


@Jazmac, you mean the app not site lol. However Wp8.x apps are linked fine.

I was wondering that as well. It was very convenient.

Don't worry the new universal app will fix everything. It's "coming soon™"

This is a superb game..quite an addictive version of chess...
But the only complaint - it at times fails to load on my lumia640 with 8.1, after recent update..

Maybe its your rating in wp store that I postponed my downloading till the fix.

If anyone draws comparisons to harry potter and wizard's chess, I will set the balrog upon thee! Oh... wait.... Noooooooooo.

It's pretty cool but I wish they woulda went with battling monsters instead of neighborhood kids. Like the original battle chess. Slashing swords trumps body checking.

Where is homerun battle,,Real golf..???

Lets golf 2? That has been removed from the store. I was ****** of as well cuz I paid for it and wanted to play that again.

Why wp central is not giving us links ????????????????????

Maybe you use wp8.1 and links recognise for w10 mobile

Now waiting.........
For the IAP to go myappfree. :p

chess games only ought to be reviewed by people who actually play the game. How well does the game play chess? Is it a proper opponent?
Windows Central Newsletter
Thank you for signing up to Windows Central. You will receive a verification email shortly.
There was a problem. Please refresh the page and try again.