Top 5 Christmas Apps for Windows 8.1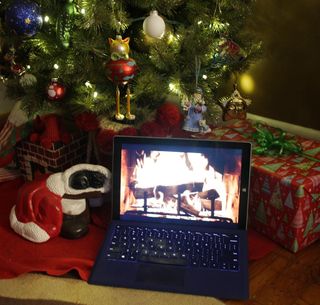 'Tis the season for your computers and tablets to help make your holiday a happy one. For that reason, we are rounding up some of our favorite Christmas-themed apps for Windows 8.1.
Rather than compiling a list of apps to help you get your shopping done, this is a list of apps to help you and the family get into the spirit of the season.
Christmas Lights Designer Pro
Most of you have probably put your Christmas lights up for the year. But if you haven't, you should check out Christmas Lights Designer Pro. This app lets you upload a picture of your house and decorate it virtually to plan out how you want it to look.
Much like a drawing/painting app, Christmas Lights Designer has different drawing tools to mimic various styles of lights. You can choose from different colors, styles and sizes to decide just how you want to prepare your house for Santa's arrival.
Once you are happy with your design, you can save it to your computer or share it through social media. There is a free version that has fewer design options available as well.
Christmas Kitchen
One of the best parts about the holidays is the food. And while there are a ton of different cooking and recipe apps out there for Windows 8.1, one that stands out at this time of year is Christmas Kitchen. As the name implies, this app is a compilation of tantalizing Christmas recipes, all neatly organized into different categories.
Not only does Christmas Kitchen have great ideas for appetizers, main courses, sides, and desserts, but it also has specialized recipes for cocktails, buffet offerings, gift foods, vegetarian options and meals on a budget. And there are not your run of the mill ham and mashed potatoes (Not that there's anything wrong with that!). They are fancy, yet simple recipes that are sure to give your Christmas a taste of tradition.
Christmas Hunt
Don't let the little ones get bored while you are decorating the house cooking the Christmas dinner. Keep them entertained by helping Santa and learning about Christmas at the same time. In Christmas Hunt, toddlers and young kids help Santa and his reindeer collect Christmas-related objects by identifying them in brightly-colored festive scenes. Fun for kids to play on their own and educational if you play along with them.
NORAD Tracks Santa
With bellies full and everyone sated, the only thing left to do is wait for Santa to arrive. Why not follow his progress around the world on Christmas Eve with NORAD Tracks Santa? A longtime favorite on mobile devices, NORAD Tracks Santa, follows St. Nick as he gallivants around the globe delivering presents for the good girls and boys.
While you wait for Christmas Eve to arrive, you can play games and listen to Christmas music within the app as the built-in countdown clock ticks down to C-Day. There is even a live tile to keep you posted.
Burning Fireplace
The holidays are about family and what better way to spend time with the family than to curl up in front of the fireplace with some hot chocolate. Oh, you don't have a fireplace? No problem, fire up the Surface Pro 3 and bring up Burning Fireplace.
There's not much to this app other than what it needs to be, a roaring fire in all its crackling glory. Great for setting the mood, whether it's to be relaxed or ironic.
Did we miss an app that YOU think we should know about for Christmas? Sound off in comments and let us know!
Get the Windows Central Newsletter
All the latest news, reviews, and guides for Windows and Xbox diehards.