Top Christmas games and apps for Windows Phone
Windows Phone Central Roundup: Games and apps for the Holiday Season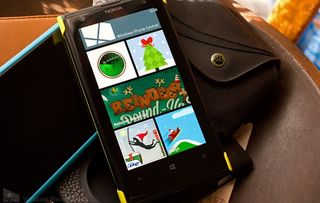 With Christmas right around the corner, what better way to get into the Holiday Spirit than with a few Christmas themed Windows Phone apps and games?
This week's Windows Phone Central Roundup features a few such games and apps. We pulled a handful of the top rated apps and games from the Windows Phone Store for this week's roundup. There is one app to give your Windows Phone lockscreen a holiday touch, a couple games with a Holiday touch, and one app to keep track of Saint Nick on his global journey.
Sleigh (free)
Sleigh has been around the Windows Phone Store for some time now and is an endless slide/jump game from the developers of the Windows Phone game Penguin. Game play isn't much different than Penguin or other slide/jump game such as Rainbow Rapture or Sunny Hillride.
Sleigh's Game Play Instructions
You control Santa and his sleigh as he slides up and down a series of hills and valleys. You tap/hold the screen on the down-slope to gain momentum and release your hold on the up-slope to send Santa flying through the air.
Along the way you can collect presents scattered on the ground for speed boosts. The goal is to travel as far as possible before the timer runs out (illustrated by the bar graph in the upper left corner). As Santa catches air, time will be added to the clock.
Santa Catching Some Air
Sleigh has clean graphics, straightforward game play and is a fun game to pass the time with. There is an odd sort of enjoyment in seeing how high you can get Santa's sleigh to soar through the air. I doubt that Sleigh could hold up to marathon gaming sessions but if you need something to do while waiting in line at the restaurant, in the parking lot as your significant other runs into the store for "one last present", a friendly distraction at the office party or are just looking for a fun way to pass a few minutes with Sleigh is worth the download.
Sleigh is a free, ad-supported game available for both Windows Phone 8 and 7.x devices. You can pick up Sleigh here in the (opens in new tab) Windows Phone Store.
AE City Jump-Christmas (free)
There are plenty of established Windows Phone games that adds a Holiday theme to game play. We have seen such updates with Tiny Death Star, Rail Rush and AE City Jump-Christmas.
AE City Jump's Main Menu
AE City Jump-Christmas is another endless/infinity action game that has you swinging from rooftop to rooftop within various global cities. The Holiday theme comes in the form of a new city level that has you jumping from gift box to gift box. Beyond that, the game looks just like it did pre-holidays.
Game play is simple with your character swinging from a rope. As the player approaches a building or gift box, tap the screen to release your characters hold on the rope. If you have timed it right, the shadowy character will land safely on the box top and earn points. Time it perfect and the figure will land in the center of the rooftop for bonus points. If your timing isn't just right, your player will fall to their demise and the game ends.
AE City Jump Gift Box City
The goal, as you would guess, is to rack up as many points as possible and swing as far as possible.
The gift box level is the second city and can be unlocked one of two ways. You can score 2000 points in the first city, New York, or pay $.99 through an in-app purchase.
Like Sleigh, AE City Jump is a simple game that is an entertaining option to pass the time with. Graphics are a bit on the minimal side but they work and the animations are well done. I like how the jumper struggles to gain their balance when your timing is borderline.
All totaled, AE City Jump-Christmas is a nice choice of games and the gift box city does give the game a little Holiday spirit. AE City Jump is a free, ad-supported game available for both Windows Phone 8 and 7.x devices. You do have a few in-app purchases to unlock levels or buy energy units that are used as "second chances" when you crash and burn.
You can find AE City Jump-Christmas here in the (opens in new tab) Windows Phone Store.
My Christmas Tree (trial/$1.29)
My Christmas Tree is a creative Holiday app for Windows Phone 8 that lets you create and customize a Christmas tree wallpaper that can be used as your Windows Phone lockscreen or shared amongst friends.
The app is laid out simple with a gallery page where you can create new scenes or view ones previously made. The creation page has a respectable collection of tree ornaments and lights to decorate your tree with lining up the left side of the screen.
My Christmas Tree Menu and Build Screens
Across the bottom of the screen you will find control buttons to choose your background, tree style, or hide/reveal the ornament menu. All totaled you have twenty-two ornaments, four tree toppers, four backgrounds, and eight tree styles. You can also add your own image as a backdrop for the tree.
To start decorating, just tap an ornament to select it and then tap the spot on the tree you want it placed. If you don't like what you see, just tap the ornament to remove it.
Once complete, your Christmas scene can be,
Shared
Set as your lockscreen
Saved to your Pictures Hub
Pinned to your Windows Phone Start screen.
You can find all these options (as well as a Help Section) up under the three-dot menu on the scene creation screen. I would have liked to have seen the ability to add text to your Christmas picture but maybe that can be a feature for next season.
My Christmas Tree Samples
My Christmas Tree is definitely a seasonal app for Windows Phone 8 but a fun way to decorate your phone for the Holiday Season. It is also a nice addition to the Kid's Corner (if applicable) to give your kids something to pass the time with.
There is a free trial version available for My Christmas Tree. The full version will run you $1.49 and the app is available for Windows Phone 8 devices. You can find My Christmas Tree here in the (opens in new tab) Windows Phone Store.
Reindeer Roundup ($1.29)
Reindeer Roundup is an entertaining physics-based puzzle game for Windows Phone 8. The game challenges you to stack an odd assortment of reindeers all in an effort to collect Santa's lost gifts.
The game has fifty levels of game play where reindeers parachute in from the top of the screen. You tap the parachute to take control of the deer and stack them on a pedestal that sits at the bottom of the screen.
Reindeer Roundup Menu and Settings
You have a wide assortment of reindeer from tall, skinny reindeers to short, fat reindeers to reindeers in a cube of ice. You need to be extra careful with the ice reindeers because they will slip and slide.
To add to the challenge of balancing the reindeers on top of one another, you have candy canes appearing at the sides of the screen that will swipe at your reindeer stack. If they make contact with your stack, the reindeers will topple and you fail the level.
Reindeer Roundup Game Screens
The goal is to stack the reindeer up the screen until the reach a variety of objectives. Some levels require you to reach a string of lights while others call for you to conceal a series of lights. Once the first objective is reached, you then have to stack the reindeer a little higher to collect one of Santa's gifts. When you reach any objective, the stack must stay balanced for three seconds before victory is proclaimed.
Reindeer Roundup is an enjoyable, casual puzzle game that has appealing graphics and challenging game play. Holiday Season or otherwise, Reindeer Roundup is a great gaming choice for your Windows Phone 8 device.
Reindeer Roundup lacks a trial version and is currently running $1.29. However, we have seen the game offered as a free game from time to time. You can find your copy of Reindeer Roundup here in the (opens in new tab) Windows Phone Store.
Where is Santa? (free)
If you have kids, you are going to be asked on Christmas Eve (if not before) where Santa is. Many local television stations will have Santa Updates during Christmas Eve to keep children updated on the jolly old elf's progress around the globe. If you can't make it to one of these updates, there is a Windows Phone 8 app that might help.
Where is Santa? allows you to follow Santa's every move. The app will also chart your current location and give you an estimated time of arrival to your location.
Where is Santa? Global View and Home View
Where is Santa? has a easy to follow layout with a radar scan button in the bottom right corner and a My Home (my location) banner button in the upper left corner. Settings are positioned beneath the three-dot menu and are limited to turning on/off your Windows Phone location services. You can also get rid of the ad banners from the settings through an in-app purchase of $1.49.
When you tap the radar scan button, the app will update Santa's location and a written update on Santa's activities will be displayed at the bottom of the screen. Tapping the My Home banner will send the map to your current location and display Santa's estimated time of arrival.
Where is Santa? may not be a Windows Phone 8 app that has wide reaching appeal but for those with small children, it can be a fun distraction. You may even be able to use the estimated arrival display to encourage them to go to sleep quicker. Hey, it's worth a try!
Where is Santa? is a free, ad-supported app available for Windows Phone 8 that you can pick up here (opens in new tab) in the Windows Phone Store.
Happy Holidays!
The holiday themed apps and games in this week's roundup represent but a small portion of what is available in the Windows Phone Store. The games are more casually oriented but entertaining nonetheless.
I've always had an appreciation for endless slider/jumping games so Sleigh has a bit of personal appeal. It is easy to find yourself raising and lowering in your chair with the Santa sleigh as he flies through the air.
My only nit with AE City Jump-Christmas is that once your character lands on a rooftop or gift box, it takes a few seconds to transition to the next jump. It is hard to get any type of rhythm with AE City Jump because of the lag time. Otherwise, it is a fun game to choose if you need help passing the time.
Reindeer Roundup is a challenging game that tests your ability to stack and balance objects. Game play varies ever so slightly to keep things interesting and prevents the game from going stale too quickly.
While the games may be able to survive year round, My Christmas Tree and Where is Santa? are definitely seasonal titles. My Christmas Tree is a creative way to give your Windows Phone a touch of the Holiday spirit. Where is Santa? can be a sanity saver if you need have small children desperate to find out how close Santa is from their house.
As with any of our roundups, if we've missed your favorite app or game for the Christmas Holiday Season sound off in the comments below.
Windows Central Newsletter
Get the best of Windows Central in in your inbox, every day!
George is the Reviews Editor at Windows Central, concentrating on Windows 10 PC and Mobile apps. He's been a supporter of the platform since the days of Windows CE and uses his current Windows 10 Mobile phone daily to keep up with life and enjoy a game during down time.
Angry gran run was missed :/

San andreas came out on android yesterday, we better get it today...

that to with lots of bugs lol

Any apps that help you pick out gifts? I'm completely out of ideas and the Macy's app stinks.

Reindeer Roundup is great until you get to this one level where both edges are slanted, and they expect you to be able to stack the big boxes, the recktangles, and the little boxes. 10 tried and I gave up, hahaha.

Check out "Sendtiment Cards" for Windows Phone. You get over 400 greeting cards that you can customize and send. FREE Version is here http://www.windowsphone.com/s?appid=6bffc9c1-cd4a-4eed-8abc-64fb901da388

Anyone actually downloaded Sleigh? All I will say is don't post your score on the score onto the leaderboard lol. The global leaderboard has some kind of Chinese-Indian war going on over which place is better.. I dunno, kinda ruined the feel of the game after that point. However, great list, and Sleigh is still a fun game albeit the same as Penguin ;) thanks guys.

You can pick this App to send cool Xmas Messages: http://www.windowsphone.com/en-us/store/app/sms4xmas/d3014d74-f41d-4c7e-826d-5b4dd9a2a3c4

It was all just a game for kids. When is the android game that is present in all Windows phones such as Dead Trigger, SAS: Zombie asaullt3, Resident evil4, and Dead Effect and Dead tour, please present in the Windows phone

NORAD's Santa tracker is better than Where's Santa.

Wonder when hill climb racing will get Xmas update, got it on windows 8 laptop but not as much progress as on my phone.

It has been released on Android as well, but not WP8 or iPhone.
This close to Christmas, I'm not sure if we'll get it at all.

Another nice christmas app: SantaFly (http://www.windowsphone.com/en-us/store/app/santafly/a100c89d-ba21-4417-...). Quite easy at the beginning, but the levels in the storm are very challenging.
Windows Central Newsletter
Thank you for signing up to Windows Central. You will receive a verification email shortly.
There was a problem. Please refresh the page and try again.