Top Gear: Extreme Parking - The test track comes to Windows Phone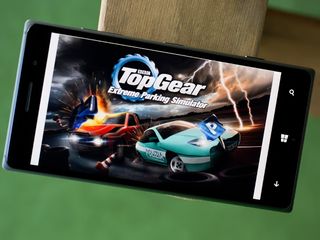 Top Gear is a popular television series that features creative ways to test drive automobiles. The brand also has a nice collection of games in the Windows 10 and Windows Phone Stores. Top Gear: Extreme Parking is the most recent Windows Phone release and tests your skills at crashing into things, parking and chasing the famous stunt driver, The Stig.
The Windows Phone game features six cars from the best Top Gear episodes and includes dozens of missions or challenges to conquer. Top Gear: Extreme Parking has a certain level of appeal, but stubborn controls and a few design issues holds this gaming title back. Even the die-hard Top Gear fan will find these issues frustrating.
Top Gear: Extreme Parking is available for low-memory devices and a free game, making it easy to take for a test drive.
Top Gear: Extreme Parking opens up to a main menu that presents you with options to choose your test car, access the settings, visit the game's store and share/rate the game. Settings are limited to sound and music levels, along with restoring purchases if you have to re-install the game.
Extreme Parking's store has several in-app purchase opportunities that include unlocking cars, gaming modes, removing ads and unlocking unlimited rewinds. Rewinds allow you to continue to play after crashing. You will earn stars during game play that can be used to unlock many of the items available in the gaming store, but the IAP are available for those who cannot wait.
The main menu for Extreme Parking will list all six of the cars available, along with the caravan challenge. You begin game play with a banged up pickup truck. As you tap on a locked out vehicle, you will see the options to use gaming stars to unlock the car or opt for early access and buy the car via in-app purchase.
Game play involves three challenges that include:
Precision Driving: You'll navigate your car around the test track, avoiding obstacles and eventually parking in a designated area. Hit one obstacle with the slightest of nudges and the game is over.
Total Destruction: Unleash your road rage by smashing into an assortment of obstacles that line the test track. You get to smash through walls, caravans (camper trailers) and Top Gear production offices. There is a game timer and you'll need to reach the finish area while causing the most destruction before the clock strikes zero.
Chase The Stig: The Stig is a top-notched driver and in this gaming mode, you'll have to keep pace with the Top Gear Star.
On top of the three challenges, Top Gear: Extreme Parking has four gaming modes that can be unlocked via in-app purchases. The Normal game mode comes with the free version and the other three modes include:
Relaxed: A more casual pace with more time added to the game timer
Granny: Smaller cars are available for easier handling
Invincible: Crash all you want without worrying about failing a challenge
It is hard to tell how much the additional gaming modes are, as well as the other in-app purchases. The pricing seems to be based on the British Pound and the conversion isn't really clear. For example, the Granny mode is listed as $4.9$, which could be $.49 or $4.90? My guess the latter, which makes Extreme Parking an extremely pricey game.
As far as the gaming controls are concerned, you are presented with on-screen controls that handle your steering, acceleration and braking. You also have a gear shifter to switch between forward and reverse and a camera control to toggle between the six viewing angles. If you pause the game, you will have the ability to choose steering controls that include on-screen controls, a steering wheel or tilt controls. You can adjust the sensitivity and choose left or right hand orientation.
Regardless of the steering control options you choose, things will take a little time to get used to. The steering controls can be a little over-responsive and the brakes feel soft. After a few games, you will get the hang of gauging stopping distances and steering sensitivity. Until then, things can get a little frustrating. Adjusting the sensitivity helps but a little under the hood, fine-tuning is needed.
The camera angles are nice with views from behind the car, overhead, behind the steering wheel, left or right side views or a view from the front of the car.
At the conclusion of the challenge, you'll be rated from the lowest "Seriously Un-Cool" rating to the highest "Sub-Zero" rating. The higher your rating, the more stars earned and you will need at least one star to advance to the next challenge.
Overall Impression
Top Gear: Extreme Parking offers a nice foundation for an entertaining Windows Phone game. Graphics are nicely drawn up and game play is challenging. While I can see Extreme Parking having a certain level of appeal, there are several issues present that ruin any fun this game offers.
For starters, you have the control stubbornness. You may be able to eventually get used to the soft brakes and sensitive steering, but it can be a frustrating experience. Then you have the mystery in-app purchase prices (which are also a wee bit on the high side) and finally, some of the worst ad-support I have ever seen.
Top Gear: Extreme Parking relies on full-screen ads that pop-up after each challenge. I detest these ads to begin with but what makes them worse with Extreme Parking is that there is no option to close them. The resolution is off, placing the "X" button off-screen and inaccessible. Your only solution is to hit the back button, which prompts a confirmation window asking is you really want to exit the game.
All in all, Top Gear: Extreme Parking has potential but needs a little polishing before I can see it living up the 4 Star rating it is currently getting in the Windows Phone Store. If you give Extreme Parking a try, let us know what you think of things in the comments below.
Download Top Gear: Extreme Parking from the Windows Phone Store
George is the Reviews Editor at Windows Central, concentrating on Windows 10 PC and Mobile apps. He's been a supporter of the platform since the days of Windows CE and uses his current Windows 10 Mobile phone daily to keep up with life and enjoy a game during down time.
Prices of iaps range from £1.49 to £11.49. Pricey indeed lol, this game can get expensive pretty fast if your a spontaneous person with no fiscal sense whatsoever :P.

People with the minimum fiscal sense won't even download these freemium crap games

Do you really cry about every game you don't have to buy?

Playing Forza 6 and then looking at this just makes me....think I am back in the 90's.

and asphalt 8 looks like?

Like the Nintendo DS game it once was. =P

You guys made a mistake. Top Gear was a popular TV series. Now that the Three are gone, its going to be boring imo

You talking about Top Gone?

He's talking about UK top gear.

Ik what u mean. But I think there is an American version of top gear? So only people in UK like me will know what u mean probably

There are versions of top gear all over the world, german, australia, america etc. But the British one is the one that had the most following, shown simultaneously accross the world in more countries than any other show. But yes, now the three have gone to Amazon, i guess Amazon are going to get a lot more subscribers. Incidentally, that punch has paid off pretty well for Jeremy, he now earns more from Amazon per episode than he earned from the BBC per series, and is now the highest paid presenter on UK tv. Who said violence doesn't pay?

You've not seen the new series, so your premature review is just that.

No Clarkson, No Top Gear. RIP Top Gear.

Is this game legit? The other top gear game was published by bbc worldwide who own the rights. But this is published by play with games and their only game...
Windows Central Newsletter
Thank you for signing up to Windows Central. You will receive a verification email shortly.
There was a problem. Please refresh the page and try again.